Transitioning to full time blogging is challenging. It took me two years of solid work before I started turning a profit in my own blogging career, and most of my income in the early days came from freelance writing. (Though I started in 2006, which is the prehistoric era of blogging, so everything took longer).
These days when readers express an interest in blogging full-time, I dispel the idea that earning income is easy or immediate (or even close to either), and advise to get the foundations of your online career in place before you quit your day job. (See also: How to Go Location Independent)
The problem is, working full-time while developing a blogging career is a ton of work.
Jessie Moore knows all about this. She is a travel and lifestyle blogger and creator of Pocket Wanderings, where she shares travel tips and inspires others to embark on travel adventures with confidence. Before she was a full-time digital nomad, Jessie worked long hours in the office at a digital marketing agency in London. Since quitting her job to travel and work as a freelance marketing consultant, she is now making the transition to full-time blogging. Having experienced both successes and failures along the way, she has learned first-hand the best way to make the transition.
So, I asked Jessie to impart her wisdom with you! The following article was written by her. Enjoy!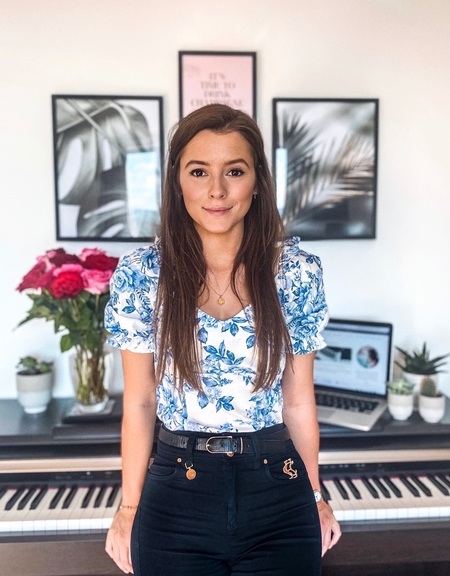 9 Tips to Transition to a Full-Time Blogging Career
It's a dream for many bloggers. When you finally get to a point where you can turn your favourite hobby into a full-time job. Get paid for going on adventures, for creating content you love, and for sharing your passion with others.
But it's not an easy transition to make. One of the biggest stumbling blocks for many bloggers is time. To earn more money from your blog, you need to invest more time into it. Yet you don't have enough time to invest in it when you already have a full-time job – it's a catch-22! Quitting your job to free up time is not a realistic option for the vast majority of people.
The way forward is to ensure you are as efficient as possible with your time. Making the most of your limited time means prioritizing the tasks which are most likely to get you one step closer to the full-time blogger dream. It also means that you'll need to make some sacrifices along the way. But nothing worth having comes easy.
It's not all sacrifices and hard work though. There's a lot of fun to be had in the process and it's important that you enjoy it. After all, it's what you're planning to do full-time! Here I share my top tips for making the transition to a full-time blogger.
See also: How to Start a Travel Blog – an Epic In-Depth Guide


Set Clear Goals
Any plan or strategy should have clear goals. We know the ultimate goal is to be a full-time blogger. But you need to have some more specific goals to ensure that you take your blog in the right direction for you. Think carefully about your reasons and motivation behind your goal of being a full-time blogger. This is important from both a business and personal perspective.
Some questions to ask yourself when setting goals:
Why do I want to be a full-time blogger?
What is my niche?
What sets my blog and content apart from others?
What is my speciality / expertise?
Where do I want the majority of my income to come from?
Which content types should I prioritize?
Which social media channels should I prioritize?
Who are my dream brands to work with?


Devise a Clear Plan
With your goals in place, it's time to create a clear plan for how you are going to achieve these goals. Create a content schedule to keep you on track with writing and shooting new content. Consistency is key! Devise a marketing plan that covers all the most important bases, including SEO, social media and email marketing.
Make sure you consider your finances too. How much money do you need per month to live? What emergency savings do you have if you don't make enough money for a while? When is the right time to quit your full-time job?
See also: How to Manage Your Money – A Guide to Financial Planning for Digital Nomads


Consider going Freelance First
Transitioning from a full-time permanent job to a full-time blogger is a huge jump. One of the best ways to soften this blow is by going freelance first. Can you do your full-time job on a freelance basis?
This is how I am managing to make the transition in a more risk-free way. I first quit my job at a digital marketing agency to be a freelance consultant. As I now work for myself, my time is flexible, so I can spend as much or as little time on my blog as I like. Going freelance is a great way to maintain a steady level of income while benefiting from greater flexibility.


Diversify your Income Sources
Relying on one stream of income is pretty risky and also very limiting. Diversify your income sources to open up new earning opportunities and to lessen the risk in case one goes wrong. There are a whole variety of ways to make money from blogging. Some examples are:
Sponsored blog posts
Paid social media posts
Affiliates
Display advertising
Consultancy
Photography / videography services
Freelance writing
Prioritize the ones which work best for you. Consider your own area of expertise and where you can make the most potential return on investment.


Create Professional Marketing Decks
You need to be able to market yourself and your blog if you plan to make a career from blogging. Design and create professional marketing decks to send out to brands. Every blogger should have a media kit, which includes a top line overview of your blog, stats, and audience.
I'd also suggest creating a more in depth pitch deck too. This should go into more detail about the different services you offer, why the brand should work with you, and even some case studies of previous collaborations. You can use tools like Canva to create professional looking decks, even with limited design experience.


Brand Outreach
You can't just rely on brands approaching you when you're a blogger. Especially when you are first starting out, you need to pitch your services to brands. This is where the marketing decks come in handy!
Create a list of brands you'd love to work with. Get in touch with them to introduce yourself and pitch your blog. Keep it snappy and to the point.


Connect with Other Bloggers
One of the best parts of blogging is the amazing blogging community. A lot of freelance jobs can be quite solitary, but this doesn't need to be the case. Reach out to other bloggers and join Facebook groups to engage with others. Not only is it great to make new friends with like-minded people, you can also learn a great deal from fellow bloggers.
Blogging is a wonderfully collaborative job, so make the most of this. Whether it's going out and shooting with other bloggers, contributing to a blog post, or going on a press trip together. There are plenty of ways to connect with the supportive community around you.


Prioritize Tasks
There is a lot that goes into blogging. As much as we like to think we can do it all, it's an impossible task. When you're starting out, you need to prioritize the activities that will be most beneficial to your business. One of my top tips is to make sure that you focus on SEO right from the start.
Once you've made the transition to full-time blogging, you can outsource certain tasks once you're in a position to do so. From accounting and contract negotiation to design and social media management, it's completely up to you which tasks you outsource.


Invest in Yourself
Blogging requires a multitude of different skills – writing, photography, digital marketing, business management, and many more. To be really successful, you need to invest some time into educating yourself. Whether this is through blogging courses, YouTube videos or extensive reading.
The earlier you do this in your blogging journey, the sooner you can apply your knowledge and skills. Even if you end up outsourcing some aspects, it's still incredibly useful to have all the necessary skills needed to run a successful blog.