Ever since I did an expedition cruise around Newfoundland, I not only gained a renewed love for the nautical way of life, but it stoked a massive curiosity in visiting the high Arctic. So when I learned about the docu-series called 80 Degrees North: Sailing on Top of the World, I was all over it. So much so, that I corralled the filmmakers into an interview (which you can see below) about sailing in the Arctic (specifically sailing around Svalbard), what it's like, what they discovered, and a behind-the-scenes look at what it's like to live on a 48-foot sailboat with eight people and film a documentary while having this adventure of a lifetime. 
Jump right into my Awesome Interview Series videos on YouTube here – and please give it a thumbs up, leave comments and subscribe!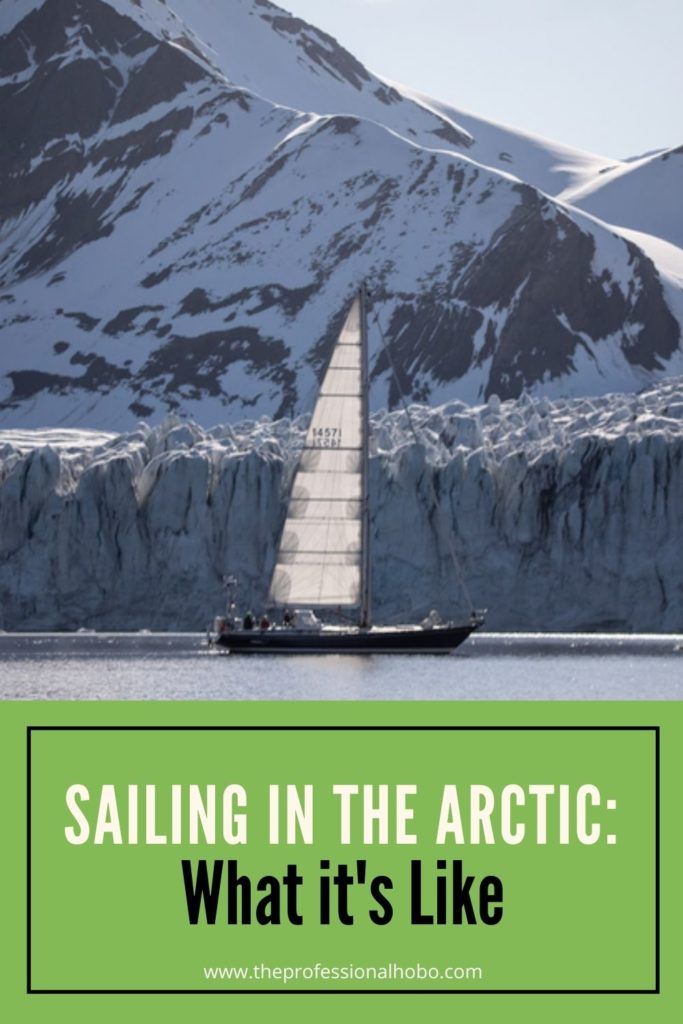 Where is Svalbard?
Not sure where Svalbard is? Join the club. I had to look it up…up…and up some more; it's way up there on the map, about as far north as you can get before hitting the North Pole, level with the northernmost parts of Greenland.
Svalbard and Jan Mayen together are officially known as remote jurisdictions of Norway, under the sovereignty of Norway, but also kind of their own country (but not really).
Jan Mayen has no permanent population to speak of, unlike Svalbard which has a small population of humans that is outnumbered by polar bears.
If you thought Norway was north, Svalbard puts things into perspective; it's an archipelago in the Arctic Ocean that is halfway between Norway and the North Pole.
Most of the people of Svalbard live in Longyearben, which is where you'll fly to if you go (it's a three-hour flight from Oslo). There are only 40kms of roads in all of Svalbard, and to reach the other settlements (including the northernmost settlement in the world) you'll need a snowmobile or boat (depending on the season).
Which means….Brady and Alex and the crew of SV Isbjorn were very well-suited for their trip, sailing around Svalbard.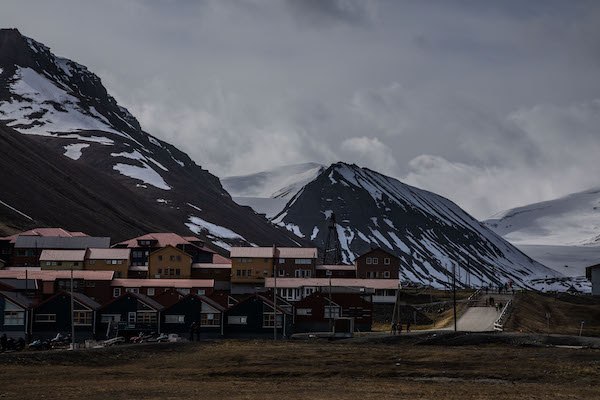 80 North Series – Backstory
Back in 2010, Brady Trautman and his brother Brian started sailing together on SV Delos and created a YouTube channel chronicling their sailing adventures around the world. They did a bang-up job, because today the channel has 640k subscribers vicariously sailing along in their weekly 30 minute videos.
Alex Blue – a film producer in her own right – caught an episode years ago, sent a spur-of-the-moment email to the crew, which led to a Skype call, and two weeks later she flew to South Africa to hop on SV Delos for a passage across the South Atlantic…and eventually years later, when she disembarked, she took Brady with her and they started their own sailing school called Cruisers Academy and accompanying YouTube channel.
In the meantime, in 2017 the crew of SV Delos was invited by sailing friends who run 59° North Sailing Expeditions on to their boat on an Arctic sailing expedition around Svalbard. The Delos crew, experienced sailors as they were, had only sailed in the tropics, so this was a stretch for them, and also an opportunity to explore one of the most untouched areas of the world.
So, in summer of 2018, eight crew members packed themselves onto the 48-foot SV Isbjorn to sail around Svalbard for three weeks, crossing the 80th parallel north in the Arctic, where the sun never sets in summer (and never comes out in winter).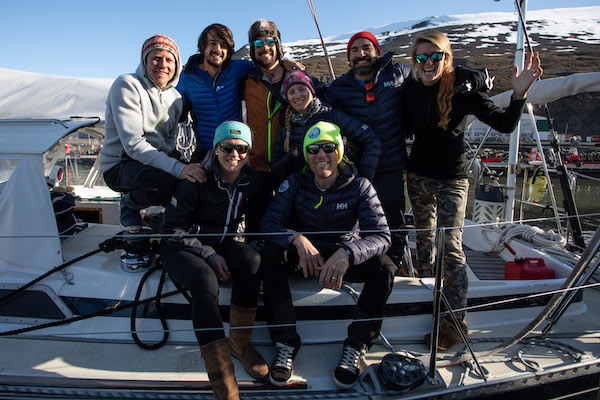 Almost everybody on the sailing expedition were filmmakers of one sort or another, so collectively they captured an insane amount of footage of the trip, which includes some of the most dramatic landscapes on the planet, along with the critters that inhabit them like polar bears, walrus, beluga whales, and more.
Reviewing the footage, it became apparent they had a lot more to commemorate this mission than a 30-minute episode could possibly do justice to. So Brady, Alex, and one of the other crew members Kiril, spent the next two and a half years piecing together a four-part docu-series called 80 Degrees North: Sailing on Top of the World.
Watch the interview below (or directly on YouTube), and read more about it below.
Sailing Around Svalbard and Creating a Documentary
Alex and Brady and I covered a lot of territory in our 30-minute chat.
The amateur videographer in me started off asking them what it's like to film a documentary whilst on an adventure such as sailing in the Arctic. (I know for myself that at times, wielding a camera can affect my experience of a place, and not always for the better). But these guys are well-seasoned filmmakers and took it all in stride. I mean – how could you not record such an epic sailing expedition for posterity?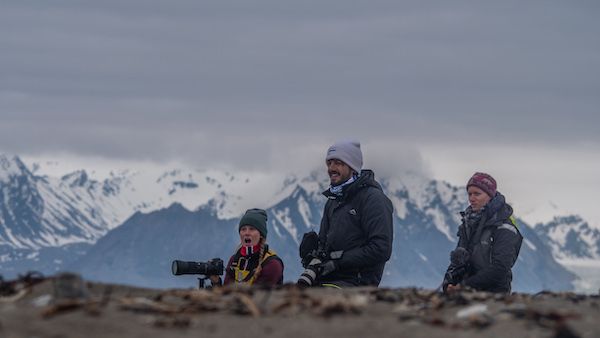 I was also curious why they structured it as a four-part series, rather than a straight two-hour documentary. But the answer was quite ingenious: it's easier for a viewer to commit to 30 minutes than two hours. Ironically for myself, I had planned to spread out the episodes but couldn't help bingeing the entire series in one sitting – and I wager you'll do the same. Still, given our current streaming culture, it's much easier to dig into a short episode at the outset than to commit to a feature-length film.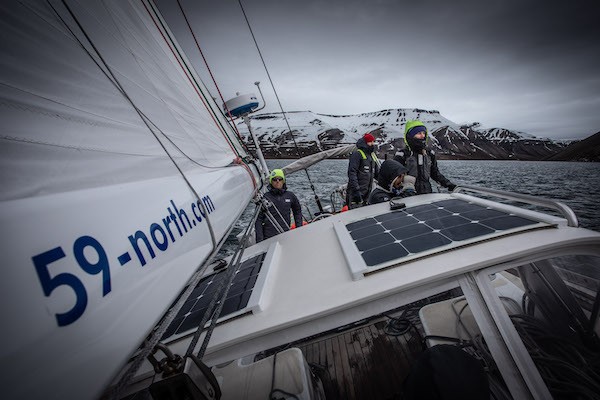 Sailing in the Arctic
The meat of the interview is of course all about sailing in the Arctic, and what it's like. I asked them what it's like to sail in the Arctic versus the Caribbean, and when they started talking about the risks involved (including humans being tasty morsels for the ubiquitous hungry polar bears), I wondered to what extent fear was a factor.
I inquired what life is like on a relatively small boat with eight people, in a place where the sun never sets, and what it's like to have your conversation interrupted by a block of ice the size of a house falling off a glacier.
We talked about the kind of stuff that they found washed up on the beach, which in turn inspired a conversation about climate change and how to tread lightly in a place as precarious as the Arctic.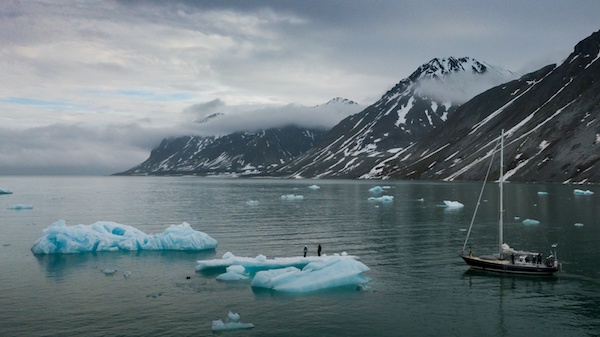 How to Visit Svalbard
The general consensus was that seeing Svalbard from the water is likely the best way to experience the Arctic grandeur and fauna. Luckily there are plenty of Arctic sailing expeditions available (scroll down to peruse some of these opportunities). We also spoke about other ways to visit Svalbard, things to do around Longyearben, and also how to visit Svalbard responsibly in light of over-tourism and the extremely fragile environment that the Arctic generally represents.
We touched on the negative impact of large cruise ships, based on conversations the 80 North Series crew had with locals in Longyearben who saw no economic benefit from the thousands of people who would barge in regularly. (This is not a blanket condemnation of cruise ships; in 2019 I went on an expedition cruise around Newfoundland on a small boat with a company that was not only very environmentally conscious, but also committed to giving back to the small communities we visited such that the people in each port of call were overjoyed to host us.)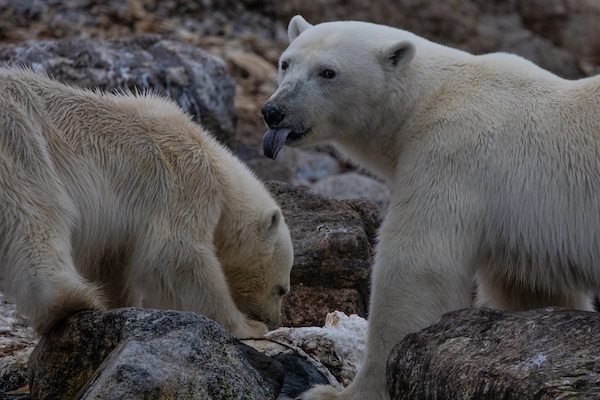 Watch 80° North!
You can watch 80° North at 80northseries.com, and the cool thing is you get to pay whatever you think is fair. I can't recommend this series highly enough; it's incredibly well-done and highly entertaining.
It is on par with any network show you might find (and off-camera we discussed why Brady and Alex intentionally chose to say no to the major networks and instead broadcast it with a pay-what's-fair-model).
If you are curious about sailing in the Arctic, but don't like the wind chill, then check out 80 North Series.