Mike Corey never backs away from an adventure, no matter how strange it may be. As a Canadian adventure travel YouTuber and BBC television host, Mike has been travelling the world for eight years. He is on a global quest to challenge fear by seeking unique experiences in weird and wonderful destinations around the world. Mike aims to inspire others to fight their fears by plunging headfirst into beautiful, unknown locations and participating in undocumented cultural celebrations.
With a degree in Marine Biology and a talent for breakdancing, Mike worked as an award-winning filmmaker before creating his own YouTube channel – Fearless & Far. Mike knows how to craft a compelling story with entertaining action and cinematic flair, but his greatest strength is breaking down cultural barriers and connecting with locals worldwide.
Mike Corey has a dream job for many people. Let's dig into it to see what it's really like behind the scenes – financially and otherwise!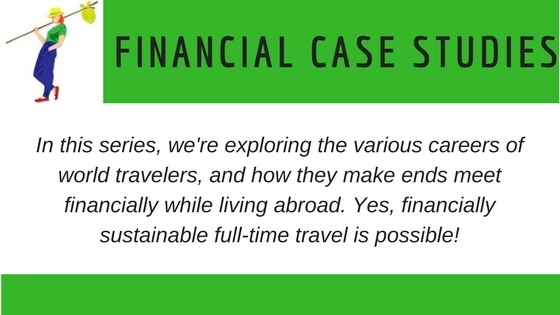 How long have you been living/working on the road, and where have you traveled to?
I've been travelling professionally now since 2014. This has changed shape over the years. Originally it was as a YouTuber/Blogger, then a Travel Filmmaker/Photographer, then a Full-time YouTuber, and now a mix of TV hosting as well.
This had led me to ~70 Countries, most of which aren't exactly on the normal tourist trail.
Turkmenistan, Mauritania, Madagascar, Bangladesh, Venezuela, Etc.


Please describe what you do for income.
It all started with the AdRev from YouTube, and now it comes from 10+ sources. These shift every year, as my skillset, my content, and the world changes.
As I've always focused on filming things that haven't been seen before, for many years I made decent money from Licensing the videos I made.
As I've grown the channel again in the past couple years, Brand Deals have taken up the slack from a less licensing opportunities. Television as well has picked up, as I've decided to move away from Travel Filmmaking. This is all listed below.


How much money do you make?

Here's a breakdown of the past three years of my personal brand. As I mentioned above, everything ebbs and flows. Every year is different, and no doubt 2020 will be the same. I did very well with Brand deals and television in 2019; guess how many of those I've had so far in 2020?
Part of being a traveller is adapting. Part of being a creative is adapting. I've been adapting for 10 years. I don't let the highs or the lows phase me much anymore.
2020 has been a tough one for all of us in the travel space, but we'll adapt and get through. It's what we're best at.


Do you make enough money to support your lifestyle?
I do make enough to sustain what I do. I've never had a car or house. I was taught early to keep debt away like the plague, so I'm free of that as well.
The expenses in this job are astronomical, but luckily I can claim most of it back on my taxes which I still pay in Canada.
During the pandemic I sat down with the Tony Robbins book about money, Unshakeable. And every Monday for months I called "Money Monday" and learned everything I could about it. My entire career I didn't ever pay attention to it beyond what I needed to survive. I think I was afraid I was "bad at that stuff".
I'm really happy I did this finally. Now I have my savings invested in Index Funds, that I've seen grow since I put this money in.
Money can make more Money. It's a strange thing that I now (somewhat) understand. (See also: How Compound Growth Set Me Free)


What do you like most about your career and lifestyle?
I'm professionally curious. There is a beautiful and scary feeling about being able to go and do just about anything. I often pick things like exploding hammer festivals, and frog poison rituals, but I'm known to settle for a few weeks in Bangkok as well.
If something interests me, I can pursue it if I bring a camera along.
Sleeping in a new bed every few days isn't for everyone, but it's for me. Life is exciting.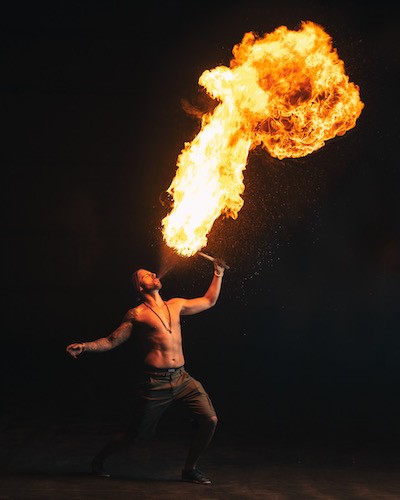 What are some of the challenges you have with this career and lifestyle?
Eating the world's strangest food, travelling to the furthest countries, and constantly challenging myself to be the fear guinea pig on my YouTube channel comes with some job hazards. The last two years I've been travelling 11 out of 12 months a year, and even in 2020, I took off to Europe as soon as Canadians could do so.
Sometimes its hard to get deep work done when you're always moving, so recently I've started a Month On / Month Off approach that allows be best of both worlds.
Well, except for the occasional stomach upset, or odd scar, but that's part of the journey.


Any advice for the aspiring traveler about living and working on the road and managing finances?
I wish I had learned about making money earlier. I think for true creatives, we get wrapped up thinking about creating, which is very very important, but you can't create with no money. Take some time to learn about it, how other influencers are making it, and what fits you the best.
See also: Managing Your Money: Financial Planning for Traveling Entrepreneurs
Most of us aren't business-savvy when we begin, but learn very quickly when our wallet is empty. I wish I had prioritized it sooner.
I feel like money is one of those things you can manifest. You need to have an abundance mindset, you need to respect it, and you need to understand how it works. I think this why many of us fail. We don't think about it this way.
Is there anything else you'd like to add?
My brand is all about chasing the fears in your life. I have decided to focus on this because there was no one more scared than I used to be. Because I've been to the dark side and back, I'm very passionate about helping people with their relationship with fear. Check out my adventure travel videos here: www.youtube.com/mikecorey
And out this free video about the 6 things I did to fight back and win my battle against fear here.