Prior to my week in Italy, I spent a couple of weeks staying with friends in the south of Spain along the coast, also known as Costa del Sol. I've been to Spain a few times before (in Granada), in and around Madrid, and Barcelona), so I feel like I have a basic cross-section of what Spain is about.
Imagine my surprise when I arrived in Costa del Sol, and had trouble reconciling this place as even being Spain. Let me explain…in pictures.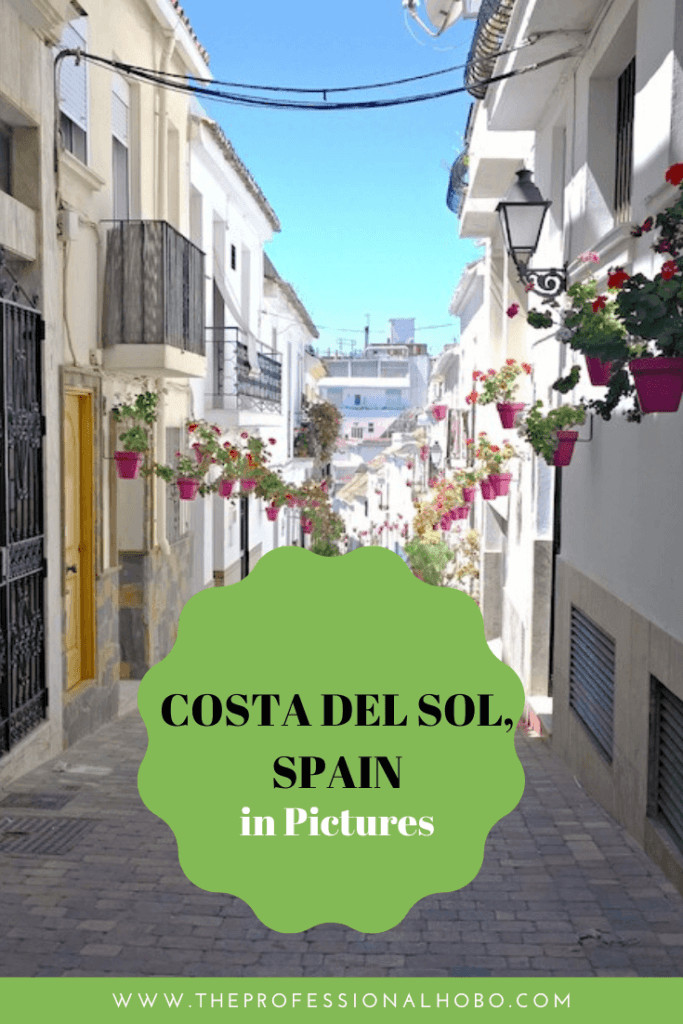 This post was originally published in 2014. It has since been updated for accuracy of links and content.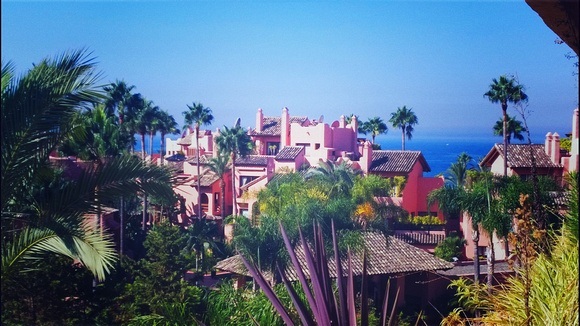 The picture above was the view from my terrace (located between Marbella and Estepona), overlooking a pool, palm trees, Spanish-styled condos, and the ocean. On a clear day you can see the rock of Gibraltar and Morocco in the distance. It was a very comfortable place to relax and enjoy the lovely summer heat.
And I'm not the only one who thinks so either.


Costa del Sol
Costa del Sol (which translates to "coast of the sun" is a renowned tourist destination in Spain. Since the 1970's it has seen a rapid influx of sun-seekers and retirees, mostly from Great Britain (where the sun don't shine so much).
Incidentally, it also goes by the informal handle "Costa del Crime", in honour of the number of mobsters and criminals who escape to the area to fly under the radar for a while. While staying there I heard regular references to gangsters; nothing bad – just the mere observation of their presence, as in "look, he's one of the biggest gangsters in Britain", similar to "look, there's a flower indigenous to this area of Spain".


Puerto Banus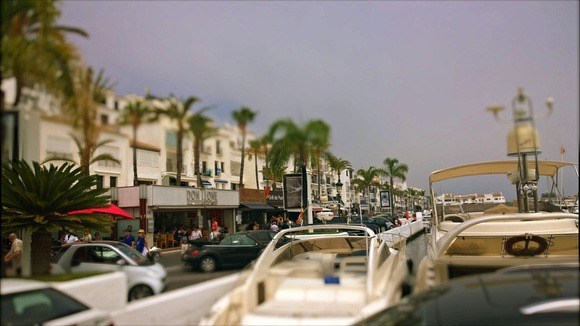 Puerto Banus, in Marbella, is where the pretty people come out to play. You can smell the money dripping off the luxury shopping complex and marina, built in the 1970s by a local mogul. It's the place to be seen; if you have an expensive car you'll want to pay the fee to drive into the marina area and cruise very slowly along the strip of designer stores and restaurants, so people can admire your wealth.
It's also a great place for people-watching – as you can imagine.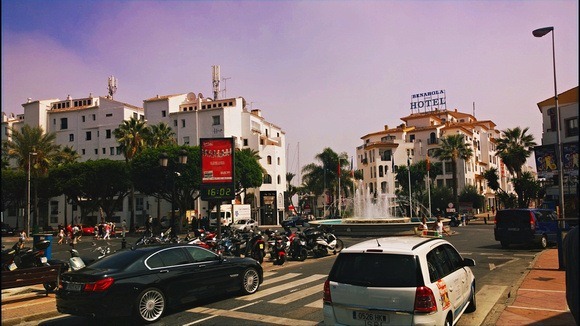 Estepona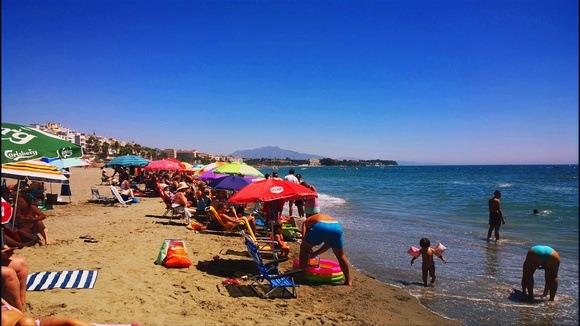 Estepona is renowned for its beaches, with a microclimate that provides 325 days of sunshine a year. The water is cold, but it doesn't stop sunbathers from coming out in droves.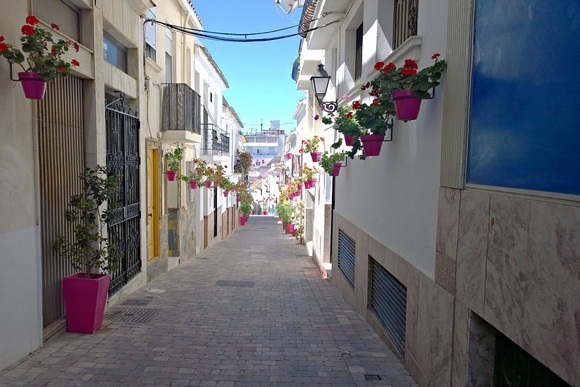 Estepona's town is also very picturesque, very walkable, and very….colour coordinated.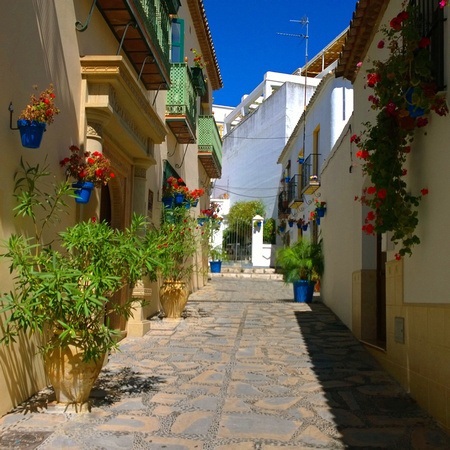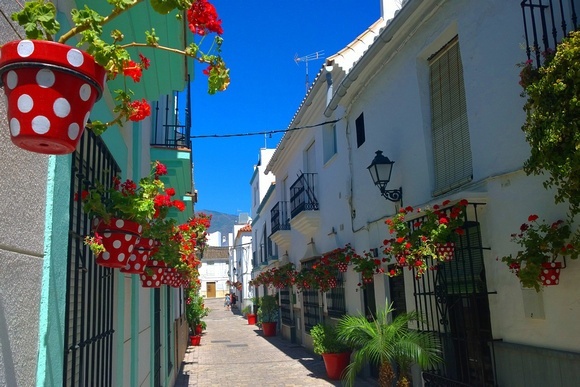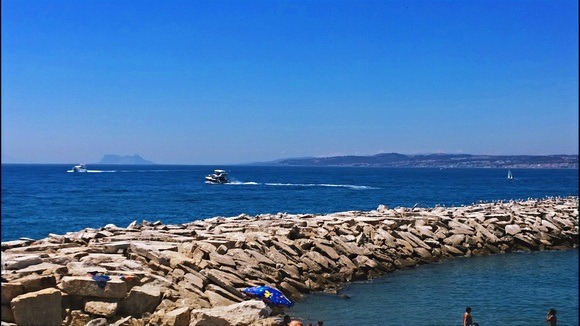 From Estepona beach, you can see the rock of Gibraltar quite clearly, as it's only a half hour drive away.
Most of Costa del Sol originated as little fishing villages. Although it's a far cry from little fishing villages now, you can still sniff out the fish, such as these sardines hanging out on racks to dry.


Mijas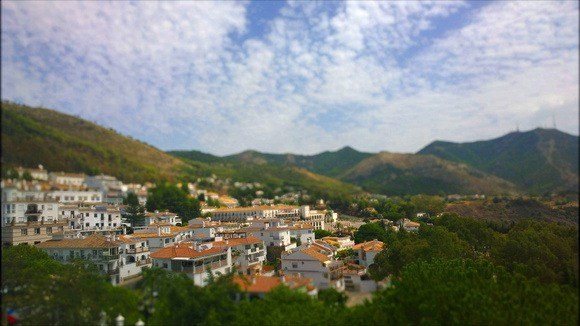 Of all the towns I visited along Costa del Sol, I could get into having a little casita in Mijas, nestled in the mountains just up from the coast.
There are actually two parts to Mijas: Mijas Pueblo in the mountains, and the more commercial/industrial Mijas Costa on the coast. (It was Mijas Pueblo that won my heart).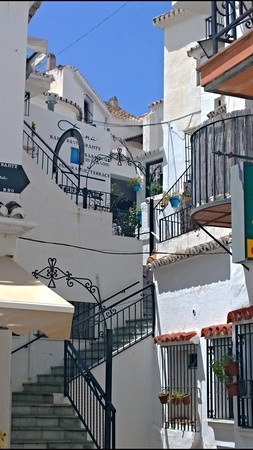 Mijas is also known as "the white village" for its uniform whitewashed look, which is very charming and easy on the eyes.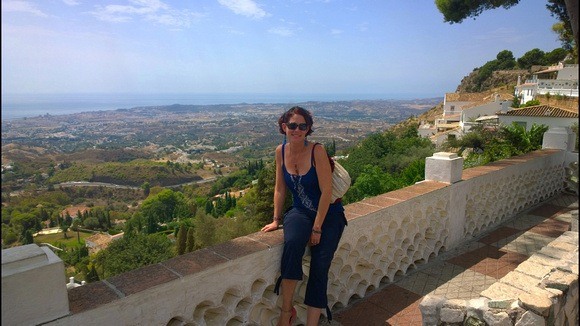 Habla Español?
Although I enjoyed my time in Costa del Sol (since I was staying with friends), I had trouble reconciling it as Spain. Due to the huge number of expats and tourists from Britain, it felt more like a piece of suburban UK transplanted to a sunny clime and fancied up with architecture of a Spanish flair.
You can't really get around without a car, enabled by the ridiculously fast-moving motorways that transport you from town to town (and plaza to plaza) along Costa del Sol.
And after a few days there, I eventually gave up entirely in trying to speak Spanish. Everybody speaks English; the expat/retiree/tourist populous don't even attempt to speak Spanish, and even when I tried to address Spaniards in local establishments in their own language, they replied to me in a tired (almost exasperated) English.
See also: How to Become Fluent in Spanish
Sadly, to me, Costa del Sol appeared to be a culturally (and linguistically) pillaged area of Spain, chosen for its sunshine and warm weather….and little else.
Would I return? I like to keep an open mind, but similar to Gibraltar, it's not high on my hit-list of places to go back to.