My one day in Barcelona as part of the Ultimate Train Challenge adventure from Portugal to Vietnam doesn't start well. The overnight train from Granada is long, hot, and the catalyst for what I think is a flu coming on. The arrival station in Barcelona is controlled chaos, and in my fevered state getting my onward ticket is challenging.
Knowing that I have to leave from another station this evening, I choose to go straight there so I can store my luggage for the day, maybe catch some time in the lounge (such as my Eurail Pass permits), and rest assured that I'm never too far from my ultimate departure point.
Thing is, the second station – the one with international trains departing regularly – is a ghost town. Whether renovations or construction is the culprit, nothing is operational, or even existent. The real hub seems to have been the station I came from; there aren't any obvious trains returning, I have eight hours to kill, and I don't have the energy to fight my way back there.
I'm confused, I'm tired, and, well, grr. Things aren't going smoothly. My worst fears of being sick during the train challenge seem to be coming true, and I'm none too happy about it.
See also: Staying Healthy on the Road – Natural Preventions and Cures
This post was originally published in 2011. It has since been updated for accuracy of links and content.


Turn that Frown Upside Down
After having an inner temper tantrum, I decide the best thing I can do (the only thing, really), is persevere. I find a hostel willing to store my luggage (and by "store" I mean leave it out in the open in the reception area, but beggars can't be choosers) for a criminal sum of money, and I set off to explore Barcelona.
The real Barcelona.
You know, the one that is devoid of tourists and tourist traps.
This, I discover, is a naive mission that proves harder than it looks, but reveals some interesting insights.


Cruising La Ramblas
I've been to Barcelona before, in a former life as a cruise ship passenger (which was also my first time in Europe). I fondly remember strolling La Ramblas and being bewildered by the sensory overload of tapas restaurants, markets, flower stands, artists, and buskers.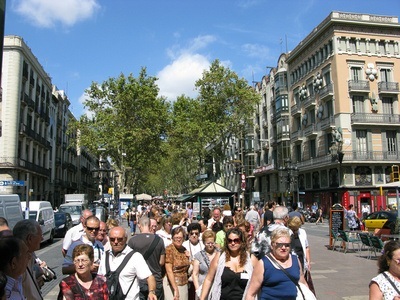 This time, walking up La Ramblas, I'm ever-aware of the multiple cruise ships in the harbour and the crush of tourists on all sides. I harbour no ill-will whatsoever towards these cruisers. Rather, in my slightly dizzy state, I'm just looking for a nice place to sit down, have a coffee and a bite to eat, and do some writing.
On La Ramblas, I'm swarmed by people encouraging me to eat at their restaurants, and north-African men selling odd whistles. I had no delusions of finding somewhere "off the beaten path" to eat on La Ramblas itself, but on principal I don't eat anywhere as a result of an aggressive person pushing a menu in front of my face.
Whereas once I may have found this whole scene charming, I now find it affronting.
I know there are hoardes of tourists here, but are there any locals? Would somebody from Barcelona be caught dead on La Ramblas? Do tourists and locals alike enjoy this fresh chaos, or is it manufactured?


Market Food
I duck off La Ramblas and go into a marketplace selling fresh and prepared foods. I remember this place too, at the time thinking it was "off the beaten path" because it wasn't precisely on the main drag and because it sold fresh food like meat and fish that tourists wouldn't buy.
This time, I'm wary.
I stop at a restaurant of sorts (really just a bar around a food stall that small groups of people sit at to order – quite charming really) and listen to the voices. Are the customers here tourists? Are they being ripped off by high prices and low quality food, or is this a good place to catch something to eat myself? People are speaking lots of languages. I don't know Catalan well enough to recognize it, and I'm sure I hear tones of German, French, Spanish, Italian, and English. It seems to be a hodge-podge. Most certainly there are tourists, but I'd love to know if anybody local would dare to be seen eating here.
I keep wandering around the market, allowing myself to get lost in the dozens of stalls selling fruit, meat, baked goods, fish, sweets, spices, dried goods, and prepared foods. I see things here that no tourist would realistically buy. This gives me hope.
Whoops: As I'm setting up a shot I realize I'm being stalked by somebody I suspect is one of Barcelona's notorious pickpockets. I'd better keep moving. Whether or not there are locals at this market, I've staunchly labeled myself as a tourist with my camera.


What is the Tourist Trail?
I keep walking. What am I looking for, really? What is the right price to pay? What is an "authentic" experience? And how far (literally and figuratively) am I willing to go to get an authentic experience – especially if I'm feeling sick and tired? And if I ever get there, will it even be worthwhile?
I keep walking.
Following my nose towards the water, I find my way to the port and watch yachts sail by and people of all walks of life wandering. I'm sure that a large percentage of these people are tourists, but I'm also pretty sure that the large movie theatre attracts its own share of locals.
Besides which, at this point I've ceased to care.
I finally collapse at a restaurant patio on the harbour. There's a 10% surcharge for sitting here. I grimace as I order a salad and coffee, but am satiated with a good free wifi signal. I settle in for an afternoon of writing, working online, reflecting, taking pictures, watching people, and feeling the gentle warm breeze off the blue waters of the mediterranean no more than 2 metres away. No office could afford a view like this; it's worth the surcharge.
Maybe being a tourist isn't so bad after all.