Ms. HalfEmpty and Mr. HalfFull are a married couple from the Washington, DC area. The two are currently on their 30/40 World Tour: Quest for Passion. Ms. HalfEmpty is 30 years old and Mr. HalfFull is 40 years old, which seemed to them like the perfect age to do something big. So they're traveling for 10 weeks to 8 countries. Please enjoy this week-in-the-life of HalfFull and HalfEmpty in the South Pacific.
This post was originally published in 2011, and has been since updated for accuracy of links. It seems that their website has gone under since 2011. 


Day One: Saturday
8 AM: Wake up for a South Pacific breakfast on Likuri Island, Fiji. Eat toast with peanut butter, fruit, and instant coffee with boxed milk – part of required FJ$65/person/day meal plan. Craving brewed coffee.
9 AM: Watch host write day's schedule on chalkboard; it seems ambitious since we're two of only three guests on island. However, we learn large group of day trippers will be joining us.
11 AM: Boat of day trippers arrive to warm welcome from singers and guitarists on beach. We lay low in hammock listening to The Art of Mindful Living on our iPod — absolute perfection while gazing up at palm trees swaying in gentle South Pacific breeze.
2 PM: Each guest is offered a free 15-minute massage. Loving massage, I upgrade to an hour. But it is a little disappointing; she uses too much oil and has calloused hands – unusual for a massage therapist, but not surprising since I also saw her cooking in kitchen and dancing in the show!
3 PM: Next scheduled activity is turtle viewing. We walk across the beach, spot large tortoise shell surrounded by leaves. Explaining how the tsunami washed the turtle ashore, our host pokes around shell, when suddenly a man bursts out of a deep hole underneath, screaming "BULA!" Fijians have interesting sense of humor.
3:30 PM: Hermit crab racing next. We're each given a number coinciding with numbers on 20+ crabs. Mr. HalfEmpty's crab places 3rd and he is awarded shell necklace and hibiscus bouquet during elaborate awards ceremony.
6 PM: Boat of visitors from posh hotel (they're pretty dressed up, many in white) arrive to singing and guitars for dinner and the show. Sunset is gorgeous, like a scenic postcard. New guests welcomed with kava ceremony; we hear ceremonial "bula!" shouts and clapping. I was warned about kava, but don't think it tastes too bad; my first bowl numbs the tip of my tongue.
6:30 PM: Mr. HalfFull disappears into dorm for men working on the island and reappears with warrior paint on his face like Fijians in the show. Guess he made friends over kava last night after I went to bed.
7 PM: Our hosts explain the lovo feast, uncovering our dinner buried underground. Then they fire walk on scorching hot coals. They ask for volunteers and a drunk girl wants in; this is our 2nd lovo, usually only children volunteer.
7:30 PM: We enjoy a buffet feast with our friend from Holland who arrived on the island with us days before. Also at our picnic table is a nice Czech couple (currently working in Australia) celebrating their 2-month dating anniversary; this guy's in trouble if they get married, because he's set the anniversary bar extremely high! They comment how Mr. HalfFull's face paint looks like The Hangover Part II. We haven't seen movie, but later find images online and have to laugh.
8 PM: The show begins: Fijian dancing, fire throwing, and knife twirling. Amazing what's possible without OSHA. Show is incredible! At the end, those of us staying on the island join hosts on stage to sing farewell. I return to my table and can't find my water bottle; I've been boiling tap water each morning to stay hydrated. Perhaps it's an ironic ploy to finally get me to buy Fiji brand bottled water at the bar? I hate losing things.
(Editor's Note: I've tried my own hand at Fire Spinning, but I can't make it look nearly as good as these guys do!)


Day Two: Sunday
8:30 AM: Breakfast with two new islanders – one from Canada and another from Britain. Wonderful bartender finds my water bottle in the recycling bin.
11 AM: Two more boats of day trippers arrive. We walk around entire island, including through mangrove with our new Canadian and British friends.
2:30 PM: Board full boat to snorkel on reef. Push away from shore, but motor won't start. Former Coastie Mr. HalfFull remarked earlier that boats had no backup engine. Another staff boat gets us started, we finally arrive at snorkeling site, and drop anchor on the reef! The snorkeling reefs in Fiji seem pretty degraded. I see small striped fish and blue starfish, but there's a lot of mangrove debris.
7 PM: Another buffet feast. Intimate kava ceremony with our Fijian hosts, couples from Poland and Denmark, the Canadian, and the Brit. Coconut relay races, boys vs. girls – victorious team wins litre of beer to share. Mr. HalfFull plugs our iPod into bar's stereo, and additional litres are enjoyed under the stars. Thoroughly enjoy socializing with other world travelers while listening to my favorite local singer Luke Brindley crooning "On Your Side," which was part of my wedding vow.
12:30 AM: Return to our lodge two hours later than planned to pack (in the dark) and sleep.


Day Three: Monday
5:30 AM: Wake up early because we're scheduled to sail out of Port Denaru, an hour north of Likuri Harbor. No electricity until 7 AM, so we dress by headlamp.
6 AM: Eat cereal, also by headlamp. Staff's already up, raking sand and removing coconut debris in wheelbarrows. Can't believe I'm going to miss this place.
6:30 AM: Take staff boat back to Vitu Levu (along with stinky trash bags from the island).
7 AM: Our taxi driver Parmesh pulls up to jetty couple minutes after we disembark. He asks if it's okay to pick up his daughter on our way. This makes me nervous, but we agree. Arrive at his house/store to meet his lovely daughter (a medical student needing a ride to school), wife, and mom. His wife smiles, handing us warm food wrapped in newspaper. He prods us to eat in his taxi, but we just had breakfast, and aren't sure what's inside! Did she just give us his lunch?
8 AM: Arrive at Denarau Marina to find cruise desk not open yet. Fiji time!
8:30 AM: Greeted by super-nice guy dressed in Captain Cook colonial costume; he appears white from a distance, but is a rare Fijian albino who offers sunscreen advice!
8:45 AM: Open newspaper to find scrumptious Indian roti bread filled with curry, a bit spicy. Since there are three roti in package, we share third with Captain Cook.
9 AM: Our sailboat departs. Other passengers include a retired Australian couple who've done this trip many times, an English/Irish couple, two German girls, a Chinese girl, and a French girl. We specifically booked this cruise because Mr. HalfFull loves sailing, but we motor entire voyage to Drawqa Island.


Day Four: Tuesday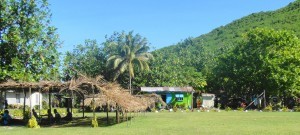 7 AM: Morning walk to top of Drawaqa Island for stunning view. On way back, our host loads us up with firewood to carry back. We plant cassava roots to help sustain the island.

1 PM: Board sailboat for trip to Fijian tribal village. Women are required to cover knees and elbows. However, I see many woman's elbows in the village and am jealous!
•Visit village's church; asked to leave donations.
•Meet village elders for kava ceremony. As selected chief Mr. HalfFull, is severed first bowl of kava. He forgets to clap three times after – an offense punishable by beheading (in previous times)!
•Walk around village – thatched hut housing, laundry in buckets, clothes drying on lines, several super cute kids.
•Ushered into community building for song and dance. Not impressive like Likuri Island show, but this time they grab us to dance with them. It's fun, but hot and pretty stinky!
•Outside the village set up shop, each family laying out their wares on the ground. Wish we knew about being put on the spot; hadn't used cash all week. We quickly buy a Fijian wrap and find a shady tree away from the pressure.
8 PM: Tonight is international night after dinner, we each provide entertainment from our respective countries. We demonstrate evolution of high fives into the fist bump, with variations. Michele Obama would approve.
9 PM: Beach bonfire.
Day Five: Wednesday
8 AM: After repeated nudging by Mr. HalfFull the previous night, our crew hoists sails for trip back to Vitu Levu. We use the motor too and after a while wind shifts and sails are lowered. Looking back at itinerary, it seems plausible this sailboat rarely travels under sail!
1 PM: After lunch, we board dingy for snorkeling. Crystal clear water, but again reef seems pretty degraded.
1:30 PM: Take dingy to nearby island full of families; offered free drinks!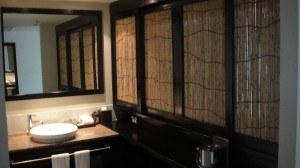 4 PM: After six nights without hot water, four nights without drinkable water, and two nights sleeping under mosquito net, I'm ready for indulgence. Get dropped off at Sofitel. According to front desk, small rooms are unavailable and least expensive room is FJ$525. Nice girl at desk finds deal for FJ$325 since we just returned from islands – worth every cent. We take hot showers, enjoy gourmet Fiji-inspired cuisine, sip real coffee, and even do laundry…heavenly!
Day Six: Thursday
8 AM: Take another hot shower; enjoy amazing water pressure!
11 AM: Taxi to Nadi airport for 2 PM flight to New Zealand.
6 PM: Descend through long white cloud, landing in Auckland. American turkey jerky confiscated by biological inspectors. Oddly, beef jerky's acceptable. Suspect agents later enjoy turkey jerky while watching rugby on TV.
6:30 PM: Contact hotel from free phone bank, arrange free pickup at airport.
7:10 PM: Call hotel again, inquire about shuttle. Informed driver came but couldn't get to Door 4 where they instructed us to wait! Another shuttle dispatched.
7:30 PM: Second shuttle arrives with original driver plus experienced driver showing him how to reach Door 4.
7:45 PM: After harrowing ride, arrive at hotel adorned with gigantic roof kiwi bird statue. Our room's above hotel restaurant, smells like Indian food. That's what you get for US$13 internet special!
Day Seven: Friday
10 AM: Taxi from airport to Mission Bay, east of Auckland's CBD (central business district). Seek restaurant with free wi-fi; most have wi-fi, but not for free. Surrender, decide on coffee/lunch at Mecca Stonehouse near beach. Naturally they have unadvertised free wi-fi; things seem to find us once we stop looking for them! Framed photo on wall of owner with Sir Edmund Hillary, whose face graces the NZ five dollar bill. Search online for nearby accommodations, learn closest are next town over – Kohimarama. Hotel doesn't book online, so we walk there along beach. Very windy, but beautiful. Weird going from barefoot and bathing suits to winter at the beach!
1 PM: Hotel is pricey: location, location, location.
2 PM: Long walk along coast, gawking at luxurious homes in St. Heliers.
5 PM: Return to hotel, purchase six hours of internet time. Yes, I'm addicted. In my defense, the winter sun has already set.
8 PM: Tear myself away from laptop for hot date night: dinner at popular Italian restaurant near hotel, since it might rain. Restaurant is packed, I feel under-dressed on Friday night (we'd forgotten what day it was). They graciously set a table for us without a "booking." We finish and ask for our bill – waitress is busy, never brings check. We go to front and pay "at the till." First lesson in NZ restaurant etiquette.
9:30 PM: Short walk home (in the rain).
10 PM: Mr. HalfFull begins love affair with SKY Movies. I use up internet time.
11 PM: Go to bed thinking about venturing into Auckland CBD tomorrow. Even my half empty mind can admit it's been a pretty half full trip so far.


Ms. HalfEmpty and Mr. HalfFull are back home in the States now, after moving on from New Zealand to Australia, Mauritius, United Arab Emirates, Germany, and Spain. You can read about their trip at halfempty4now.com, and see where their next trip will be!