When it comes to transferring money, there are a lot of options to choose from. You can use your bank, services like Western Union or MoneyGram, or – even better – through online platforms like Wise or PayPal. These platforms make it easy to send money across the world quickly, securely, and at a fraction of the cost and each of these options has its own pros and cons. But…Wise vs PayPal – which is better?
In doing my end-of-year finances and preparing to file my taxes, I had a hard look at my banking fees. I noticed they were down significantly over years prior, and it's because I started using Wise (formerly called TransferWise). So I delved into a dizzying flurry of calculations and comparisons to show you exactly how I save over $2,000/year on Wise vs PayPal by using the Wise Borderless Account (click here for more info, and read on for my Wise review).
In this article, we will focus on the top two most popular money transfer services: Wise vs PayPal.
If you click on one of the Wise links in this article and use their service, I will receive a referral fee. I wholeheartedly stand by their service, and perhaps after reading this Wise review, you will as well.


This Article Isn't Like Most Wise Reviews
It's worth noting that a lot of Wise reviews focus on the benefits (and drawbacks) of using Wise to send money internationally. I'm tackling this a different way: I use Wise to get paid internationally, and transfer the money to my bank account. So if you are a freelancer, entrepreneur, remote worker, expat, or foreign landlord who gets paid in a foreign currency (or as in my case, multiple foreign currencies), this article is for you.
What is Wise?
Wise (previously known as Transfer Wise) is a London-based financial technology company that was founded in January 2011. It provides an international money transfer service with low fees, great exchange rates and fast transfers.
The Wise platform is available online, on iOS and Android, and there are Wise Borderless accounts available in over 40 different currencies. Wise has grown to become the largest international money transfer service in Europe, with more than 16 million customers worldwide.

Key features of Wise include:
1. Low fees
Wise charges a flat fee based on the amount you're sending and the currency you're sending it in. Fees are typically 1-2% of the amount you send, depending on the currency, but Wise also offers discounts for frequent transfers or to students and charities. If you're transferring money from your Wise account to another Wise account user, it's free.
2. Great exchange rates
Wise offers competitive exchange rates that are usually better than those offered by banks. Unlike banks, Wise also doesn't have hidden fees or costs.
3. Fast transfers
Wise transfers usually take 1-3 days depending on the currency you're sending and the payment method you choose. Some currencies can be transferred in as little as a few minutes.
4. Security
Wise is regulated by the Financial Conduct Authority in the UK, and they use bank-level security measures to protect your money.
5. Ease of use
Wise's online platform is easy to use, and you can also send money through their mobile app.
6. Customer service
Wise has 24/7 customer support available in 14 languages.

Key Stats of Wise Includes:
Wise is available in more than 160 countries
Wise serves over 16 million customers
Wise processes over £9 billion every month.


What is PayPal?
PayPal is an American company founded in 1998 and it provides an online payments system for individuals and businesses. PayPal allows users to send money, receive money, make purchases and transfer funds securely. PayPal is known for its fast transfers, ease of use and high fees.

Key Features of PayPal Include:
1. Fast transfers
PayPal is known for its fast transfers, allowing you to move money between countries in a few minutes.
2. Widely accepted
PayPal is accepted by millions of merchants, so using it makes it easy to make purchases online or in stores.
3. Security features
PayPal has advanced security features, such as two-factor authentication and encrypted communication.
4. Ease of use
PayPal is simple to use, and you can send money online or through the mobile app with just a few clicks.
5. Customer service
PayPal has 24/7 customer support available in multiple languages.


Wise vs PayPal
This comparison is specifically between Wise vs PayPal. PayPal has for many years now, been the industry standard for sending and receiving payments online; considered the best way to send money internationally. Friends use it to transfer money to one another, businesses use it to invoice and send and receive payments (including credit card payments), and consumers use it to pay for goods and services. It is recognized and trusted as the way to pay for things (and get paid for things) online.
And Wise is not a 100% substitute for PayPal. For example, Wise doesn't offer e-commerce payments, email invoices, and payment links. Wise does one thing, and they do it well: they are the best money transfer app with the cheapest way to send money internationally (and conversely, to receive money from overseas).
Speaking of fees, let us take a look at Wise vs PayPal in terms of fees and exchange rates.

PayPal International Fees
By using PayPal, you are paying (outrageously) for this brand recognition. Look beyond the surface, and PayPal international transfers involve fees coming and going. People who are throwing currency conversion into the mix are especially unlucky.
The problem is, PayPal international fees (and domestic fees for that matter) are ambiguous at best. There are separate systems with multiple qualifying criteria for merchant fees and consumer fees. There are huge charts that outline different fees depending on which country you are sending money to or receiving money from (and in the case of a merchant/business account, a long list of variables depending on the type of payment).
A gross generalization for receiving money with PayPal would be if it is a domestic transaction, they charge 2.9% plus a fixed fee (which is approximately $0.30 depending on the currency). If you are receiving money internationally, they'll tack on an additional percentage of about 1%. On the whole, it works out to about 3.8% in fees. You get lucky if your payor is processing a domestic payment as a personal or batch or ACH payment, in which case (glory hallelujah) you can receive the money for free.
With this fee structure, you'll get fleeced receiving small payments. I've been using PayPal as my payment processor for my books; for every $6.99 I get for each book, I pay a fluctuating fee (I don't even now why it fluctuates but it does) of around $0.57 (which – I believe?? – is 3.8% plus $0.30). That doesn't seem like much, but it's 8.2% of the book's sale price! Sell 100 books and add up the fees and I feel the pinch.
And we haven't even converted the currency yet. Take a look at the international PayPal currency conversion fee (we'll get to that in detail later in this article), and they don't just state in their fee structure that they take 4%; no, they say "minimum" of 4%. What does that even mean???
Even more annoyingly, that 4% they take as the PayPal conversion fee is practically invisible. They just work it into the conversion rate and hope you don't notice.
I noticed.


Wise Fees
Wise prides themselves on being not only radically transparent with their fees, but also incredibly competitive. With their Borderless Bank Account (also known as a Multi-Currency Account), you can receive payments in nine currencies as if you are a local. This makes the transfer easy for your payor, and free for you. The Wise rate for wire transfers entails a fee that varies with the currency but is consistently way less than a bank would charge for a wire transfer.
Real Life Example: I wrote an article for a British publication. On the invoice, I included my UK bank details (as provided by Wise), so they paid me as if they were paying a bank account down the street, which made it cheap/free for them, free for me, and super quick.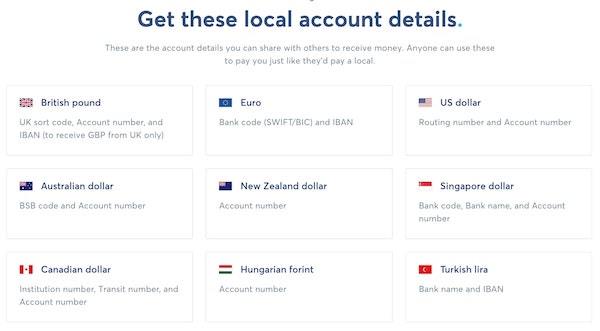 Once you have received the money to your Wise Multi-Curency Account, you can convert to and hold the funds in 40+ currencies! You can also transfer it to your (physical) bank account in any of those currencies. Best of all? Wise exchange rates are clear, and guaranteed to be the mid-market rate; this means they don't charge a fee for currency conversion.
Real Life Example (continued): Now that I had a balance in my Wise UK account, I transferred it to my Canadian bank account at home. They did it at prevailing currency conversion rate, plus a very small – completely transparent – fee (more on this in the case study below).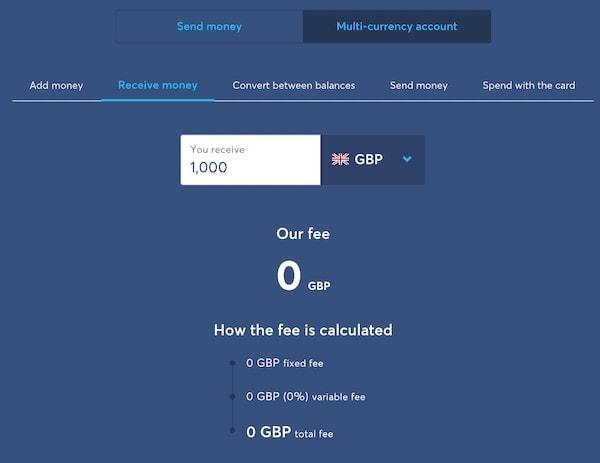 Can I get an amen?
BONUS: As a self-employed location independent freelancer and entrepreneur, banking fees are tax deductible. Every time I transfer money from Wise to my local bank account, they show me exactly how much money I'm paying in fees. This makes it ridiculously easy to track – and deduct – these fees on my taxes.
Click here to set up your Wise Account.
See also: Filing Taxes as a Digital Nomad – What you Need to Know
Now that we're much aware of Wise and PayPal fees, it's time to see which is better when it comes to Speed, Transaction Fees, Exchange rate, Location covered, Security, Ease of use, and Customer Service.

Transfer Speed
Let us take a closer look at PayPal's transfer speed. PayPal takes 1-3 business days to process and sends the money, but it can take up to 7-10 days for the money to be received by the recipient. Internationally, it can take even longer than that.
On the other hand, Wise transfer speed is much quicker than PayPal's. Wise normally processes transactions within 24 hours, and typically sends the money within 2-4 days for domestic transfers.
Depending on the country and currency, Wise sometimes delivers money as soon as the next day or in some cases, even instantly. Wise also allows you to set up automatic payments and recurring transfers, making it easier to stay on top of bills and other obligations.


How Much Money Can You Save?
PayPal charges exorbitant fees for its international payments – ranging from 3.4% – 6%, depending on the country you're sending/receiving money from.
Wise offers much better rates. Wise / Transfer Wise charges a flat fee, which can range between 0.3% – 1% of the transaction amount, depending on your currency and destination country. They also offer discounts for larger transfers – up to 50%.


Exchange Rate
As mentioned before, Wise offers fair, clearly displayed exchange rates that always land at the mid-market rate. This means that Wise is always transparent about the fees you're paying and there are no hidden charges or surprises. Typically, the mid-market rate is 1-2% better than what PayPal offers.
PayPal, on the other hand, often works charging an inflated exchange rate to make money from currency conversion fees. As a result, you end up paying more than you would have with Wise.


Location Covered
PayPal allows users to send payments in over 200 countries and regions across the globe. Wise is currently available in 59 countries but is constantly expanding into new territories as well. Wise can be used to make international transfers from most countries, so the chances are that Wise is available in your country.


Security
Both Wise and PayPal are secure platforms, as they use the latest technology to protect their customers' funds. Wise uses 256-bit encryption and two-factor authentication to ensure that all transactions are safe and secure, while PayPal protects its customers with state-of-the-art security and fraud prevention systems.
It's clear to see that PayPal and Wise both put a strong emphasis on providing a secure service, but PayPal may be slightly better in this regard.


Ease of Use
Starting from setting up an account to sending money, Wise is very easy to use. Its user-friendly interface makes it extremely easy for anyone to make payments, and the fast transfer speeds mean you won't have to wait too long for your money to arrive.
PayPal, however, is a bit more complicated to use, due to its extensive range of options and settings. In addition to that, PayPal can be quite slow – especially for international payments.


Customer Service
Wise has 24/7 customer service, and their staff is always willing to answer any questions you may have about the platform. Wise also has an extensive Help Center with detailed explanations on how to use all of Wise's features, as well as a comprehensive FAQ page.
PayPal, on the other hand, has limited customer service hours and is not as helpful when it comes to answering specific questions.



Best Way to Transfer Money Internationally: Case Study (Wise Review)
Let's put some numbers to this, shall we?
Who this is for:
If you are a freelancer or self-employed with an online or international business, chances are you will be receiving payments in multiple currencies.
If you are a remote worker or expat with a telecommuting job or business that entails being paid in one currency, and you want to transfer that money to a local bank account in the country you're residing in, this also applies to you.
I am a Canadian citizen and resident, so I have a Canadian bank account (duh). But I earn money in $CAD, $USD, $AUD, £GBP, EUR, and more. Here's how I use both PayPal and Wise to receive and transfer money internationally, and the fees to do it.


Receiving International PayPal Payments
Let's start with a $1,000 USD payment. As a Canadian with a Canadian PayPal account, this is considered an international payment, and I'm subject to the full monty of PayPal international transfer fees.
I'm receiving a $1,000 payment in USD. The prevailing conversion rate to $CAD on the date of writing this is 1.265. (So $1,000 USD = $1,265.23 CAD).
PayPal takes 3.8% (average) = $38
I am left with $962 USD ($1,216.93 CAD)
Now, I need to move that $962 USD from PayPal to my Canadian bank account.
The prevailing conversion rate is 1.265, but PayPal tacks on 4% and thus changes the conversion rate to 1.2297.
This means they are taking an additional $26.84 USD ($33.96 CAD) in conversion fees.
In the end, I receive $1,182.97 CAD (which is $935.15 USD).
Confused? Here's the short and skinny:
For every $1,000 USD I receive in PayPal, I pay a total of $64.84 USD in fees, which is 6.5%.
Let's say I earn $40,000 USD in a year through PayPal. I'll pay $2,593.60 USD in fees. Yowza.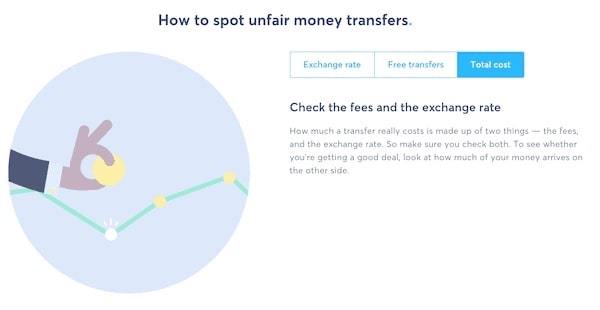 Receiving Money Internationally With Wise
Let's look at the same $1,000 USD payment. I receive it in my Wise Multi-Currency Account, which to my US payor, is like any normal US bank account. My payor makes an ACH payment and thus I pay $0 to receive this money.
Now, I want to transfer the $1,000 USD to my Canadian bank account.
Wise charges $0.48 + 0.44%, which adds up to $4.88 USD ($6.17 CAD).
I receive $1258.82 CAD to my Canadian bank account.
Don't believe it? Let's make this indubitably clear:
For every $1,000 USD I earn, I pay $64.84 USD in fees with PayPal, or $4.88 USD with Wise.
Thus, I save $59.96 USD for every $1,000 I am paid.
So, if I earn $40,000 USD, I save $2,398.40 USD by using Wise.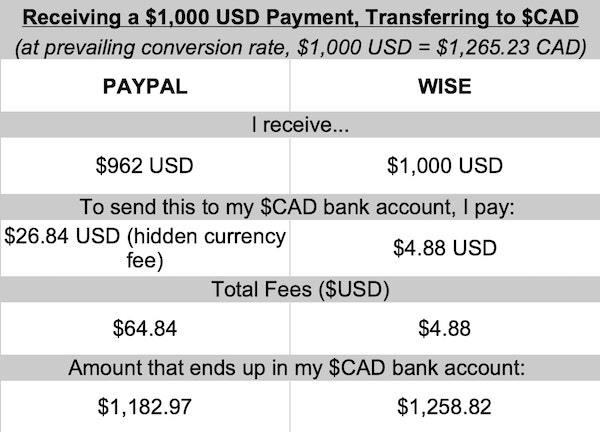 The PayPal Currency Conversion Fee Workaround
Sometimes, you just have to receive money via PayPal. Many of the vendors I work with and earn affiliate income from only make payments to PayPal. Never fear, there is a workaround to reduce the exorbitant PayPal international fee.
Let's look at the same $1,000 USD payment (which converts to $1,265.23 CAD at prevailing rates).
I receive it to my PayPal account, and (as above), I pay an average of $38 in fees, leaving me with $962 USD.
Now, instead of transferring the money from PayPal directly to my Canadian bank account, I transfer the $962 to my Wise $USD account. PayPal doesn't charge for standard transfers out to same-currency bank accounts. And because there is no currency conversion involved, PayPal doesn't get that extra $26.84 in hidden currency conversion fees.
With $962 USD in my Wise account, now it's time to transfer it to my Canadian bank account. They take off $0.48 + 0.44%, which is $4.71.
I get $1,210.97 CAD (which is $957.29 USD).
Total fees paid with the PayPal Currency Conversion Fee workaround: $42.71 USD, which is a whole lot better than the $64.84 USD I'd have paid if I didn't use Wise for the currency conversion. It's an extra step, but well worth the $22.13 USD I save.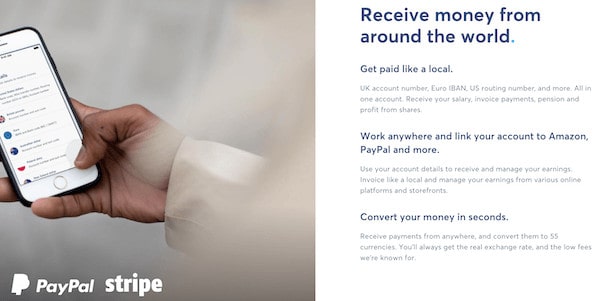 TL:DR (Cheapest Way to Send Money Internationally)
Numbers aren't everybody's jam, and if that's you, you probably have a headache right now. So I'm going to summarize the above calculations as succinctly as possible, using the same $1,000 USD payment.
With PayPal, I pay $64.84 USD in fees.
With Wise, I pay $4.88 USD in fees.
If I must receive a payment to PayPal, then doing so and then using Wise for the currency conversion means I pay $42.71 in fees.

Sold? You should be.
Click here to learn more about saving big money with Wise.


Wise Business (Formerly TransferWise for Business)
As a self-employed entrepreneur with fairly simple needs, I currently use a personal Wise account. But this year I will change it to a Wise business account, so I can further streamline my business accounting and save even more money.
So let us learn more about Wise Business and how it can help your business, shall we?
Here are a few benefits of the Wise Business Account:
It's an alternative to a business bank account with your home institution, which will inevitably charge you monthly fees.
You can invoice like a local.
Avoid fees on Stripe.
Spend money directly from your Wise account with their debit card.
Send and receive money in multiple currencies.
Make batch payments.
And if you are a large enterprise with an international payment volume in excess of $200k/month, they'll set you up with an API to help you scale.
The fees with Wise business accounts are the same as with personal accounts, with one exception: you pay a one-time fee of $42 USD for each international bank account (ie: currency) you set up. Amortized over years of saving fees with the likes of PayPal or even a local business account and processing international wire transfers, it's a drop in the bucket.


Is Wise Safe?

You might be wondering if Wise is some online fly-by-night operation that is going to collapse, abscond with your money, compromise your data, or in some way leave you high and dry. I asked a friend "is Wise safe" after they told me about it and they looked at me like I was from the moon. After a bit of research, I soon realized why.
With 9 million+ customers, $6 billion+ transferred, regulation by the FCA, and Trust Pilot ratings by happy customers, it's safe to say Wise is here to stay.
I haven't even touched on things like how to send money internationally from your home bank account to another country, but rest assured Wise can help you out there too. Wise changed how I do business. How I receive payments from around the world and minimize banking fees and currency conversion fees.
Before Wise, I used to dread doing business internationally because of all the headaches that came with it- like trying to find a way to minimize banking fees and currency conversion fees. Thankfully, those days are behind me now.


Verdict: Is Wise or PayPal Better?
You should know by now that Wise is the better option when it comes to international money transfers. Wise offers much lower fees, fairer exchange rates, faster transfer speeds, and more convenient features than PayPal. Wise is also a safe and secure platform that you can trust with your funds. In short, Wise beats PayPal in almost every area – so if you're looking for an easy and cost-effective way to send money abroad, Wise is the way to go.
But then again, I would like to mention that Wise is not entirely a replacement for PayPal. Wise is ideal for international payments, but it can also be used to transfer money domestically as well. PayPal still offers its own unique features that Wise doesn't have, such as peer-to-peer payments and mobile payment options. So ultimately, Wise and PayPal both offer their own advantages and are great for different purposes – so the choice will depend on what you need.
—
In conclusion, Wise is an excellent choice for conducting international money transfers. They have helped millions of people send money abroad quickly, securely, and cost-effectively. With Wise's low fees, competitive exchange rates, and fast transfers – you can rest assured that your money is in good hands.
Sold yet? I hope you are. Click here to set up your Wise account today.