Chasing Passion: This is the story of how a little girl who sang into her pillow growing up is learning to sing to the world. (Or maybe just a bigger pillow).
Both of my parents are musicians. Growing up, we lived in a two-bedroom apartment with two pianos; often one parent would teach a student in the living room, and the other parent would teach in the bedroom.
Needless to say, I have had music in me since the womb. I've played many instruments growing up; performing concertos on piano, touring with a ballet through China as a flautist, and even dabbling with orchestral percussion and jazz drum kits.
In addition to a piano-heavy household, my mother is a singing teacher and choral director, and my father is a jazz pianist.
So singing has also been a part of my upbringing; I'm now coming to understand this in more ways than I initially realized.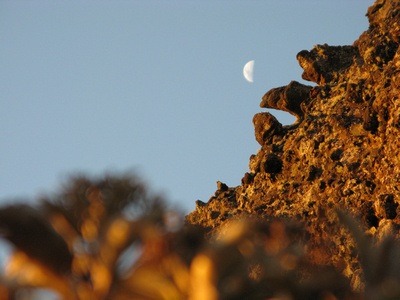 In one of my "former lives"(!), I hailed as a professional actor/singer/dancer, specializing in musical theatre. But my singing "career" goes back further than that.
My father used to have jazz "gigs" at restaurants and hotels. Growing up, I remember going to see him play, and when my bedtime rolled around, I'd be ushered into a back room at the restaurant to fall asleep and be carried home when Dad finished playing.
As a solo player, Dad played most of the jazz standards. And listening to him practice over the years, I became quite familiar with them. But without a vocalist to accompany him, I didn't know the names of the songs or the lyrics; only the tune.
One of my favourite things to do when Dad was practicing was to sit in my room and sing along, pretending I was the sultry "jazz singer" in a sparkling dress, standing next to the piano in a dimly lit jazz club crooning to an entranced audience. I sang my little heart out to my dad's playing.
I scatted like Ella Fitzgerald, and wailed like Billie Holiday. But so I wouldn't disturb his practicing, I sang into my pillow.
It wasn't until I was well into my 20's when Dad was visiting my place for a dinner party that I admitted my little singing secret. After he politely played a few tunes at the bid of my guests, I started humming along to a few. This evolved into a little scat session; me and my dad.
It is something I will never forget.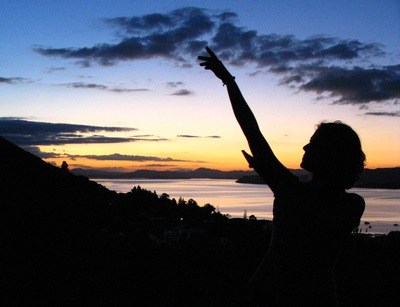 Fast forward 10 or so years. Having been traveling for four years, I've not had a chance to perform at all. Prior to leaving Toronto, I was heavily involved in musical theatre, loving the ability to express myself physically and vocally. But on the road, I've never stayed anywhere long enough (or in apt places) to work my way into a theatre group or production.
This inability to perform is the one thing I really miss with a full-time travel lifestyle.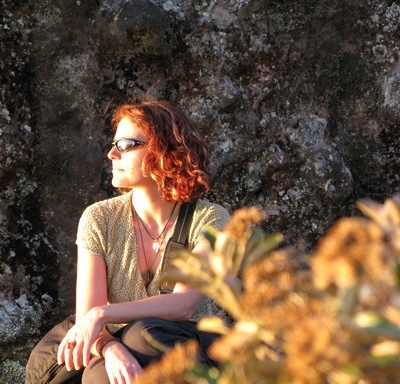 A few weeks ago, an a cappella vocal group performed at a fundraiser here at Mana Retreat. Having listened to Manhattan Transfer from a very young age, something about the tight closed harmonies of a cappella groups has always sent shivers down my spine.
Listening to this accomplished group sing at Mana was a true delight for me. But as usual, I wrestled with my own desires to perform, and found myself wanting to sing so badly it actually hurt.
Luckily, opportunities to sing have been coming to me in various forms. I've been harmonizing for some music tracks for Cybiont, including a sweet little ditty called So Much Work For Love To Do. We're even starting to develop some tracks together, which is a new process for me, since I'm used to working with pre-written music instead of creating new tunes.
I'm also branching out and singing more myself. I've worked out a few tunes on the piano (like Feeling Good sung by Nina Simone) and even performed them at various open-mic nights. (I've also realized how difficult simultaneously singing and playing piano can be!).
And I've even recorded a track or two myself, including Calling You: a favourite song of mine from my all-time favourite movie Bagdad Cafe.
So what's next for a budding singer and performer wanting to follow a dual passion for both traveling and performing? Who knows. Maybe the next step for The Professional Hobo is a gig on a cruise ship, traveling with a tv show, or even touring around with a show/band/performance.
Or maybe I'll just keep singing into my pillow, humming in the kitchen, and enjoying the beauty of music for what it is. Which is okay too, as long as I'm following a passion (ie: traveling). You can't always have it all. Only time will tell.
How do you balance chasing passion? Are you forsaking a passion with your current life choices? If so, how does it make you feel?
This article was originally published in 2011, and has since been updated for accuracy of links and content.
A few years after writing this I went on to apprentice with a shaman in Peru for two years, followed by some time working as a shaman's assistant in Ecuador. Those experiences allowed me to use my voice in a completely different way.