Matt Bowles has been a full-time digital nomad with no permanent base since 2013 and has run his real estate company, Maverick Investor Group, from 65+ different countries. You wouldn't think a real estate business could be operated remotely, but Matt demonstrates it's possible to do all kinds of unconventional things as a digital nomad. In this interview, we talk about the various iterations of his lifestyle, career, relationships, and much more.
You also won't want to miss out on:
How Beth Santos is Changing the Travel Industry and Women in Travel
Podcasting vs Blogging After 9 Years of Full-Time Travel, With Gary Arndt
21 Years of Full-Time Travel with Wandering Earl, Founder of Remote Club
Pros and Cons of Being a Digital Nomad vs. Having a Home Base, with Sherry Ott
Jump right into my Awesome Interview Series videos on YouTube here – and please give it a thumbs up, leave comments and subscribe!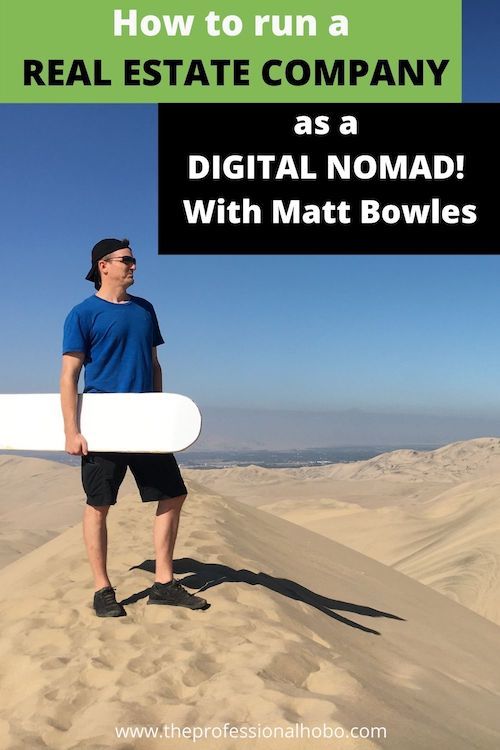 Introducing Matt Bowles, Maverick Investor Group and The Maverick Show
Matt co-founded Maverick Investor Group in 2007 as a fully-remote company to help people buy cash-flowing rental properties in the best U.S. real estate markets, regardless of where they live. He has been featured in major national media and was named one of the "Top 50 Real Estate Opinion Makers and Market Leaders".
Matt is also the host of The Maverick Show podcast where he interviews today's most interesting location-independent entrepreneurs and world travelers. Matt is a proponent of "stylish minimalism" and travels the world through multiple climates with carry-on luggage only. He is a sought-after speaker and has addressed conferences around the world ranging from the Nomad Summit to South-by-Southwest on topics relating to real estate investing, location-independent entrepreneurship, and long-term world travel. Matt was also featured in the film Roamers (2021), the first ever studio-backed documentary about the digital nomad lifestyle (about which I'm ridiculously jealous). 
We dig into all this and so much more in our interview!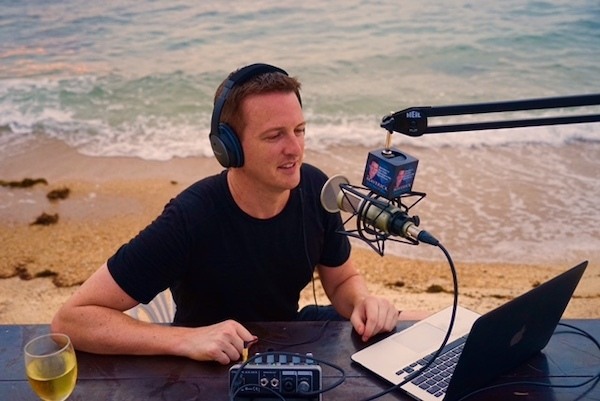 Watch our Interview Here!
Check out our meandering chat here! Click here to watch it on YouTube, and please give it a thumb's up; the earlier you do this in the video, the more it helps me with YouTube's algorithm.
How Matt Became an Entrepreneur
Being fired out of the blue was a turning point for Matt, who decided he would never work for anybody else again. But a bunch of stuff happened prior to this defining moment. We talk about:
How Matt fell into studying Sociology
Studying abroad in Ireland at an instrumental time in Irish history
Doing a Masters Degree in International Peace and Conflict Resolution
How a Peace & Conflict study abroad semester focusing on the Israeli / Palestinian conflict led to in-depth comparative studies
Matt's experience doing peace and advocacy work in conflict regions
How Matt worked in the non-profit space for 10 years, doing human rights civil liberty advocacy
At 30 he was let go from his job, which informed his decision to never work for anybody else again, which began his entrepreneurial journey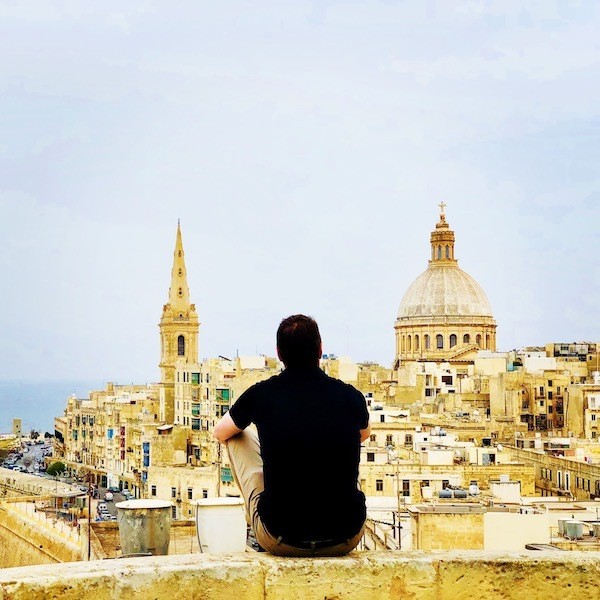 Getting into Real Estate
Being unemployed gave Matt lots of time to figure out what was next. Here's what happened:
Matt made his first real estate purchase: a four bedroom house, and he rented out three bedrooms to friends
In the first year, that house appreciated in value more than his annual salary
He saw an opportunity to invest in various rental markets
Friends took notice, and he started helping them buy rental properties of their own
Eventually he got a brokerage license so he could turn it into a business


Starting and Running a Remote Real Estate Company
It's one thing to start a real estate company; it's another thing entirely to make it remote! Here's why – and how – Matt achieved this:
Reading The 4-Hour Workweek changed his life and introduced him to the concept of location independence
"Location independence is a currency that facilitates lifestyle design" – and what that means
Knowing he wanted a location independent lifestyle, Matt reverse engineered his entire business plan
Not knowing much about business, Matt self-studied business techniques by reading books
The brilliance of finding business partners with complementary skills
How Matt and his business partners each make different lifestyle design choices with their location independent careers
How Matt manages a traditionally location dependent business remotely, and doesn't have to keep specific hours (which can be tricky with time zone differences)
The beauty of making your work tasks asynchronous so you can work as and when you wish
Instead of doing business meetings and company retreats in an office, why not on the Glacier Express in Switzerland? Or in a Costa Rican villa? (By the way, that makes it a tax write-off).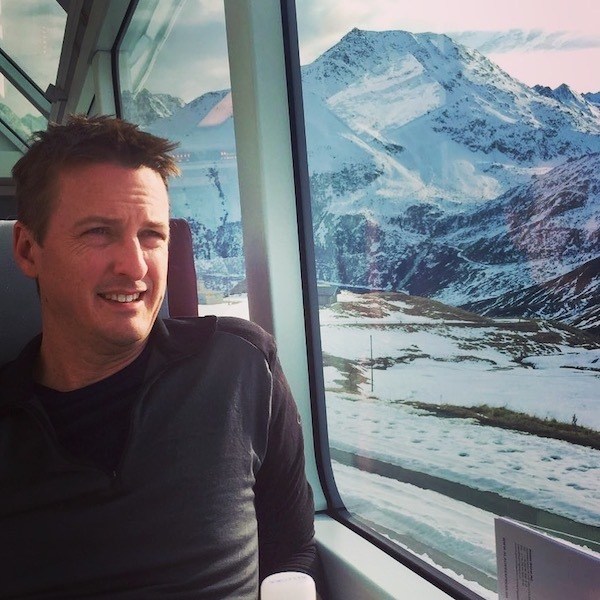 Challenges of Running a Remote Business
Running a remote business with a fully remote team isn't all roses and buttercups. Here are some of the challenges Matt cites:
Market-related challenges (eg: real estate market fluctuations, COVID-19)
Human resources challenges (employee direction, management, motivation)
Increased chances of losing company cohesion if you're not very intentional
The upside is that this forces you to become more precise and organized in designing processes


Matt's Digital Nomad Lifestyle
Being a digital nomad for more than eight years, Matt has covered a ton of territory, including staying in some unlikely places for digital nomads (like spending three months in West Africa). His travel style has also taken many different forms. We discuss:
The difference between being location independent versus a digital nomad (I said it on his podcast, then he said it on mine)
How the digital nomad lifestyle isn't the end goal in and of itself, rather it's a vehicle to have more freedom in life
How he has stayed in locations anywhere from four days to nine months
How location independence affords so many options, and how it's important to consciously choose what's exciting and interesting to you
The beauty of being able to make choices about where to be and when based on priorities, relationships, and life circumstances
The different ways he has chosen his destinations over the years
His experience with Remote Year
How his social circle of travelers and nomads allows him to have adventures around the world with different people in different ways
The benefits of location independence being not only the choice of place, but also the choice of who you want to spend time with
How Matt's destinations extend far beyond the standard pitstops for digital nomads (like Chiang Mai, Bali, Medellin, etc)
How he selects his travel partners carefully depending on the destination and experience (eg: the people he would explore West Africa street parties with may be different from the people he'd tour the south of France with)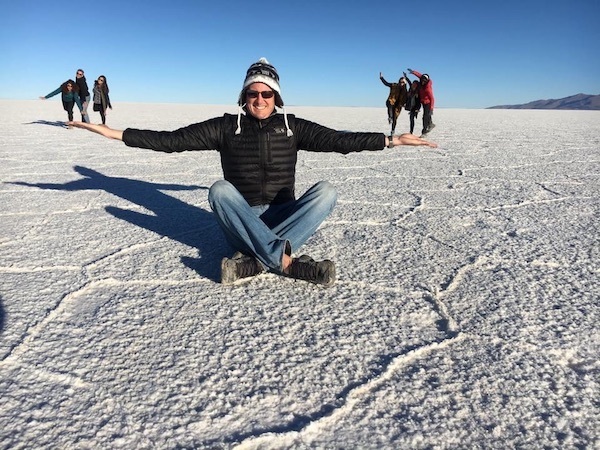 Being back in the U.S. for 18 months during the pandemic has been a bit of a reset, and Matt has found a few silver linings therein. Let's see where his life and travels take him next! Check out his most excellent podcast The Maverick Show (he has some incredible guests, and I'm not just saying that because I'm one of them!), and if you're interested in getting some turnkey investment real estate, put Maverick Investor Group on your radar. You can also reach out to him on Instagram.