The digital nomad life is a wonderful thing that allows you to go anywhere that your heart desires at the same time see gorgeous sites around the world.
Having a remote job may seem like it flies in the face of conventions like financial planning, but the reality is quite the opposite: without a financial plan, your ability to be a digital nomad and to financially sustain the lifestyle will be highly compromised.
As a former financial planner, the first question I asked my clients was not about money or the return on their investments. It was about what they wanted to do with their lives. I contended (and continue to believe) that the first and most crucial part of financial planning is about engineering your finances to help you live the life of your dreams. If you want to become a digital nomad, this is the kind of advice I might give you.
But what follows below isn't my advice. I enlisted Ellie Lott, who has been a digital nomad since 2017. With a previous career in financial planning (like me!), she initially funded her digital nomad lifestyle with content writing (also like me!), and now she combines her writing skills with her financial expertise to educate millennials about financial planning and making smart financial decisions on her website Young and the Invested.
If you're thinking about becoming a digital nomad sometime in the future or planning to launch a business online a few days or weeks from now, the advice that Ellie Lot has shared with me, who has been a digital nomad ever since 2017, was very helpful and I thought I'd share with you all.
Below is a step by step approach to creating a financial plan to become a digital nomad, as written by Ellie Lott.
___________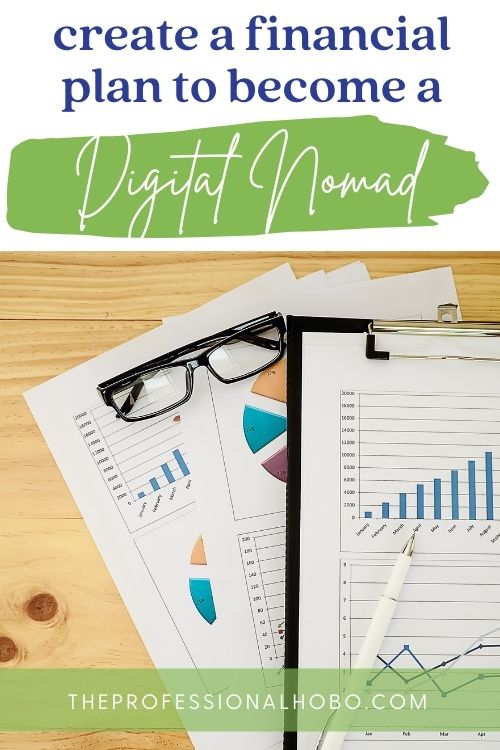 How to Plan Finances As A Digital Nomad
When your livelihood means that you spend full time on the road, whether you're a freelancer, independent contractor, or entrepreneur who has built a company online, whether that be service-based or product based, there are some major things that you need to contemplate financially before you make the jump to commit fully.
The thought of trading your office cubicle to work remotely from sandy beaches is enticing. But, beyond the obvious perks, the digital nomad lifestyle is attractive to many because it provides a feeling of independence. If you're thinking of exploring this lifestyle, you'll be joining over 10 million Americans who agree.
However, you may need to get your finances in order first to sustain this lifestyle long-term. If you're wondering how much you'll need or if you'll ever have enough to start, fret not. You can learn from my personal experience how to manage your finances to become a digital nomad.
See Also: How to Create a Long-Term Travel Budget (and the real meaning of financially sustainable travel)
What it Means to Be a Digital Nomad
Digital nomads work remotely, typically as freelancers or entrepreneurs, while they travel the world visiting different places for weeks or months at a time. Contrary to popular belief, not just website designers, creatives, and marketers can become digital nomads; anybody who works remotely can travel and live this way.
How To Budget As A Digital Nomad
As we all know, having a budget is very crucial as we live with our means daily, but it is even more vital when you're a digital nomad. Mainly if your travel costs take up a huge lump of your expenses or if your income is nonuniform.
There are a few things that you need to remember especially if you work remotely. If you're a freelancer or run a business online, your income varies from month to month. Some days will be higher than others and sometimes it'll be a slow business day or month in this situation.
What you can do is to look at your lowest income month during the previous year and use it as a criterion for your budget. By doing so, you can plan your budget accordingly so you don't run the possibility of falling short..
Saving should be the prime concern of your budget. If your earnings exceed your budget projections for the month, save the difference into an emergency fund. This will help you pay for bigger expenses and unexpected emergencies. .
Now that I'm on my way to becoming a seasoned digital nomad, I feel better about my finances and career than I ever did in my previous job because of keeping my budget in check. Here's why:
I control my income
I have multiple streams of income
It gives me freedom
I acquire new experiences along the way
Financial Steps to Become A Digital Nomad
If you already have a lot of savings in your checking account and a good score on your credit cards, then you're primed to begin your digital nomad life.
Maybe you're pondering how much money you will need to start, and thinking about the pros and cons of starting a nomad lifestyle. The ability to work online on social media, marketing, web design, etc., can give you the privilege to go wherever you want.
Starting this lifestyle can be a bit hard, but it is possible as long as you put your heart into it. Here's what I learned about creating a financial plan to become a digital nomad:
Save Ahead of Time
As a globetrotter, you'll need to pay for transportation, food, and lodging from the get-go, so it's crucial to cushion your savings ahead of time. This can be achieved through a dedicated travel savings account. It helps you understand how much money you have at hand to fund your travel and how much you'll need to meet your goal.
The exact amount you'll want to save largely depends on your destination and employment situation. In my case, I always had enough in my account for a last-minute flight home. However, experts recommend saving at least six months' worth of living expenses before you leave.

Diversify Your Income
Many digital nomads are freelancers, gig workers, and entrepreneurs. It helps to have multiple sources of income, as this gives you more security, especially as a newbie. Getting gigs lined up several months before you leave allows you to get used to the change of pace.
Nora's Note: Indeed, I usually advise people to have the foundations of their digital nomad career established before taking to the road, since the learning curve to the travel lifestyle can be quite steep. Check out my Travel Lifestyle Guides to get a leg up on these challenges.
I have fond memories of how excited I was when I got my first check ($100) from Google AdSense and multiple affiliate programs that I'm part of. Renting out your current property or investing in stocks are other options worth exploring. If you chose the latter, do some research into the best stock picking service before you start. Remember to be cautious as it's risky and is more suitable as a long-term strategy.

NOT SURE WHERE TO START IN CREATING A REMOTE INCOME?
Virtual Excellence Academy – for freelancers and VAs
5-Day VA Challenge
How to Find a Remote Job


Create a Budget
Having a budget as a digital nomad is pivotal since it helps you plan your expenses so that you don't risk overspending.
There are two basic elements to creating a budget: what you earn and what you spend. First, you'll need to estimate your monthly income. As a freelancer or entrepreneur, your income may fluctuate. You can calculate your average income for the last 12 months and work with this.
From there, deduct your living expenses. To do this, you can create three lists:
Expenses before leaving home
Monthly expenses
Emergency money
Add in your retirement income and savings to your expenses, and you'll find just how much you're going to spend in a month.
Exact figures are difficult to determine, as expenses and income are highly dependent on your location's cost of living and your revenue stream. I found that although living in Southeast Asia saved me money, there were more opportunities to network with clients in New York City. Therefore, it's up to you to find the balance that works for you.
SEE ALSO:
Template for Creating a Long-Term Travel Budget


Figure Out Your Tax Situation
A lingering issue that remains for many would-be digital nomads is the complexity of the U.S. tax code. Especially if you are a remote worker for an employer, there may be tax implications to working on the road.
U.S. citizens need to know that regardless of location, income earned abroad is still taxable. However, the foreign earned income exclusion (FEIE) allows eligible taxpayers who are living and working abroad to exclude part of their income, up to certain limits. There are also tax treaties available between some countries.
SEE ALSO:
Filing Taxes for Digital Nomads: Everything You Need to Know
Tax Consequences of Remote Work Visas
Low Tax Business Setup for Location Independent Business Owners


Think About Your Banking Needs
When you're traveling, you need a bank account that goes the distance. Believe me when I tell you foreign transactions and ATM withdrawal fees can seriously add up. Switching to a travel-friendly bank account can provide financial peace of mind and save you big bucks.
Fully digital banking solutions offer more flexibility and offer lower exchange fees. Charles Schwab, HSBC, Revolut, and Wise are some top players in the international banking sector.
SEE ALSO:
How I Saved Over $2,000 Year in Banking Fees by Using Wise
The Ultimate Guide to Traveling With Money, With ATM & Banking Tips
Don't Forget About Insurance! An Unexpected Emergency Can Derail Your Financial Plan and Lifestyle

A Few Tips to Help You Save Money as a Globetrotter
Don't travel like a tourist. Choose the activities you want to do at your destination, and spread them out over your stay. Take note of free walking tours and free museum days to make your money go further.
Avoid eating take-out. If you have a kitchen in your place, opt to cook homemade meals instead. Your wallet will thank you at the end of the day.
Eat where the locals do. . Look for restaurants or small cafes that will help you save money while still giving you the true experience of the place.
Pay attention to the exchange rate, which varies in different places. It can be too easy to overspend because you didn't calculate the exchange rate properly.
Most importantly, choose accommodation that fits your budget perfectly. Remember, you will be staying for a couple of weeks or months so finding a longer-term rental will help you a lot.
When creating a financial plan to become a digital nomad, there isn't a blueprint for everyone to follow. Although it may seem daunting, things like getting travel insurance, making sure your taxes are in check, and taking time to manage your money well are definitely worth the effort. It can help you sustain your new lifestyle and check more countries off your bucket list.
Thank you Ellie, for providing this financial template for becoming a digital nomad!