Kia Ora from New Zealand!
("Kia ora" means hello, goodbye, thanks, you're welcome, ta, have a nice day, pleasure to meet you, and just about any other friendly expression you can think of in the native New Zealand language and culture of Maori).
Actually to be fair, by the time this post goes live, I'll have left beautiful New Zealand and will be in transit back to my "home" in Australia. Alas, it won't home for much longer.
But I'm getting ahead of myself. You'll have to stay tuned to find out what my travel plans are for this year….they're gonna be good!
This post was originally published in 2010. It has since been updated for accuracy of links and content.


First of all, I have so many stories to tell about my last week of adventures, so many wonderful things to say about the glorious country of New Zealand. Stay tuned for a week-in-the-life of yours truly – while shooting a television show, as well as posts on some of the highlights I experienced on the North Island of New Zealand, including a Volcanic Air Safari, my first experience heli-sledging (if you don't know what it is, you will soon), visiting a natural – and very hot – creek, and an epic seven-hour adventure in a cave called the Lost World (which started off with a 100 metre abseil, just to get the juices flowing).
But just to set the scene for New Zealand, here are some miscellaneous tidbits of information I discovered about the place during my 11 day visit:
Organize your next destination before going.
They won't even let you on the plane to New Zealand if you can't show proof that you're leaving (in the form of an onward ticket), and even prove that you have visas sorted for the country you are going to. This is a country fiercely (and justifiably) proud of its small population…there's no falling off the grid here.
See also: Things to do to Prepare for Traveling, Including the Scoop on Onward Tickets


Rotorua is the epicentre of Maori culture.
I'll post more about this incredibly interesting town that smells (reeks?) of sulphur, but for now I'll simply say that it is steeped in Maori culture, is a geothermal hotspot, and is basically like Chuck-E-Cheese for adults. Bring lots of money if you like adrenaline adventures.


Mammals are completely introduced, and birds never used to fly.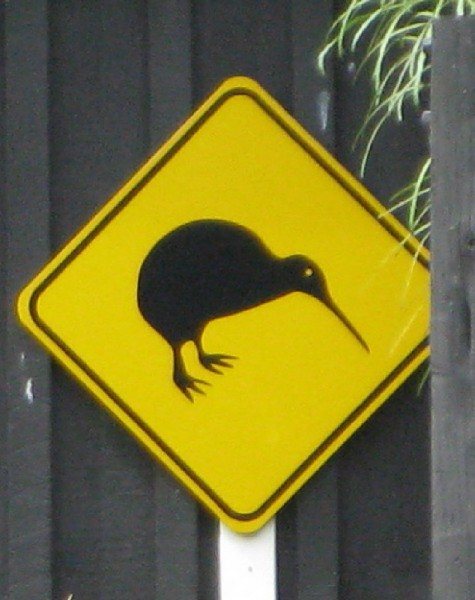 Before man came to New Zealand, the only mammals that lived here were bats and seals. And believe it or not, many of New Zealand birds also didn't fly – they didn't need to, with no real predators to worry about. Many of these flightless birds are now endangered if not completely extinct – including the slightly ridiculous looking (but completely loveable) Kiwi bird, which is making a comeback with the help of sanctuaries and reserves. As the national bird of New Zealand, you will see lots of pictures and logos with this cute anatomically bizarre creature.


The national colour is green.
Okay, I made this up, but if New Zealand's national colour isn't green, it should be. Even after a dry summer, I saw lush green ferns and rolling green hills in every direction. Apparently after a wet winter, the countryside looks like somebody took a bright green highlighter to it.


Silver Ferns are navigational tools.
Along the green theme, there are beautiful ferns everywhere, especially dotting waterways and lakes (ferns have even worked their way into the logo for Rotorua). One of the indigenous ferns is called the Silver Fern, which gets its name because the underside of the leaves has a silvery sheen. It glows in the moonlight, and can be used for navigation at night by leaving a trail of leaves. Its Maori name also means "national pride".


Look for iSites for travel information.
iSites are all over the country, and are the unbiased resource for travelers to get information and book anything from transportation to accommodation and adventures.


Kiwi hospitality rules.
"Kiwis" are not only the national bird and commonly grown fruit in New Zealand, but also the nickname for New Zealanders. They are also among the friendliest and hospitable people I've met. Be prepared for impromptu conversations with complete strangers, lots of laughs, and if you're lucky – an invitation (or three) to a barbecue you won't ever want to leave.
And although I'm sad to be leaving New Zealand, I'm also fairly sure that this visit was only a brief introduction. In an 11 day whirlwind trip, I managed to make many sincere and deep connections with people who I'm excited to get to know better. And I didn't even touch half of what this country has to offer; I'm told the South Island is a world unto itself.
To my Kiwi friends: Kia ora, mates! Until next time…