2019 Note: Blessings to the friends and families of the victims of White Island's eruption on December 9, 2019. Our hearts are with you. This post was originally published in 2010, and has since been edited for accuracy.
Where is White Island?
Where is White Island? 50kms off the coast of New Zealand in the Bay of Plenty exists White Island, referred to in Maori as Whakaari: a living, breathing, steaming, venting, bubbling, heaving entity that is also New Zealand's most active volcanic site. To walk on its shores gives you a true feeling for the earth's power, and a humbling sense of mortality to go with it.
I was lucky enough to be one of those mortals.
How to Get to White Island
The two main methods for how to get to white island include a boat from Whakatane or a helicopter from Rotorua. Our chariot of choice was the White Island helicopter.
Rotorua to White Island Helicopter: Volcanic Air Safaris
Volcanic Air Safaris was our host for the afternoon, and after our helicopter briefing (and removing one of the doors so our cameraman could shoot – footage, not bullets – out the ensuing gaping hole in the side of the helicopter), we were lifting off.
(Dec 2019 Update: Following the eruption, White Island's air space is considered a "no fly zone". Pilots of Volcanic Air Safaris have been instrumental in the search and rescue efforts. They still offer helicopter tours of other (exciting) parts of New Zealand including Mt Tarawera).
Riding in a helicopter is an amazing experience unto itself. The almost noise-canceling headsets do wonders for saving eardrums and enabling conversation, and as soon as the props are rotating, lifting off seems so natural. It's like the helicopter is a light as a feather, and not the few thousand pounds it really is.
We continued to defy gravity all the way to the coast, flying over bubbling mud pits (Rotorua and the surrounding area is a hub of geothermal activity), and masses of Kiwi farms nearer to the coast. Within 30 minutes of taking off, we were over the open water, in the Bay of Plenty (along the northeast Coast of the North Island of New Zealand).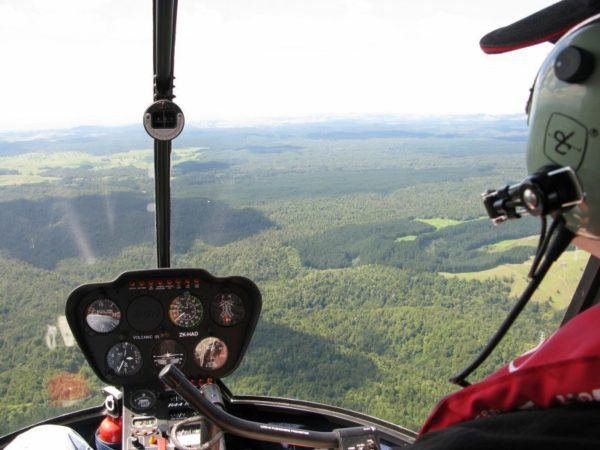 I peered at the horizon in search of our destination, but saw nothing. It was only 10 minutes later and minutes before our arrival that I spotted the grey pyramid that is White Island New Zealand, emerging from the ocean.
We circled around White Island before coming in for a landing. Although the highest point stands 320 metres above sea level, what remains unseen is the rest of this 1600 metre giant, lurking underwater. Occasional discolouration of the water around the island was our only sign that volcanic activity was taking place beyond our scope of vision.
We spotted a vivid (unnaturally coloured) green lake, and plumes of steam rising from various areas on the island. The moon might have looked more familiar than this alien landscape.


White Island New Zealand – Two Golden Rules
"There are two golden rules when it comes to walking around on White Island," our pilot Mike said while landing the helicopter. "First off, follow in my footsteps. Don't stray off the path, because there are places where the ground is very thin and you could break through." (He later showed us a spot where people had gone off the path to get White Island pictures, and had started to sink into the hot mud after some heavy rains).
"Secondly, if you see your pilot running for the helicopter, you'd better follow – fast!"
We had a good laugh at Mike's joke, then thought about what it actually meant. I asked just how likely it is that he'd be running for the helicopter.
"The last White Island eruption was in 2000, and we had plenty of warning. Well, enough to make sure there weren't people on the island, anyway," Mike replied. As New Zealand's most active volcanic site, it wasn't out of the realm of reason that more eruptions would happen. Just not today (please).


Our White Island Helicopter Tour: The Scariest Tour I've Ever Done
With our crew already tense and prepared for anything, Mike pointed over to a steam vent in the near distance as we walked towards it. Up close the noise was deafening, and the smell of sulphur so caustic that we had gas masks on in case we had trouble breathing.
"That's nature's vent. As long as it's steaming, the pressure is being released, and we're okay," said Mike. The temperature of the steam was 800 degrees (Celsius), and I couldn't get much closer than 5 metres to it without feeling very uneasy. But knowing that the venting action was good, I spent the rest of the afternoon with one eye on the vent (to make sure it continued to bellow), and one eye on Mike (to make sure he wasn't running for the helicopter).
After marvelling at this natural pressure release valve, we veered around to find ourselves on the bank of the green lake. Arsenic is what makes it green, but that's not what will kill you, nor is the fact that it's 80 degrees (Celsius) with steam constantly rising from the glassy surface. No. What will kill you is the fact that the "water" has a PH balance of 0, making it 10 times stronger than battery acid.
Visions of – and jokes about – organized crime syndicates using White Island as a disposal site for bodies ensued.
Everywhere we walked on the island, we passed by steam vents covered in white sulphur, and bubbling spewing mud pits. This was truly an inhospitable place where humans certainly do not rule the roost. Mother Nature has the last say on White Island.

The Old Sulphur Mine
Before leaving the island, we wandered over to the beach and discovered former signs of civilization.
"Surely, people didn't live here," I said, aghast.
"Actually, they did. Miners used to live here when the island was actively used for sulphur mining. That is, until 1914 when an unexpected eruption killed the whole lot. Shortly after that, they decided that mining sulphur from this place wasn't economical," replied Mike.
We surmised that with oil refinery becoming popular around that time, and with sulphur being a by-product of oil production, that the need to mine sulphur would have dropped significantly either way. Although there's nothing like an eruption obliterating a mining crew to give you pause for thought as to the mine's necessity.
What remained of the mines were rusted anchors and chains on the beach, and the remnants of a few buildings and pieces of equipment. Although the dock looked incredibly rickety, boat tours to White Island moor there regularly, so it must have been stronger than it looked.

Pushing the Boundaries
Since we were shooting a tv show, it took quite some time to get the right shots. By this point we had overstayed our welcome, and Mike was shifting uneasily from foot to foot.
"I have to get to the other side of the island (where there's reception) to call base and let them know we're running late. If I don't, they'll be looking for us soon. And of course, you have to come with me, due to the instability of the island, and remember – only walk where I walk."
We nodded obediently and followed Mike like ducklings, possibly taking the "follow my footsteps" request too seriously, but not wanting to tempt fate all the same. We continued to shoot while he made the call to say we hadn't been enveloped in volcanic matter and would be on our way back shortly.
"You said earlier that this island breathes. What did you mean?" I asked Mike when he finished his call.
"With the pressure, White Island heaves up to one meter per month, which when you think about it is a lot like breathing," Mike explained. I already felt like I was baking from both the sun above and the hot ground below, and now I justified my sense of imbalance here as the ground heaving beneath me.
We silently walked back to the helicopter, not sure what to make of this strange place. Whereas the ride out was filled with smiles and chatter, the ride back was contemplative and silent.
I felt honoured to have set foot on such a tenuous and unconventionally beautiful place. Between steam vents, cracked ground, battery acid pools, and bubbling mud, I could have died a dozen times in as many different ways on White Island. Yet I was allowed to cross her shores and view her awesome power up close and personal.
To say the experience "makes you think" or "makes you feel so small" is cliché and overdone. But you can't see a place like White Island without considering the power of the earth…and our teeny tiny place on it.
Please check out this video of my trip to White Island:
Editor's Note: This experience was part of a week-long trip organized by Destination Rotorua Tourism Marketing in conjunction with shooting an episode of the tv show "Alive" .

See also: Why I Evacuated Bali (hint: it's for less volcanic activity than White Island. I've gotten soft over the years – ha).