Jamie has been set on travelling the world since leaving high school in 2015. However, what started off as a gap year to Japan turned into much more than that. After working as a ski instructor, Jamie turned his attention to blogging and has been working on his travel blog (Gaijin Crew) as his means of earning an income online and becoming financially sustainable in order to fuel his nomadic lifestyle. Jamie is in the beginning stages of his blog development, and in this financial case study, he shares what it takes to "get there".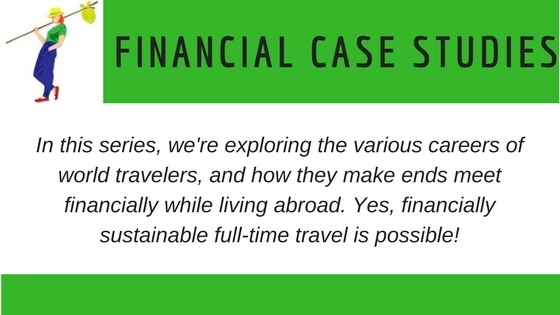 This post was originally published in 2018. It has since been updated for accuracy of links and content.


How long have you been living/working on the road, and where have you traveled to?
I've been travelling on and off pretty much since I left school back in 2016. I went out to Japan for a year (totally life-changing), working as a ski instructor for the first six months and then I did some work in a hostel in Tokyo, while I was in the process of setting up my travel blog.
Other than Japan, during this time I've also been to Thailand, Vietnam, Amsterdam. And then in the States, I did a road trip through Nevada, Arizona, Utah and Colorado, ending up in Denver. In between trips I've been back in my home base in Scotland.


Please describe what you do for income.
Over the past couple of years, I have worked as a ski instructor and hostel worker. I've also done a very small amount of freelance writing but at the moment I'm focusing on building my travel blog. I also design t-shirts and other clothing as a sort of side hustle.
Another idea that I'm playing with is potentially becoming a cryptocurrency trader. I've been reading up on it and have even taught myself the basics.
I think it's a smart idea to have multiple sources of income. If one fails or struggles at times, the others are there to keep you afloat.


How many hours per week do you work on average?
At the moment I usually work at least 40 hours, often more. I like to keep myself busy and make sure I am being as productive as possible so I'd like to see these numbers climb up in the near future.
However, I do try to focus more on how many tasks I complete instead of how much time I have worked for. I feel that smart work trumps hard work any day but if you manage to work hard on top of working smart, then bonus!


How much money do you make?
At the moment I make minimal income from my website. I'm still in the "grow your audience" phase. I make the odd affiliate sale every now and then but nothing that resembles a full-time income.
For freelance writing, I can usually make between £25-100 per article. I also make a bit of side income designing t-shirts on Teespring.com.
In order to support myself in this challenging phase of my blogging career, I also have a profile on Patreon (the platform where creators receive financial support in the form of monthly pledges/donations from generous fans and/or interested parties).


Do you make enough money to support your lifestyle?
At the moment, no! I manage to get by purely on the money I've saved up over the years and by living as frugally and simply as possible.
The way I see it, doing something you enjoy and pursuing your passions are much more important than just chasing a paycheck. If you go all in on your passions, the money will come eventually!


What do you like most about your career and lifestyle?
The freedom. Having the freedom to work when I want, where I want and on what I want is the best quality you can have in any career. I take comfort in the fact that my success in life depends on me and the work I am willing to put in. If you put in the work, the sky is the limit!


What are some of the challenges you have with this career and lifestyle?
It's tough in the beginning phases (especially the phase I'm currently in). Progress (and income) can be very slow in the early stages and it can be tough to find the motivation to keep working. But it's worth it when it all pays off (I hope)!


What is your vision for the future of your lifestyle on the road?
Gaijin Crew remains at the top of my priorities right now but hopefully, as I begin to become more financially sustainable from it, I will have the time, energy (and money) to begin working on my other ideas and projects for the future!
I'd love to pursue my filmmaking/photography more in the future, especially.


Any advice for the aspiring traveler about living and working on the road and managing finances?
Keep on top of things. My friend who I went travelling with before, got to the point where he only had £13 left in his bank! Stuff will come up. Plans will change. One of the main skills every traveller should develop is the ability to be adaptable and flexible with their plans.
To do this, it really helps to stay on top of your money situation and make a travel budget for every trip you take.
Nora's Note: I can't agree more, especially if you're in the beginning stages of developing an online career to support your travels. I had a boyfriend who ran out of money on the other side of the world because he wasn't keeping track of his finances. It wasn't pretty.
Personally, I use Trail Wallet to track expenses and my budget.
See also: Having an Emergency Fund as part of a Financial Plan for Travelers)


Is there anything else you'd like to add?
If you want to live a nomadic lifestyle and make a living from writing a blog (or doing something else in the online space) then go for it! As long as you're willing to put in the work and the time, you will be able to live and travel wherever you want. It's seriously the most rewarding, fulfilling lifestyle and it's worth all of the tough days in the beginning. The ones who make it are the ones with the strongest work ethic and those who persist through the tough early days!
(See also: Want to Make Money Blogging? This is For YOU!)