As people danced and whirled around me to the latin beats, I had a moment of clarity. This was it: the moment I had waited so many years to experience. Long before I started traveling full-time, I had been drawn to Latin American culture: the music, the dancing, the colours and vibrance (inside and out), and the general zest and passion for life. Suddenly here I was, on the inside track, celebrating a Peruvian wedding and being both thoroughly in – and out of – my element.
This post was originally published in 2014, and has since been updated for accuracy of links and content.


Attending Weddings Abroad
For a traveler, being invited to a wedding abroad is a boon; the quintessential cultural experience, and a peek into the traditions and festivities of a local culture. My invitation to a Peruvian wedding was no exception.


A Random Invitation
The invitation came from an older fellow I befriended the last time I was in Peru. At the time I was walking into town with some friends to catch a bus to Cusco, and Vico drove by to say hello to my friends (who he knew). He offered them a ride to Cusco, but they were only headed to Pisac. Before I knew it, I was ushered into the front seat of Vico's car, practicing my Spanish and getting to know this lovely Peruvian gentleman.
On my return to Peru, I saw Vico again, once again catching a ride into town with him and later running into him at a birthday party.
"Would you like to go to a wedding with me next Saturday?" Vico said, suddenly. "It will be lots of fun; these people are like my family, but I don't want to go alone."
Vico, a friendly and gentle widower, lives near Pisac, while the rest of his family lives in Lima (where he's originally from).
It didn't take long for me to say "yes" to his kind invitation.


Peruvian Weddings
It's difficult to say how "traditional" this Peruvian wedding was. Like so many countries, Peru is made up of different people from different cultures and backgrounds. Whereas Pisac and Cusco have a large population of indigenous Peruvian people of Quechua and other native Andean backgrounds, other parts of Peru (like Lima and Arequipa) stand largely on another brand of Peruvian, ultimately descendants of European backgrounds. Having lived in Peru for generations, they are no less Peruvian; simply different.
Most of the guests of this Peruvian wedding were from Arequipa, but were celebrating with family in the Sacred Valley in about the most idyllic place I could imagine for a wedding.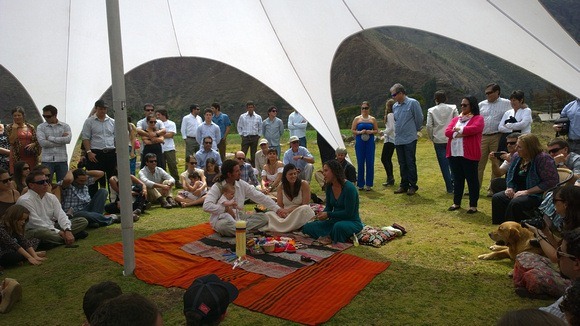 There was no priest or particularly religious element to this wedding. Instead, the ceremony, held under a white tent in a field surrounded by mountains with the river to one side, was a touching ceremony celebrating the unity and love of the couple, with their close friends officiating. The 120 or so guests stood or sat around the tent during the 90 minute ceremony.


Always a Despacho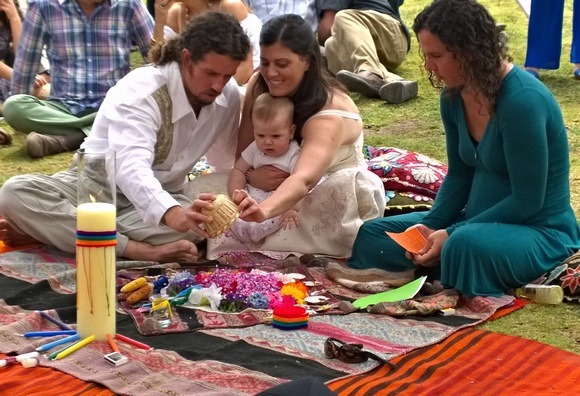 If there was any truly traditional Peruvian element to the wedding, it was the despacho, which encompassed the majority of the ceremony. Peruvians have despachos for all kinds of events: weddings, births, deaths, and any event for which they want a universal "blessing". (I've participated in a few despacho ceremonies myself).
A variety of symbolic items were laid out on a small cloth, and added to the despacho slowly over the course of an hour. Food items, flowers, confetti, nik-naks, and lots of coca leaves were all blessed with various intentions for the couple before being placed into the despacho. Once the core despacho was constructed, guests were invited to come up one by one and put their intentions for the couple into coca leaves, each of which were tenderly placed in the despacho.
Finally, it was wrapped up in local weavings, tied, blessed, and given to the couple, who will either burn or bury the despacho as a way to send all these kind intentions and blessings to Pachamama (mother earth – a formidable and celebrated power in the Andes) so that they may come true.


The Reception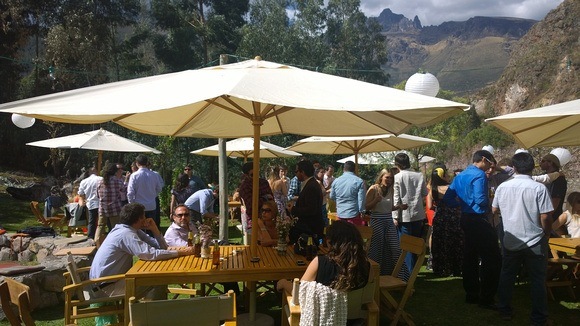 With the early-afternoon ceremony complete, so began the universal mission: to celebrate! Alcohol flowed freely, cocktail appetizers circulated, and soon enough the enormous buffet table was open, full of a variety of Peruvian specialties. It was an informal affair, with people eating when and where they wanted (no assigned tables here!), and dancing throughout.
In fact, if there were any themes to this Peruvian wedding, it was food, drink, and dance.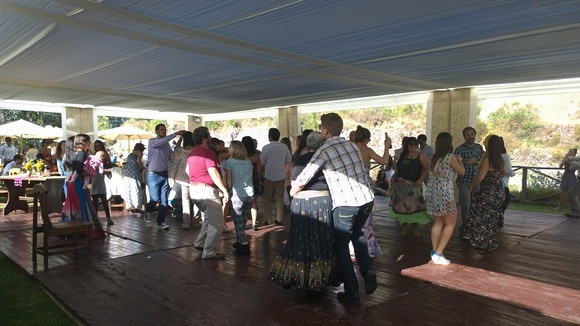 La Hora Loca – Wedding Turned Rave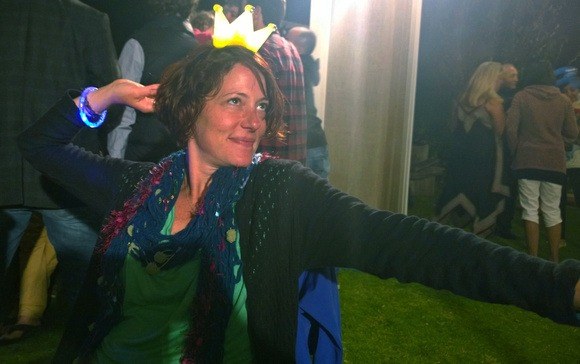 "You must be ready for la hora loca," said Vico with a mischievous smile. "It's the best part of any wedding, and you have to participate!"
A Peruvian tradition, la hora loca ("the crazy hour") happens when the guests are well fed and lubricated, but need a kick to keep the party going – and even take it to the next level. Indeed, after five or so hours of eating/drinking/dancing, I was about ready to call it quits, until la hora loca happened.
Suddenly the lights went out, the music kicked up a notch, and trays of party toys were brought out. People grabbed long balloons and tied them in various configurations to wear on their head or other body parts. Glow sticks, sparkly masks, and an array of light-up toys and jewelry circulated.
Before I knew it, I was wearing a yellow flashing tiara, a neon bracelet, I had a balloon around my neck, and I was waving glow sticks and jumping up and down on the dance floor along with all the guests.
I felt like I'd stepped out of a wedding and into a rave, surrounded by people of all ages in the name of pure unadulterated uninhibited fun and celebration.


"How Long Does This Party Last?"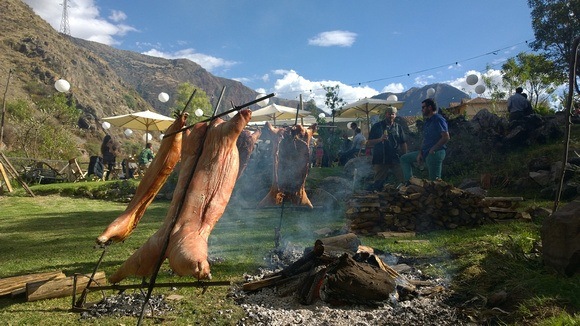 Having arrived at this Peruvian wedding around noon, I figured I'd be home for dinner and tucked into bed by 10pm. Instead, an hour or so after la hora loca, a second meal was served consisting of the three pigs that had been roasting over a fire for the previous 10 hours, which people made into sandwiches along with various Peruvian condiments and sauces.
It was a welcome snack, given the amount of energy expended over this long celebration of drink and dance, and the requirement for some people to drive home at some point.
Vico and I checked out around 10:30pm after an unexpectedly long day, with the party still going strong and expectations that things wouldn't wind down until 2am or so.


The Peruvian Wedding Experience
Typical of Latin American culture, at this Peruvian wedding people danced without inhibitions (and much skill, I might add). People drank as they wished, and ate terrific food. But above all, they celebrated a couple deeply in love who want to spend the rest of their lives together – something that transcends country, language, and culture.
I was honoured to be invited, and to experience this intrinsically Peruvian celebration first-hand.
Have you ever been invited to a Peruvian wedding – or any wedding – abroad? Where was it?