Barry (from Northern Ireland) and Simone (Australia) met while swing dancing in Scotland. They first hit the road together in 2012, spending a few months in Japan, Vietnam and Australia, learning to combine work and travel. Please enjoy this week-in-the-life of Simone and Barry in living and working in Thailand!
This post was originally published in 2014. It has since been updated for accuracy of links and content.


Day 1 – Friday
5pm – After two weeks of working in a rainy Bangkok while Barry attended a conference, we finally get out of the city. We board the overnight train, headed for Surat Thani and the islands. We thought we'd bought second class tickets a few days before only to find ourselves in first class, with a door and a lock and water. I guess we're first class kind of people!
We travel through the suburbs of Bangkok, through places you can only see from the train tracks. Canals that show the 'Venice of the East', and the eye opening shacks of poorer areas.
6pm – A man opens the door to sell us beer for the journey, which we don't really want but are compelled to buy. We quickly learn to lock the door.
The train moves very slowly and an hour later we're still in Bangkok. When it's dark, the beds are folded down and we curl up to sleep.


Day 2 – Saturday
5am – After a restless night the train pulls into Surat Thani. I wake to find a nasty rash across the backs of my calves. Maybe I'm allergic to the laundry powder on the blankets. Barry is fine.
We're hustled off the train and into a cafe to wait three hours for the bus to the ferry port. When it's light I find a pharmacy (Farma-C!) and buy some antihistamines.
We've had better sleeper train journeys.
8.30am – It's raining and we nap on the bus.
10.30am – We're herded onto the ferry to Ko Samui. The rain stops and I spend the short journey on the top deck with the wind in my hair and sea spray on my face. (Nora's Note: I spent a month in nearby Koh Phangan, where I suffered in paradise. Read about it here!)
11.30am – It's raining hard again when we pull into Nathon Pier. We intended to get local transport but succumb to the torrential downpour and shouts of clambering taxi drivers. We'd booked a surprisingly cheap room, and it's lovely. We're about five metres from the water in a tropical paradise.
2pm –Still raining so spend the rest of the day reading and doing laundry. I don't want to pay by the kilogram so I do it in the enormous bathroom and hang it out to dry.
7.30pm – It finally stops raining long enough for us to explore the village and find a café for dinner. Can't get enough of Pad Thai and curries.


Day 3 – Sunday
9am – We're up later than planned but still before most people. The rash on my legs is bothering me so I let Barry go for a run on the beach alone. I go for a swim in the hopes that salt water will help. It starts to rain but I'm already wet so don't mind.
10.30am – Spend the rest of the morning looking for online jobs, answering emails and wishing my nephew happy birthday. Barry works on stuff for his company back in Edinburgh and a gift voucher project he's starting. I get yet another rejection email and start to reconsider this whole, online, location independent working thing. I love the lifestyle but I just can't seem to find a way for my skills to transfer online. I consider going back to English teaching but that means heading to the big cities and leaving this beach bum lifestyle we have going for us at the moment.
1.30pm – We head across the road to a local cafe for some tasty Pad Thai and papaya salad. Life is good again…
…Until I see a stray dog helping himself to a tray of meat resting on a gas canister, unbeknownst to the chef. Hopefully it's fed to the animals later and doesn't appear in the next bowl of noodle soup!
4pm – We scope out internet connections in other cafes and coffee shops and get very little work done for the rest of the day.
8pm – The resort is hosting a barbecue and band from the Philippines so we join in for happy hour, food and dancing. We meet a bunch of holiday makers and expats. I'm complemented on my dancing; somebody thought I was Spanish! Feel pretty good when we eventually go to rest our heads.


Day 4 – Monday
8.30am – We get up a little earlier today. Rash seems to be fading but I still send Barry off for a run while I go for a pre-breakfast swim. It turns out that salt water makes it worse and I lie with cold towels on my legs afterwards.
9.30am – It rains again.
10am – We have a more productive working day. I do some research for Barry's gift voucher project and fire off some emails. I apply for a teaching job in Cambodia for next year and am offered an interview within the hour. I feel better about myself.
1pm – By lunchtime I want to chop my legs off so we go in search of a pharmacy again then sit down for a curry and fresh juice.
3pm – We take some time away from the laptops in the afternoon and head to a wee salon for a back and shoulder massage. These Thai ladies are so strong! Not sure about their advertising – a back and shoulder massage includes legs and head. I'm not complaining though! I could really get used to this massage every week business.
5pm – I marvel at our current 'office' as we work from the beach in the afternoon. Despite my no-income status, I feel pretty lucky.

Day 5 – Tuesday
8am – Feeling pretty low today. Legs are improving but still sore and it's the first day of blazing sunshine we've had and I can't go swimming! Lie on the bed with cold towels on my legs.
9.30am – Struggle through a morning's work and finally take myself off to sulk in the hammock, waiting for Barry to be ready for lunch.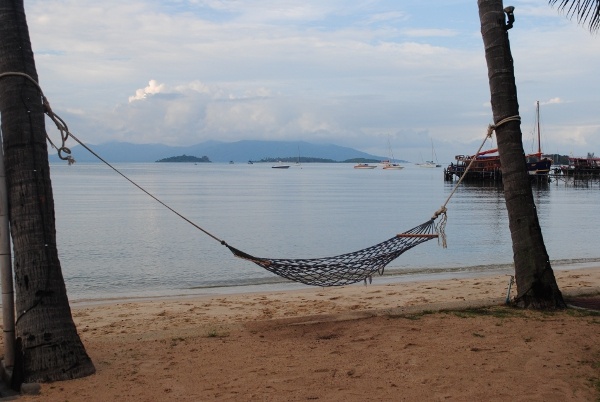 2pm – The lack of cake is probably lowering my blood sugar so I have a coconut ice cream milkshake and feel better. Barry seems to be working well and stress levels are low so I guess 'living' on the beach suits him.
3.30pm – Succumb to the inviting water, legs be damned.
5pm – Watch an overweight North American teach his Thai mail-order bride to swim (oops, was that cynical?).
7pm – Hit the town again in search of another place to eat. We've been to most of them now. A lot are closed and we wonder if it's a holiday tomorrow. Eventually choose a place by the beach and sate ourselves on curry and fishcakes.
9pm – Walking 'home' along the beach is the best feeling. It's feels romantic, with only the stars, the wash of the ocean and the occasional dog for company.


Day 6 – Wednesday
8am – Wake up feeling alive and well. Legs now look worse than they feel so I join Barry for a run. There are hundreds of weird transparent-looking fish things washed up on the sand and in the ocean so we skip the swim.
9.30am – Barry helped me write up a plan for my day last night so feeling much better about the working thing and I put in a solid morning's research/facebook/twitter (it all counts as work, honest!).
1pm – Nobody's in the water yet but the sunshine looks to be setting in. We head off to find a street stall for lunch.
3pm – We're ready for swim but there's nobody in the water. The weird transparent fish things are still there. Google tells us they might be a jellyfish polyps. They don't sting our feet when we paddle but I'm too nervous to plunge into the deep blue. We crack the laptops open again and I work on formatting the print version of my recipe book.
5pm – It's been a hot day but starts to cool off so Barry and I stroll along the beach to the Big Buddha statue further north. It's the main 'site' to see in Ko Samui and just a short walk from where we're staying. It's really peaceful this evening – just us, a few dogs, a monk and some ringing bells.

Day 7 – Thursday
7.30am – We're heading to another island on Saturday so I convince Barry that today will be perfect for exploring this island. We go for our soon-to-be habitual run along the beach but no swim because the jellyfish polyps are still everywhere.
10.30am – I finally drag Barry away from the laptop. We hire a scooter from the guesthouse and hit the great open road. First time on a bike for a while but Barry seems quite comfortable. It must have been all that practice in Vietnam last year! We follow the 'coastal' road around the island. It's built up on both sides of the road so we only get a glimpse of the ocean every now and then.
11am – We see an enormous supermarket so pull in to buy muesli that's not available in our village. Barry lets me pootle around the carpark but refuses to be my passenger so that's all the driving that I get to do today. I'm disappointed – how am I supposed to become a supercool scooter chick if I don't get to drive?
12.30pm – Stop for Pad Thai at a wee beach cafe then enjoy the sand and the rolling waves. Lamai is a much wider than the beach at Big Buddha and jellyfish polyp-free so I'm happy. It starts to rain but still sunny.
1.30pm – On the road again, we head further south to the Grandfather and Grandmother Rocks. I'm not sure what all the fuss is about. They're nice rocks and all but they're still just rocks and not that good for climbing or exploring.
2pm – We follow signs to Valentine Rock and Sivatara Waterfall. We find a restaurant and a German lady selling tickets. We reluctantly pay, concluding that if we want to see something of the island other than beaches, we'd have to pay for it. The waterfall is uninspiring. You can see a heart shaped rock if you tilt your head to the side and squint. We take the jungle path up to the viewpoint, rather than hang out by the stagnant pool the waterfall now fills. The views are lovely and it's peaceful but probably not worth paying for.
2.30pm – We hit the road again, in search of Chaweng beach. We drove through the town earlier but had trouble actually finding the beach.
4pm – We finally find a way through to the beach. Chaweng is a lovely expanse of white sand, curving along the eastern coast of the island. The water is warm, clear and the cleanest we've seen so far. It's just a shame about the blaring disco tunes and obnoxious jet skis. Barry takes a work call from the beach which has to be one of the best things about being location independent!
5.30pm – Time to hit the road, battle peak hour traffic and head back to our side of the island. We roll through the Fisherman's village and stop at Mae Nam beach to explore. We get distracted by a busy night market. We get some wontons, a grilled rice cake, fresh spring rolls and a fried coconut curry ball and eat dinner on the beach. Life feels good (but the mosquitoes do not).
7pm – We catch up on some work tasks we neglected today. Barry has a few phone calls and I have a nibble of some remote transcription work. I'm through to the next stage of what seems to be a very lengthy application process. Hopefully something will come of it.
9pm – We finish the day off with a nice cold beer, watching the stars above the water. Sometimes I just have to ask myself, how did I get here?
Simone and Barry have just finished up a house-sitting gig in Vientiane, and they're going to hang around SE Asia for the next while. They started The Track & Off It so their parents would know where in the world they were, and to give advice to other travelers. Barry builds stuff online; his newest project is My Gift Voucher Store. Simone has written the recipe book Grrr. Cupcake. (Cupcakes for Men) and is working on the next one.