Sasha and Rachel are a married hippy couple from the US who met at a music festival and got engaged at a Phish concert. They write about digital nomad life, teaching English online and abroad, and of course live music on their site Grateful Gypsies. They lived in Asia for six years and have spent the past four years bouncing around Latin America as digital nomads. They earn their living in a variety of very interesting ways (getting paid to study Balinese culture? Sign me up!); read on to see how they do it!
This financial case study was originally published in 2016, so I asked Sasha and Rachel to give us an update on their career, lifestyle, and finances. Below you will find their old answers and their 2021 update. Enjoy!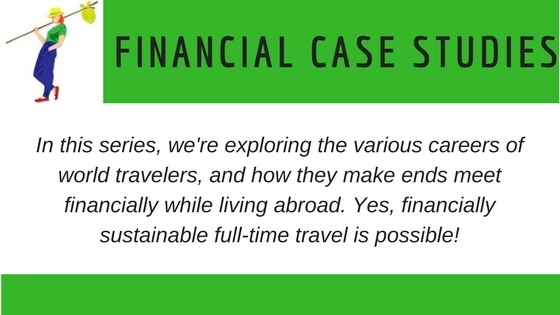 How long have you been living/working on the road, and where have you traveled to?
2016: I [Sasha] moved to Beijing in the summer of 2008 to teach English, and then after a year back home Rachel decided to join me in early 2010. We spent 3.5 years living in the Chinese capital, during which time we traveled to Japan, South Korea, Thailand, Laos, Indonesia, the Philippines, and even Mexico for a music festival (yes, we flew all the way there from China).
During our gap year trip, we revisited some countries and tacked on a few others along the Banana Pancake Trail across SE Asia. I've also been to a few European countries and Rachel has been Down Under, but all of those trips came when we were much younger.
2021 UPDATE: After living in China for 5 years, we spent a year in Bali where I studied Indonesian language & culture as part of the Darmasiswa program. At the end of that school year, Rachel found a job teaching English online with VIPKID. I eventually got hired as well and we took our newfound location-independent jobs on the road.
For the past four years, we've used Puerto Vallarta, Mexico as our "home base" for 6 months out of the year and have spent the other half of the year traveling, primarily around Latin America. We spent 7 months in South America and visited some amazing places like the Galapagos Islands, Patagonia, and the Salt Flats of Bolivia.
I also took a month-long trip around Europe on my way to the World Cup in Russia. My dad is from there and it was my first time visiting, so that was a great experience.


Please describe what you do for income.
2016: I've been an on-again, off-again ESL teacher in China since I first moved there in 2008. I also took on so many random side jobs it's laughable, including acting as a "white guy in a tie." I was paid to simply put on a suit and sit in on business meetings, even though I had no idea what was being said in the meeting and had no actual business there.
Since 2010, I've also been running a handful of language and culture blogs for a big language company back home. I'm also currently taking part in a scholarship program, where believe it or not the government of Indonesia pays me to live in Bali and study the language and culture (it's not much, but that's pretty awesome, isn't it?).
Rachel busted her butt teaching English the last five years, so she's currently enjoying an extended honeymoon as a Bali housewife. It isn't all just sitting on the beach, though – she's actively working on our site Grateful Gypsies and making strides towards monetizing it.
2021 UPDATE: At the moment, our primary source of income comes from teaching English online. We've both been teaching with VIPKID for over 4 years now, and Rachel also recently started teaching with Langu as well.
I still write a bit for the language blogs and I've also done lots of freelance travel writing over the past few years for the Goats on the Road, NOMADasaurus, Broke Backpacker, and Live & Invest Overseas. Much of the paid travel writing has been put on hold at the moment due to the pandemic, but I did recently write a feature story for an online magazine about digital nomads adapting during COVID. 
(See Also: How 8 Digital Nomads Survived the Pandemic)
The biggest change since the original post is that our blog Grateful Gypsies is now monetized in several ways. The biggest income source from the blog is an affiliate marketing program with online TEFL courses. We promote a few courses that help people get certified to be an ESL teacher and we earn a commission.
We have some other affiliate programs as well with Amazon, Etsy, SafetyWing, and Airbnb. These don't pay a lot but it's still money coming in month to month.
We also run ads on our blog now and earn a monthly income from that. Our YouTube channel is finally monetized as well. It's not a lot but we're hoping to put more energy into the channel to get those numbers higher.
Finally, Rachel launched her own online course called "Teaching for Freedom" that helps people get started teaching English online and then using it to kickstart their digital nomad adventure. She has opened the doors to the course a few times now and has had a lot of success with it.


How many hours per week do you work on average?
2016: At the moment, I spend about 20-25 hours a week working on all of the blogs I run and their accompanying social media pages. I also go to class from time to time, which counts as work since they pay me for it. We're on a quest to never work 40-hour weeks, and we've done well so far. Even at our busiest times in China, we never worked more than 35 hours a week. We very much value our free time and try to have as much of it as possible!
2021 UPDATE: In a typical week, we each teach around 15-20 hours with VIPKID. When our students are on their winter and summer holidays, we open more classes and teach about 25 hours a week. Rachel also puts in anywhere from 10-15 hours a week with Langu.
I'm not doing a ton of freelance writing now so that only takes up a few hours a week. With the extra time on my hands, I've been focusing on creating new posts and videos for our page. I probably spend about 10 hours a week working on that.
Rachel is always working on improving her course. She's very passionate about it and puts a lot of effort into it. One day she hopes to put it on evergreen so she doesn't have to spend quite as much time on it. With travel and live music basically on hold right now, we don't mind that we're working a bit more. It's nice to stay busy and keep making money in these strange times.


How much money do you make?
2016: This is a tricky question because it has varied so much over the years, so I'll give a few answers.
When we were living in China, we were both teaching basically full-time and I was blogging only a couple of hours a week. For those years, I'd say we made about $4-6,000 US/month total from teaching, and my checks from blogging were only a few hundred bucks. We managed to save enough money teaching to allow me to join this program in Bali and be able to survive the year.
Thanks to our travels and my newfound mediocre skills in a few other languages, my blogging work picked up quite a bit, and I currently get checks between $1,200-1,400/month for that. My school gives me a small stipend every month, which amounts to only about $150. It's not much, but it helps cut our rent in half (yes, it's that cheap to rent a place in Bali!).
2021 UPDATE: We don't make quite as much teaching English online as we did in China, but we also don't work as much and can take off as much time as we want without even asking. For example, in 2019 we took a total of 3 months off!
Our income from teaching fluctuates month to month. It's way higher when our students are on their extended holidays, for example. In 2020 we each made around $16,000 for the year teaching English online. It may not sound like a lot, but that goes pretty far in Mexico.
My income as a freelance writer has gone down a lot because of COVID. I made about $10,000 for the year in 2019 but just under $6,000 in 2020. I expect that 2021 will be about the same unless things pick up quickly.
The most exciting income update is the growth of our blog. In 2018, which was the first year it was monetized at all, we only earned $700 from the blog. That increased to about $5,000 the next year and shot up to over $15,000 for 2020. Despite traffic going down, our revenue increased because of the partnerships we set up and Rachel's course.


Do you make enough money to support your lifestyle?
2016: We're not very extravagant people, so it's not that hard to support our lifestyle. We live very modestly here in Bali since the job prospects for foreigners aren't exactly great and thus Rachel doesn't have an income at the moment. We brought enough money here to get through the school year along with my stipend, and my checks from blogging just go straight into my bank account at home to be saved for the future.
We've also got investments at home that are off-limits and are being saved in case we ever want to "settle down." I should note, though, that when we were living in Beijing, we lived a rather epic lifestyle for a couple of part-time teachers – nice apartment, lots of traveling, fancy meals out, days at the spa, lots of partying. Plus we saved enough money there to take a 14-month trip around the US, SE Asia, and China and even had enough saved at the end to pay half a year's rent when we moved to Kunming.
2021 UPDATE: Our income and costs of living ebb and flow month to month, but generally speaking we make enough to support our lifestyle.
At the moment, we're living in a fancy condo in Puerto Vallarta a block away from the beach for the whole high season. We go out for dinner and drinks several times a week and usually go on a big tour here once a month. We're also saving money for a trip with my family to Yellowstone and the Grand Tetons this summer.
We've also started a high-interest savings account and IRA accounts for each of us and we're dabbling in the stock market a bit as well. I've spent a lot of time recently working on our finances and feel pretty good about how we're starting off 2021.
The fact that we're not traveling or seeing live music at the moment has really helped us save a lot of money. Of course, we'll be happy to get back to spending money on those things when it's safe to do so!


What do you like most about your career and lifestyle?
2021 UPDATE: We love the freedom that our jobs and lifestyle allows us. We're in complete control of our schedules for our online English lessons. We can take as much time off as we want without needing to ask anyone. We can also open more times to save more if we feel like it.
As far as our jobs, we love seeing the impact we have on our students. I've taught some of my regulars over 300 times and have seen them make huge improvements in their English. Rachel is really enjoying getting to know her adult students in her new job as well.
I have always enjoyed writing and editing videos, so I love doing that for other clients and for our page as well.
In addition, we love that we're now helping others get started teaching English online and becoming digital nomads as well. We've helped a lot of people embark on a big lifestyle change and have been thanked many times for doing so.


What are some of the challenges you have with this career and lifestyle?
2021 UPDATE: As online English teachers, our list of requirements is a bit higher than your average nomad. For example, we need at least a 1-bedroom place so that we can have separate spaces to set up our classroom. We can't stay in studios, hostels, or shared spaces when we are teaching.
People say it's great that we can work from anywhere, but that's not really the case. We need a fast, reliable WiFi connection and it can't be shared. There are lots of places where we simply cannot base ourselves and still be able to work.
There have been a lot of changes at the company we teach for in the last year and most of them have been negative. It's been tough seeing our average income go down after giving them four years and having taught thousands of students. Thankfully we don't have all of our eggs in one basket.
Being self-employed isn't always easy, either. It's up to us to set aside money for taxes and we don't have an employer covering a portion. The same goes for retirement accounts. There's no company match for us! We have to cover all of our business expenses, do our own finances, and all that. It's worth it for the freedom that this lifestyle grants us but it's not always easy!


What is your vision for the future of your lifestyle on the road?
2016: We're really focusing on developing our site right now and coming up with ways to monetize it. This may be offering some services like travel planning or coaching, or through e-books on topics that we're pretty knowledgable about (like living and teaching in China).
I'd also like to branch out and get some more freelance work with other outlets. I love the company I work for and will continue to provide content for them, but I'd like to cut back a bit so as not to get burned out.
Rachel is looking into online teaching jobs so we can pad our income without tying ourselves down to a place with another year-long contract, so we'll see how that works out.
We're also hoping to take on some seasonal holiday work back home in the States this fall to save enough money for another extended trip. This time we're eyeing Central and South America, hoping to take our time and really dig in. If a place really grabs us and we find that there are good teaching jobs there, chances are we'll plant some (temporary) roots and work for a while. Of course, as soon as we get Phish's tour dates and the summer music festival lineups, we always get the pull to get out there and dance…
2021 UPDATE: At the moment, we're just staying busy and working as much as we can while not going crazy. We figure it's a smart move to work hard now and save money while most of the things we love are on hold.
In the near future, we'd like to be able to teach less and focus more on creating content for our blog and YouTube channel. It would be nice if we could get our income from all of those endeavors to a level where we could just teach a few days a week, for example.
Rachel plans to keep working on and improving her course. She is thinking about launching her own online community as well.
I haven't really looked for any new writing work yet but I plan to one of these days. It's been kind of nice not having a huge list of articles to write, as it's given me more time to work on content for us.
We're planning on getting back on the road whenever it's safe to do so. We'll likely do more of the "slow-mad" thing, though, as we have realized that we need to spend more time in a place to enjoy ourselves and not get burned out when we're working.
We're even considering buying a camper van, RV, or tiny house that we can set up at a family property in North Carolina. That would give us a "home base" and also allow us to earn a rental income when we're out on the road.


Any advice for the aspiring traveler about living and working on the road and managing finances?
2016: For those who would like to travel but don't think they can afford it, I highly advise trying out the ESL world for at least a year. In countries like China and South Korea, you can earn enough to live a comfortable life in a big city, do a fair amount of traveling, and take some money home. Without our experience working in China, we wouldn't have been able to do even half of the traveling we've done. I also wouldn't have gotten my blogging job, and I would have had no idea about this program in Bali. It's amazing the kinds of doors that open to you once you're out of your comfort zone and in a different part of the world!
When it comes to managing finances, we try to stick to a tight budget when we're working/settled down, and focus more on saving money for travel. We also form a monthly budget for travels and do our best to stick to it. If two silly hippies like us can manage to travel as extensively as we do while working as little as we do, then there's hope for everyone!
2021 UPDATE: I think my advice from 5 years ago still stands, but I'd also add teaching English online as a great option. It's a flexible job that allows you to earn a pretty good income, especially if you're basing yourself in places with a lower cost of living.
As far as finances go, we use an app called Trail Wallet to track all of our expenses. It helps us keep an eye on our spending and make sure we're still saving money every month. I also recently signed up for You Need a Budget (YNAB) and have found their system to be great. We're now setting monthly goals for saving and investing, which is something we never did before. I guess you could say we're #adulting a bit more these days!
Nora's Note: I also use Trail Wallet religiously to track my expenses – at home and abroad! It's one of my 25 Best Apps for Travel.