Baños Ecuador was on my radar years before I ever set foot in South America. Some travel colleagues who were volunteering in Baños and had an infectious love of the place that made me vow to visit…at some point.
Well, that point came recently when I discovered that the owners of an eco guest house called la casa verde were giving away their place (yes, giving it away) in a raffle of sorts. So I had to show up and check out what my new potential home looked like.
Note: The giveaway is over and Win the Lifestyle site is debunked. You can still visit La Casa Verde; enjoy this article about Baños!
This post was originally published in 2017. It has since been updated for accuracy of links and content.


About Baños
Located in the Andean highlands of Ecuador, Baños goes by the full name Baños de Agua Santa, which is Spanish for "Baths of Sacred Water". But everybody calls it Baños for short….which is actually somewhat unfortunate because it's also the Spanish word for bathroom.
Baños earned its name not because of toilets, but because of the plethora of famous hydrothermal springs that attract foreigners and Ecuadoreans alike to the area to enjoy the healing properties of these mineral-rich waters.
The hot springs are the byproduct of the ominous and often cloud-covered 16,450 feet tall Mt. Tungurahua, which is the highest active volcano in Ecuador. On a clear day, this snow-capped volcano is a sight to behold. (I caught sight of it just once, while driving by, and thus couldn't get a picture for you. Maybe you'll have better luck).
Being an active volcano (which had eruptions in 1999, 2006, 2008, 2010, and 2011, some of which necessitated evacuations due to ash), it's wise to check the local conditions before coming. Luckily, la casa verde (my new hotel) is out of the "danger zone" of the volcano.
Perhaps because of the edginess of being near an active volcano, or perhaps because of the amazing mountains and lush nature surrounding the town, Baños is also the adventure capital of Ecuador – and quite possibly all of South America. You can go rafting, canyoning, zip lining, bungee jumping, mountain biking, kayaking, horseback riding, rock climbing, hiking, bridge swinging, and paragliding – for starters.
In my four short days in Baños, I managed to cover off zip lining, canyoning, hiking, and more – all for ridiculously cheap prices. And in case you're worried about the safety aspect of high-adrenaline activities like throwing yourself off a bridge (for $10) in a place like South America, I can assure you that the quality of gear and attention to safety is paramount.
la casa verde (my new hotel)
The main reason for my visit to Baños was to check out la casa verde – the hotel I plan to win in their giveaway (which takes place in April 2017). It's perfect.
The (New Zealand) owners of la casa verde built and operate the place as a truly eco-friendly establishment. It's built of completely sustainable Ecuadorean materials, they work with the surrounding community to implement long-term sustainable building practices, their drinking water falls from the sky and is filtered, and they recycle/reuse everything they can. For example, instead of throwing away (or even recycling) bottles, they use them to create window features and garden pathways. Speaking of the garden, the current caretakers of la casa verde have turned the large river-side garden into a permaculture eden with avocados, mangoes, citrus trees, and more – all of which also help to prevent soil erosion into the river.
…And They're Giving it Away
Okay, okay. The giveaway isn't just for me. I'll give you a chance to win la casa verde yourself. When I first heard about the giveaway, I was suspicious. Why are the owners giving it away? Can they not sell it? What's wrong with the place?
Nothing's wrong with the place. It's a very popular eco guest house with 11 rooms that are often full in advance. They're not in debt, and the place is profitable. It's currently leased (until May) to a couple who manages the place (along with a lovely Ecuadorian mother-son duo and the occasional work-trade volunteer), and it still turns a profit for the owners. So if you win la casa verde and aren't interested in moving to Ecuador and managing a guesthouse, you could lease it to on-site managers and own/manage it from abroad if you wished. (Or you could turn around and re-sell it; apparently there are people interested in buying la casa verde).
The owners of la casa verde are originally from New Zealand, and want to spend more time with their families back home. They've simply decided it's time to move on.
And although they could have simply sold the place, they like to do things unconventionally. They're also launching an e-book called Back to Earth, and they're using this giveaway to launch this new career. (Smart). So, when you buy a $29 raffle ticket to win la casa verde, you're actually buying a copy of Back to Earth, and receiving a free raffle ticket. You can buy as many books (raffle tickets) as you wish; and the more you buy, the better a deal you get. I got five tickets for $129.
I've done the math. This giveaway is a great deal for the owners of la casa verde, and gives you and I a chance to "buy" a profitable eco guest house in a popular destination for just $29. It's a win-win for everybody.
You can read more about the fine print in their terms and conditions and FAQs on their giveaway site Win the Lifestyle.


Baños Town Centre
The town of Baños itself is admittedly not entirely my cuppa tea. Because tourism is the mainstay of Baños, it's besieged with hostels, restaurants, bars, and tour operators – all fighting for a piece of the pie. The architecture and feel of the place is not particularly attractive (to me) on the whole. It doesn't hold a candle to the charm of Cuenca – which stands to reason, since Cuenca is a UNESCO World Heritage site. Granted, with so many restaurants to choose from, I ate some epic meals in Baños that put Cuenca's foodie scene to shame.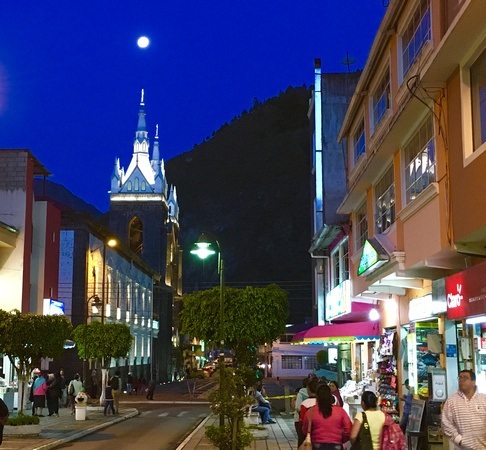 But the appeal of Baños is not in the town centre; it's in the surrounding mountains and nature, which is easy to reach by taxi (for a few bucks), bus (for a few cents), or by foot (for free). The place is easy to navigate, and the town centre is relatively flat so it's easy to walk anywhere despite the relatively high altitude above sea level.
This is one of the reasons why I like la casa verde; it's just out of the fray of town. It's an easy 20-30 minute walk (or $1.50-$2 taxi ride), and provides a beautiful refuge from the noise and hectic pace of Baños. If you're tired of adventuring, you can easily pass away a day sitting on the terrace, or cozied up on the couch overlooking the river, or enjoying a massage. Or all of the above.
Getting to/from Baños
Baños is a three-hour bus ride from Quito, five hours from Guayaquil, and seven hours from Cuenca. The direct bus to/from Cuenca costs $10, and leaves around 8:45am (both directions). You can also catch a bus to/from the nearby town of Ambato, which connects to just about anywhere with frequent buses.


Want to Own a Hotel for $29? Get Your Ticket Now!
The giveaway to win la casa verde closes on April 15th, 2017. They're only selling a limited number of tickets, and if they sell out earlier, they'll do the draw earlier. So time is of the essence. Want to win a hotel for $29? Too bad….unfortunately the raffle is long done and the hotel has changed hands.
But….la casa verde is still very much alive and well, and I highly recommend it as a lovely place to stay if you are visiting Baños Ecuador.
Click here to book your stay now!


Places to Eat and Things to Do in Baños Ecuador
With a huge selection of restaurants and activities on offer, here are a few things I did when I was here – places you might like to look into if you come for a visit yourself:

Activities
Canyoning (MTS Adventure) – A big highlight of my trip to Baños. Hiking in the rainforest, rappelling down waterfalls, and more. They offer a variety of trips and activities. I did the half-day canyoning adventure at Rio Blanco. Good for beginners, and just enough fun to get your feet wet (pun intended).
Zip Lining (Puntzan Canopy) – There are lots of places to go zip lining in Baños. I liked these guys because you get to do six different zip lines of varying lengths. This way you get a chance to do it a variety of different ways – upside down, superman, tandem, etc.
Also, on my last day I got totally rained out and couldn't bring myself to do anything. However….I had some of the more iconic activities planned – things that you're not supposed to miss when you visit. I missed them. But that doesn't mean you should! Here they are:
Casa del Arbol – An iconic Baños experience, where you sit on a traditional wooden swing that flies out over a cliff's edge. Most people who have been to Baños have a picture of them on this swing – and every picture looks exactly the same (ie: amazing). Despite the touristy kitschy-ness of it, I still would have gone if it didn't rain.
Vuelo del Condor – Touted as the biggest adrenaline rush you can get for $10.
Waterfalls – They're everywhere. The most popular and not-to-be-missed are the "diablo" waterfalls. You can get there by bus or taxi, or you can rent a bike and cruise downhill all the way there, passing by various zip lines and hiking spots that might entice you to stop and enjoy along the way. (You can get a taxi/truck back up the hill with your bike to return).

Eating
Quilombo – An Argentinean restaurant with great ambiance and fab food. NOT for vegetarians! A bit pricey….best saved for a special meal with great wine.
Arte Cafe & Te – I went to this place a few times. The crepes (savoury and sweet) are out of this world. The decor an ambiance is delightful. And the coffee…organic, roasted in-house, and served up a variety of ways. Best coffee shop in town.
Sativa Studio Cafe – Vegetarian cafe with a small but eclectic menu, lovely health tonics, and a beautiful atmosphere.
Stray Dog Brewpub – Fabulous artesanal beers, and great food. A bit pricey, but well worth it.