This is Aaron. Full time Nomad. Noodle addict. Creator of NomadsNation.com. Over the last five nomadic years, Aaron has experimented with seasonal work, teaching English, and blogging to financially sustain his travels. In this very informative post, he shares some great advice and information about how it all works! Check it out.
This post was originally published in 2017. It has since been updated for accuracy of links and content.
In this series, we're exploring the various careers of world travelers, and how they make ends meet financially while living abroad. Yes, financially sustainable full-time travel is possible!


How long have you been living/working on the road, and where have you traveled to?
I've been traveling internationally for the past five years. I've lived in Denver, Portugal, Florida, and am currently stationed in Hong Kong. I've also visited 25 other countries in this time (some favs being Peru, Hungary, The Philippines, and Hong Kong).


Please describe what you do for income.
I'm working on making NomadsNation my primary source of income, but we're still building! So in the meantime I leverage my skills and find high paying work that doesn't require long term commitment.
Currently I'm teaching English in Hong Kong. Only a six-month contract (with the option to extend) so I'm not tied down too long, and it pays very well (more on that later).
But I've created income to sustain my travels in many ways:
My go-to for years was seasonal work in restaurants in the States. Six months of work, four months of travel. Three months of work, five months of travel. Repeat.
And while it's important to create income while traveling, it's just as important to focus on the ways you can lower the cost of travel. I refer to these as the Two Nomad Commandments.
The Manifesto
Independently, each can enable you to travel for long periods of time, but when the Two Commandments are combined, sustainable travel is attainable. As a full time Nomad, my only goal is to travel as long and as often as possible and for the past half a decade I've successfully done that by engaging in a number of different things mentioned above.
Usually, I work for an extended period (3-10 months) then use my savings, and travel like a boss. Four months serving tables, $10,000 saved, travel till that dries out! Eight months Teaching English, $6,000 saved, travel till that dries out! Repeat.
Then, to maximize my savings, I'll utilize ways to lower the cost of travel:
After putting away thousands of dollars, I WWOOF'ed ("work exchange") in South Portugal for two months on an organic vegetable farm. Accommodation and food were provided. Money saved. Boom. Travels sustained.
While I'm in the States, I'll apply for credit cards to obtain bonus promotions to get points and miles for free travel. Such has saved me over $10,000 in travel expenses. Money saved. Boom. Travels sustained.
After I'm finished Teaching English (aiming for June-ish) I'll take my savings and hopefully give House-sitting a proper go. Free accommodation. Money saved. Boom. Travels sustained.
(See also: How to Get Free Accommodation Around the World)


How many hours per week do you work on average?
Currently teaching English in Hong Kong I work 32-ish hours a week.
When I work seasonally in restaurants, I'll typically work 45-ish hours a week.
Then on top of it I put most of my spare time (25+ hours a week) into NomadsNation.


How much money do you make?
We aren't monetizing NomadsNation yet, instead choosing to focus on building our audience.
Teaching English in Hong Kong has been fantastic. I make $22,000 HKD ($2,836 USD) a month. It comes out to a bit less than $25 USD an hour, which is very good for Hong Kong. In my opinion, teaching English is the greatest way to travel. It allows you to really dive into a culture and completely immerse yourself into it. It's nothing new. Independent travelers have been utilizing the ESL industry for years. It's ubiquitous for a reason – it works!


Do you make enough money to support your lifestyle?
We'll start with teaching English.
I make exactly $22,000 HKD ($2,836 USD) a month. I spend around $14,000 HKD ($1,800 USD) a month. So I save around $8,000 HKD ($1,000 USD) a month.
Check it out: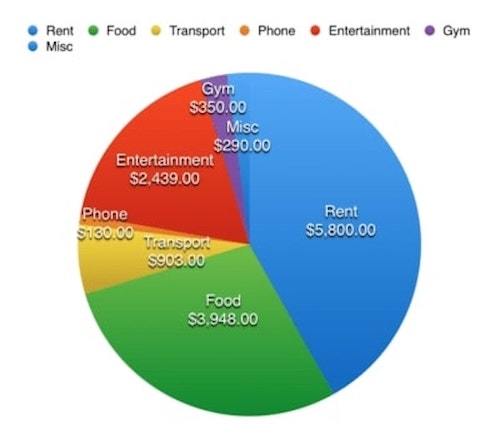 These are my average monthly expenditures living in HK. My current spendings ($13,860 HK a month) has been a good sweet spot for me. I'm eating well, going out a few times a week, all the while ensuring to put a significant chunk of money away to sustain future travels.
I don't keep all of my savings for travel funds. Often I'll invest into my website, or other personal things, but you get the gist. The money is good, and the potential to save and/or live comfortably is easy.
While working in restaurants in the States, I averaged an income of $1,000 a week. Now to clarify – when I do work in restaurants, it's seasonally and in South Florida. It's unlikely you'll average $1,000 a week out of season, but in season, $1,200 weeks were very normal. Florida's population doubles in winter. So do the tips.
I worked three consecutive seasons in south Florida, saving $6-$10,000. First season. $6,000 saved. I then traveled through Portugal, Spain, Thailand, Cambodia and Hong Kong. Second season. $10,000 saved. I then relocated to Colorado, barely worked, and had a time to remember. Third season. $8,000 saved. I traveled to 15 countries, and moved to Hong Kong, where I will be for a few more months.


What do you like most about your career and lifestyle?
I think all full-time Nomads would say the same thing. The freedom. There's a sense of empowerment you get from living in between the lines.
And it's interesting. As someone closely monitors the travel blogging scene, this Full Time Nomad "career and lifestyle" is very common. The information is out there. Whether or not they realize it, the formulas of success for many of the top travel bloggers are very simple and very similar:
1) Make the Decision – The first step is to follow through with the decision to travel, and to travel seriously. Many people want to do this, but few people do. The decision has to be made. You might now know exactly what will happen, but you have decided that something will happen.
2) Create a Money Cushion – Travel ain't free! The best way to go into a life of travel is with a comfortable amount of savings in the bank. This is typically done a few ways:
"The Nora" (our very own Professional Hobo) – sell all of your stuff (business, car, house, furniture, kids, etc) and use that money to launch yourself into a life of travel.
"The Kate" (Adventurous Kate) – where you work a job you hate for another year or so, but in that year drastically change your spending habits, enabling you to save copious amounts of money.
"The Derek" (Wandering Earl) – find a new high paying job that enables you to save large amounts of money while traveling. In his case it was cruise ships, but I've also seen it done as being a Tour Director. Both jobs are similar in that they don't necessarily pay great, but you have no cost of living, so every penny made is a penny saved.
3) Lower the Cost of Travel – Nomadic Matt taught English in Thailand. Earl lived in India and Romania. Nora WWOOF'ed and House-sat. Implement The Two Commandments every chance you get.
4) Create your Online Business – Cushy savings + lowered cost of travel = plenty of time to travel and build your empire of Location Independence!
This step isn't for everyone. Some people are perfectly fine settling down after traveling for a year. Some people have no interest in working online. Some people just love looping steps #1-3 in an endless circle of awesome-ness.
This is where I screwed up. I've been a champion of steps #1-3. I love steps #1-3! But now that I'm most focused on #4, I wish that I had focused on it sooner…(Should've started earlier! Bad Aaron!)
Don't be like me! If you wish to live a sustainable life of travel-digital-nomad-location-indie-awesome-ness, then what are you waiting for? Get that drop shipping/travel blogging/e-commerce website of your dreams up and going! Your future self will thank you.
Nora, Matt, Kate, Earl (real name Derek) and all of the other amazing travel bloggers out there have given us a blueprint for a life of travel.


What are some of the challenges you have with this career and lifestyle?
There is only one challenge – money! The great nemesis of travelers. Generations of aspiring travelers have wanted to cure their wanderlust, but have never been able to figure out how to overcome the financial hump.
Specifically – Teaching English has been a smashing good time, and there is very little to complain about. The hours and money are great, and the work is never too challenging.
Restaurants aren't ideal work, but I'll admit they can be addictive. Super fast paced work + cold hard cash = awesome.


What is your vision for the future of your lifestyle on the road?
The website is a waiting game, so in the meantime I'm very excited to continue experimenting… How can I continue to lower the cost of travel, and how can I create income to sustain my travels?
Specifically I'd like to station myself somewhere inexpensive and experiment with different ways to create income. The path to saving money while traveling is already laid out. We get it. Stay at hostels. Hack miles. Eat street food.
But I think there are untapped ways that travelers can make money, and I want to really dive deep and toy around with a few ideas I've had. Not everyone is interested in making income online. So what options are available to travelers while on the road? Can they utilize their skills and resources to create income? I'm going to find out…
This is what we do at NomadsNation – we dig deeper and try to think outside the box.


Any advice for the aspiring traveler about living and working on the road and managing finances?
Follow the Two Commandments. The path is already laid out. Anything you need to know about lowering the cost of travel, or creating income to sustain travel is easily found online.
And seriously, teach English (here's how). It's nothing original. Every traveler and their mother has done it, but for good reason – it's the greatest way to travel. Spend a year in China, Vietnam, South Korea, Japan or Taiwan. You'll live comfortably and have a once in a lifetime experience. Then once it's over, you'll have thousands of dollars saved.
If you have the qualifications and want to travel – it's a no-brainer.