Scott Shetler (Quirky Travel Guy) began traveling in 2009 after leaving his 9 to 5 office job. His first adventure was a road trip across 17,000 miles through 46 states in his van, when he was pretty much known as "the guy who sleeps in his van." For now, he is based in Chicago, where he blogs about offbeat attractions and awesome destinations at QuirkyTravelGuy.com and takes frequent trips as his budget will allow. Please enjoy his week-in-the-life, describing a 5-day trip he recently took from Chicago to New Jersey and New York.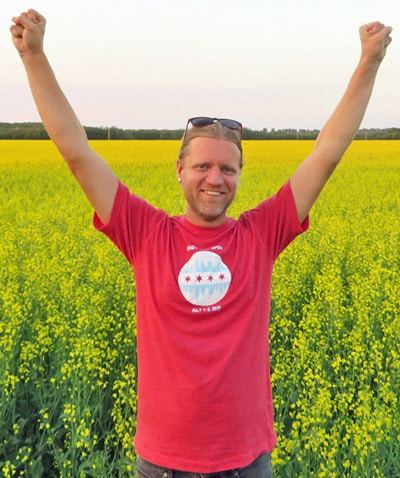 This post was originally published in 2011. It has since been updated for accuracy of links and content. 


Quirky Travel Guy Day 1: Wednesday
9 am: I spend most of today writing from home. Not the most exciting start, but now that I'm working full-time as a freelance writer, sneaking in work whenever I can is important.
Aside from my travel writing, I write for a couple of pop music websites – today's work includes articles about Aerosmith and Snoop Dogg. It's not Shakespeare, but it pays the bills.
4 pm: The writing stops and the packing begins. Tomorrow I'm heading to New Brunswick, New Jersey, for a visit with my friend Keith.
To some people, a vacation in central New Jersey may sound like an oxymoron, but I love seeing new places, especially small towns across America. New Brunswick isn't exactly small – it's the home of Rutgers University – so we should have no problem occupying ourselves for five days.
I'm flying with Southwest, which should be fun, in the wake of the recent news about their cracked planes. Hopefully I make it one piece.


Day 2: Thursday
9 am: This morning is mostly spent researching things to do and see in New Jersey and New York. Before travel adventures, I like to sketch out a rough itinerary while keeping things flexible. And because of my blog, Quirky Travel Guy, I'm always on the lookout for quirky attractions to write about.
2:30 pm: I've made it to Midway Airport. I always feel weird flying. After my low-budget road trip, flying almost seems too ritzy. It's like when I find myself in an upscale bar – I feel completely out of place. My personality doesn't fit in here!
5 pm: My flight has been delayed twice and I still have another hour to go. I've been using the time to edit together some video clips. I find the airport to be one of my most productive working locations. Because I have no internet access (Midway doesn't provide free wifi), there are no distractions and it's easy to get stuff done.
9 pm: I arrive in New Jersey. On the way home, we stop at the World's Largest Light Bulb in Edison, a town named after light bulb inventor Thomas Edison.
10 pm: Arrive at Keith's house. Enjoy a glass of wine and socialize with his roommates.
10:15 pm: Enjoy a second glass of wine. Continue socializing.
12 am: After learning a bit about the city from Keith and his roommates, it's time for bed. Tonight's a school night, after all. There's work to be done in the morning!


Day 3: Friday
9 am: It's Friday, Friday, gotta get down on Friday! Keith is at work today, so I'm doing some work from his place while humming Rebecca Black.
12 pm: Unable to stay inside for long, I take a lunchtime walk around the neighborhood. I stroll through the Rutgers campus and pass by the house that was used in the opening credits of 'Charles in Charge.'
I should be eating now, but I'm fasting in anticipation of a "Fat sandwich" tonight. I always like to sample the local cuisine, and the Fat sandwich is a Rutgers University institution. It's served by something called a "grease truck." So much for my diet!
5 pm: I stop by the grease trucks and browse the menus. They have several different varieties of Fat sandwiches, all of which include lots of greasy foods loaded onto a bun.
I choose the Fat Darrell – chicken fingers, mozzarella sticks, french fries and marinara sauce on a sub roll. This may give me a heart attack later, but it only costs $6. Score!
8 pm: Stuffed from our sandwiches, we meet some of Keith's co-workers for a few drinks, then head to Ale N Wich, a laid-back pub, where we spend most of our time challenging other patrons at foosball, with decidedly mixed results. It's a fun way to meet some local folks and get a sense of what the area nightlife is like.


Day 4: Saturday
11 am: Rise and shine! The thing I struggle with most when traveling is finding the right balance between rest and play.
I typically need at least eight hours of sleep to be fully functional. But I hate to sleep in when I'm on the road, because it wastes time that could be spent exploring the city. This morning is a rare exception, as we sleep in late to prepare for this afternoon's hike.
12 pm: No matter where I go, finding some time with nature is always a priority. Locating a good hike in central New Jersey can be a challenge, but after a bit of digging we discovered the Sourl and Mountain Preserve.
The hike is only a few miles long but provides a great workout. Near the top of the hill are huge boulders that are between 150 and 180 million years old, formed in something called the Triassic Age, when New Jersey was underwater. Cool!
5 pm: Time for a shower and quick rest before we head out for dinner. We choose the Edison Diner, because diners seem like a Jersey thing. But it turns out that, despite its name, this place is more of a family restaurant than a diner. Oh well – sometimes Yelp lets you down.
8 pm: Tonight, we go to gym night at a nearby sports complex. See, every night doesn't have to end up at a bar! We play a couple hours of volleyball with a little basketball and swimming tossed in.
Between the athletics and the hike, we're both exhausted and sore by the end of the night. And there's no rest for the weary – tomorrow we'll be walking all over Manhattan.


Day 5: Sunday
9 am: Today we're heading into New York City via a short train ride. I write this as I coincidentally munch on a big apple for breakfast.
I've already done most of the tourist-y stuff in New York City, so I typically try to find things to do that have more of a local flavor. We're starting off with a brunch with my cousin downtown.
11 am: We arrive by train at the site of the World Trade Center. One of the new buildings is going up and the rapid progress is impressive.
On the way to brunch, we take a wrong turn and end up at a weird parklet that rises up from the ground, just next to the Hudson River. There are no signs indicating what the attraction is, but we notice the walls are full of depressing inscriptions about famine and death. We later discover it's the Irish Hunger Memorial.
I had no idea such a thing existed. It will be great material for my blog.
2 pm: Okay, I lied about avoiding tourist spots. Here we are taking a ride on the Staten Island Ferry. Staten Island is the only one of the five boroughs I have yet to visit. And the ferry is free!
It's really cold today, but we brave the chill to get the requisite cliché tourist photos of the Statue of Liberty and the NYC skyline. I used to be bashful about pulling out my camera for fear of being seen as a tourist. But after doing so much traveling, thankfully, I've almost entirely lost my sense of shame.
5 pm: I'd never heard of the High Line until a week ago. It's a former elevated rail line in Chelsea that has been converted to a park. It's full of flowers, artwork, and chairs that roll on the old rail lines. What a great way to convert an abandoned urban space into something useful.
8 pm: I always visit Williamsburg in Brooklyn because it's one of my favorite neighborhoods anywhere. We grab dinner at a trendy restaurant, although it's strange because they literally have three different types of music playing at once. In the room next door, there's a live band that we can hear clearly, but for some reason they keep the radio on in the dining room as well. Plus, we're seated near the kitchen, so we can hear the radio station the cooks are listening to. I love music, but three kinds at once almost drives me insane.
10 pm: After an unsuccessful stop in the thrift store, we're finishing the evening at the ultimate hipster bar in Williamsburg.
12 am: We consider staying overnight in the city, but instead choose to drive back to New Brunswick.


Day 6: Monday
11 am: I spend an hour or two catching up on Twitter and Facebook this morning, and then it's off to Jamaican Jerk An' Ting for authentic Jamaican food, made by a woman who grew up there.
The cod fritters and Jerk chicken, served with rice, beans and cabbage, are fantastic. Local, non-chain restaurants rock my world.
2 pm: With an hour to kill before the flight out, we head to the local Frisbee golf course at Rutgers. This one is a lot easier than others I've played – somehow, I manage to shoot even par.
5 pm: I've made it to the airport. The temperature is 80 degrees outside, yet they haven't turned on the air conditioning in Newark Airport. I try to get some work done in the brutally uncomfortable environment while waiting to board.
12 am: I finally make it home to Chicago. Visiting Keith was fantastic. The New Jersey trip was an excellent opportunity to reconnect with friends and see lots of new places. Now, it's straight to bed.


Day 7: Tuesday
It's back to the grind. Today I spend the day working from home, unloading and uploading photos from the trip.
I had intended to write about how short trips like this differ from long-term travel adventures, but it turns out they don't differ much at all, at least for me. Both types of trips involve meeting new people, seeing silly roadside attractions, enjoying local food, mixing in urban sightseeing and nightlife, and connecting with nature.
Most of all, it's about having new life experiences in new places.
I managed to do all of those in New Jersey. Now I get to spend the next few weeks writing about it…


Scott will be visiting Austin and Seattle this summer and hopes to return to long-term travel next year in South America. Check out his website at Quirky Travel Guy.com, or find him on Facebook here.