Jonny Blair (Don't Stop Living) is a self-confessed travel addict. He has been to all seven continents and has been travelling the world for a decade since leaving behind his home town of Bangor in Northern Ireland. His travels have taken him to the Antarctic Mainland, Machu Picchu in Peru, Soweto in South Africa and the border between North and South Korea. Please enjoy this "normal" week-in-the-life of Jonny traveling from the mountains of Yunnan in China to the beaches of Bohol in the Philippines!
This post was originally published in 2013. It has since been updated for accuracy of links and content. 


This has been a typical action-packed week of travel for me. To end 2012 and enter 2013, I found myself on another crazy adventure which took me from the mountains of China to the Philippines!
Day 1 – Saturday
I awake in the tranquility and freezing cold of Shuhe Old Town, near Lijiang, China. I am staying in a hostel built from mostly wood. I slept well, an electric blanket provided me with enough warmth for the night – this is a high altitude part of China. I have already acclimatised myself to the mountains here. Breakfast is coffee and a packet of biscuits. I usually travel cheap and light but I always carry a small bag of food. The sun has risen and I tour the local old city.
I head first to "Pub Street" – an array of bars and restaurants all with a complete Chinese flair though it's quiet by day. There are no foreigners on my walk this morning in Shuhe – probably because they are all staying in Lijiang – the larger, more expensive and busier town. After seeing the local streets and trying a peach tea, I head to the cheap barbecue stalls for lunch. They have a wide range of meats available. I go for barbecued yak and spicy lamb. They come on skewers and are boneless. I then check out how to get a minibus to Lijiang – the larger city.
The mini-bus takes just 20 minutes. There are not a lot of English speakers here, which makes it feel slightly more authentically Chinese. I book my bus to Tiger Leaping Gorge for the following morning. This will be my last night in Shuhe. In Lijiang I head to the Old Town Square then up to the edge of town for a free view of the city. It's a veranda overlooking the edge of the old town. I watch sunset there before heading back down to get my bus back to Shuhe.
How do I make touring China sound so easy? OK my secret is…my girlfriend is Chinese!!


Day 2 – Sunday
We awake in the darkness. A mini-bus takes us from Shuhe to Lijiang where we get our bus to Tiger Leaping Gorge without any hassle or fuss. The weather is freezing. Our feet are numb as we increase our altitude to a lofty 2,500 metres above sea level. The bus drops us off at the lookout point for Tiger Leaping Gorge. The gorge takes its name from an old story about a Chinese guy who apparently saw a tiger leaping over the gorge. A monument of a tiger sits over the immense gorge. It's a feast for our eyes. The sun is now out and it's time to start the hike.
We do the Upper Trail hike as it's higher, has better views and is recommended. Along the way the views are incredible. We stop before the steep climb for our packed lunch as it gets hot. We get hassled by a few pony salesmen along the way but we want to walk it ourselves, not on horseback!! The toughest part of the hike is called the 28 Bends. And yes, it's pretty tough in the heat.
Lunch at the top and a few photos before the downward ascent to our base for the night. It's dark when we arrive at Halfway House (our base) but they have hot water, beer and food!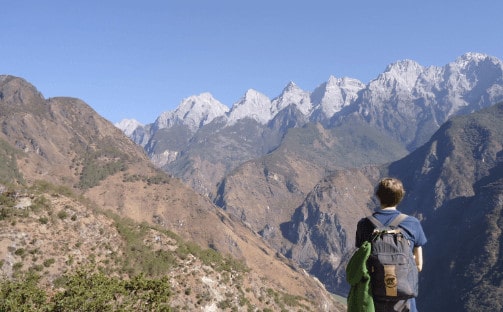 Day 3 – Monday (Christmas Eve)
We awake early to catch the sunrise over the epic mountains in front. It's stunning. China is one of my favourite countries – it has endless possibilities, places you've never heard of and for the most part it's not flooded with tourists.
Today's hike is easier and we take it slow and have lunch at Tina's Guesthouse. From here we catch a bus to Shangri La!! Of course the name of the town is debated, but the book Lost Horizon by James Hilton is about a magical place in Asia, and researchers have compared it to this town called Zhongdian.
Our bus ride is as scenic as they come. It's sunset as our bus pulls up in the main street of Shangri-La and it's Christmas Eve – not that you'd guess it – there are trees that resemble Christmas trees but no sign of Santa Claus.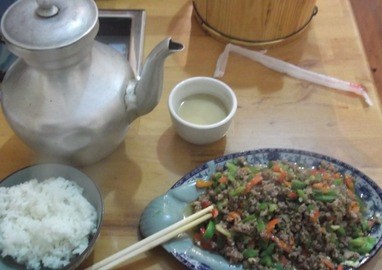 As the sun totally fades away we walk round the old town catching the square, market stalls and a temple. It's scenic, picturesque and cold. Shangri La could be as much Tibetan culture you'll ever get without actually going to Tibet. It feels like we are in Tibet. Every shop is selling Tibetan goods!!
Our hostel has wi-fi so I update my blog. My scheduled posts are all up and running and I'm a happy travel blogger. Facebook is banned in China so I'm unable to keep up to date with that. Full time travel writers get used to the "schedule option" on Facebook!

See also: Using a VPN While Traveling

Day 4 – Tuesday (Christmas Day)
I wake up without even realizing it's Christmas Day!! As a traveller, every day is an adventure and sometimes special days pass us by.
We eat near the square in Shangri La; the view out the window is an unusual one for Christmas morning. Local shops flog their goods, a woman moves her washing into the only spot of sunlight on the street and a gust of cold air comes in the window every few minutes.
After breakfast we visit the Songzanlin monastery. It's a Tibetan Monastery on the edge of Shangri La city. I have travelled a lot round Asia but this is my first monastery visit. The entrance fee is a pricey 115RMB but the view of the Monastery is phenomenal on the way in. I feast my eyes on the surrounding countryside too before heading into the massive complex. Monks are everywhere and photos are banned in parts.
After we enjoy a peaceful walk around the lake before lunch in the centre of Shangri La. The sun has leant itself to this small city for the day, yet a winter chill will be my lasting impression of this city.
We take a slow bus back to our base in Lijiang, again outstanding scenery all the way. Local food is on the menu for dinner and we munch pn spring rolls, spicy tofu, and noodles over a cold beer.
By this time there is a Christmas vibe in full swing. The foreigners have brought some fancy dress, the locals have the music blasting from the bars, and it's a party atmosphere. We savour it and celebrate Christmas in China before realizing we're off to Hong Kong for a night then the Philippines!!


Day 5 – Wednesday
We start the day locked out at Lijiang airport – we arrived 2 hours before our flight to find the airport still closed! Then we find out we have a flight schedule change, a free day in Shanghai, and yet more crazy nomadic mayhem in a day where we visit FIVE airports (Lijiang, Kunming, Shanghai – Hongqiao, Shanghai – Pudong, Hong Kong). Yes we even need to change airports in Shanghai.
Straight off the flight we head to the Bund for a view of Shanghai. Then a jaunt round the French Quarter and the Old Town. Lunch is exquisite – Shanghai Style dumplings. It had to be done – we find a famous restaurant in the Old Town and go for pork and crab dumplings with tea and red bean pudding. Plus soup in a dumpling drank through a straw.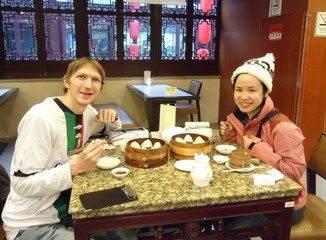 By early evening we head back to the airport. An initial scare saw our first flight cancelled before they put us on the next one to Hong Kong, where we stay for one night, while we both work.


Day 6 – Thursday
This is my main day of working. I'm catching up on the news, checking out my favourite other blogs, scheduling my upcoming posts and updating my blog.
I also work as a Welcome Guest at a bar tonight at 6pm so I dash off in a shirt and smart trousers, with my bag packed for the Philippines hanging off my shoulder. Temporary work is something I have done a lot on my travels, though I'm currently a contracted teacher.
After work I get a few complimentary pints of Guinness and I'm straight to the airport, by MTR train and then bus. This is a topsy turvy week! Before midnight we are on a direct flight to Cebu, Philippines.


Day 7 – Friday
It's a shame this is the final day of this "week-in-the-life" as the next few days will also be action-packed! Snorkelling, dolphin watching, New Year celebration,s and a bee farm are all lined up.
We arrive in Cebu at 5am and get a taxi to the ferry port where we board a ferry to Tagbilaran in Bohol. On arrival at Tagbilaran we get a driver to take us round the main sights and drop us off later at our hostel.
First off he takes us to 'Chocolate Hills'! These are small hills (about 1,200 of them) scattered around the middle of Bohol and they resemble drops of chocolate!
Next up it's animal time as we do the Tarsier Centre – a Tarsier is native to the Philippines only. It's a mix between a monkey and an alien! From monkeys to butterflies, this is another incredible day tour as we are dropped off at Flying Colours butterfly centre.
Next up is lunch on a Floating Restaurant. It's a buffet – I eat a range of food as this raft in the shape of a turtle floats down a river which is quintessentially typical of the Philippines. A guitarist plays the hits of the Beatles and Sting as the sun beats down through palm trees and I burst open a tin of beer.
At an island stop, I hold a baby crocodile and pose for photos with locals in the hot sun. The drama of this trip continues as the resort we had booked into is saying they are full and they made a mistake with our booking. Upset? No, because they offer us a free night in another hostel, an upgrade for the next two nights and even free drinks. From Yunnan Province in China to Panglao Island in the Philippines, what an amazing seven days of travel!

Jonny Blair is currently in Hong Kong working as a teacher and a welcome guest for events. He is concentrating on daily updates for his extensive travel site Don't Stop Living – a lifestyle of travel. He is off to Malaysia and Brunei next which will include the hike to Kota Kinabalu. He plans to head to Israel for a wedding later in the year and his most random location this year will be Baku in Azerbaijan. He has no plans to settle down anytime soon!