Darcie Connell and Adam Costa are travel writers headed south from Guatemala to the tip of South America. They are the founders of Trekity; a new travel site with over 800 destinations. Please enjoy this week-in-the-life of Darcie and Adam as they wend their way through Central and South America.
This post was originally published in 2012. It has since been updated for accuracy of links and formatting.
This is our life and work on the road. We travel slowly to focus on work and the world around us without having to chase down accommodations every night and shady internet connects. While some of our days are overwhelmingly fun hiking up volcanoes, walking historic cobble stone streets, and eating cheap and delicious food, the majority of our days are spent behind the neon screens of our laptops, pounding away at the keyboard. A writer has to eat, right?
Day One: Wednesday
The week is going to be interesting, to say the least.
Not only are my wife Darcie and I planning the successful launch of our new travel site, we're jet-setting from Guatemala to Miami and then down to Quito, Ecuador. It's a lot of miles in an admittedly odd direction.
But that's life: the twists and turns are where the fun lies.
It's the straight lines which get me. Staying in one place too long. Eating the same foods. Walking the same routes. Drinking the same booze.
I know, tough right? After all, this is the life we fought for…and believe me, it was worth every damn punch.
But every trip has its end. And our time in Antigua, Guatemala comes to a close.
After three months here I'm excited to go… but there's a nagging feeling this may have been it…the place where Darcie and I might drop our backpacks, plant a garden and settle in for, well…ever.
But now it's settled. The tickets are booked. And we leave on Saturday.
Day Two: Thursday
It's early. Really early. I haven't been sleeping well – maybe four hours a night – and it's beginning to take its toll. I creep downstairs and read a Robert Ludlum book.
Darcie, however, sleeps like a champion. Eight hours a night like clockwork with the occasional afternoon nap on weekends.
No matter. Today is gonna be busy, so it's good I'm up early. After a half hour or so with Patriot Games I fire up my cruel mistress: the laptop.
It's interesting, isn't it?
How something can provide so much freedom and yet feel so restricting? As professional hobos (editor's note – hey! That's my schtick!) for the past several years I've come to rely on my laptop – and consequently, internet connections – far more than I care to admit.
Fortunately, the connection in our apartment works, and I'm able to jump into work.
This morning, I'm cracking away at a guest post. Since we're new on the travel blog scene, we've got an uphill battle of getting noticed. Darcie contacted hundreds of travel sites this month alone, pitching guest posts and trying to build long-term relationships with those willing to listen.
As people accept the posts, we sit down to write.
Poco a poco (little by little), as they say in Antigua.
Darcie wakes up and we enjoy a cup of coffee. It's gonna be a long day.
Day Three: Friday
Today something terrible happened. Darcie's parents' dog Sadie – an odd mixture of Labrador and Pit Bull – passed out during her morning walk.
A trip to the vet revealed she had an enlarged heart and was in extreme pain.
They were putting her down within the hour.
All Darcie kept saying was "I wish I could be there…I just wish I could be there…"
And so did I.
Day Four: Saturday
Today we fly to Miami.
It's an odd emotion, leaving. Usually I'm more excited to see somewhere new. Almost always, in fact. But a few places have been hard to leave.
There was that bungalow on Ko Lanta. And our high rise apartment in Austin.
And now, Antigua.
We clean up the apartment and wait for our shuttle to the airport.
I pour two White Russians and we talk about our memories here: the charming Spanish instructors who taught us to speak (decent) Spanish, the wonderful, winding alleyways through colonial ruins and the bright colored alfombras (brightly colored carpets made of sawdust) that lined the streets during Semana Santa.
"Do you think we'll ever come back?" I ask.
"Maybe someday," Darcie replies, "but not anytime soon."
Day Five: Sunday
Everything's bigger in the U.S.
Hangovers are no exception.
Let me tell you, last night was rough.
We flew from Guatemala to Miami, hopped in not one, not two, but three cabs to get to our friends' hotel on South Beach.
The cab fare was more money than a week in Guatemala. Shocking.
We doctored a bottled of whiskey there, then headed out for insanely oversized (and overpriced) cocktails and people-watching.
Miami is an interesting blend of African, Caribbean, Latin and European cultures. Rednecks rarely make it this far south. As locals say about Florida, "The further north you go, the more southern you get."
I wake up early and decide to grab breakfast at the Cuban café down the street. Sitting there at the café bar, nursing a Sam Adams (how-I've-missed you!) and speaking Spanish with Cubans something happens.
Happiness hits.
My time in Antigua has made me a different person. I can speak another language, which has opened up my world in many, many ways.
In other words: it's made me a better person.
And now we're headed to South America for six months.
Day Six: Monday
Whew. There is…no…air…in…Quito.
At 9,350 feet (2,850m) you really feel the difference…especially when flying from sea level.
But we're glad to be here. It's a new continent for both of us, and our place is awesome. Seeing that we work from home (wherever that is) we usually live outside of town, where money goes farther.
Here, $900 USD a month gets you a nice three bedroom, three bathroom apartment overlooking the city below.
Oh, and a Ping Pong table.
Today – I'm sad to say – is the first time I've ever been out of breath playing Ping Pong. It must be the elevation, right?
Day Seven: Tuesday
New place, new surroundings.
Do I miss Antigua?
Nope. I've never missed a place in my life. Seriously. I hate looking back, and Darcie and I are already talking about flying to Buenos Aires in a few months.
It's what we do. It's who we are. And should we continue moving for the rest of our lives, so be it. I could see us in our mid-sixties, still wandering the earth (you know, like Cain from Kung Fu) always in search of something new, something exciting.
But that image of the garden? It's still there, waiting.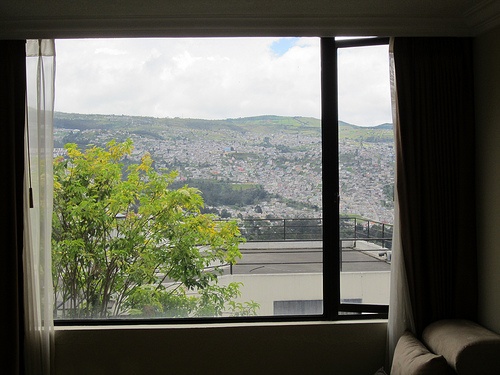 Adam and Darcie are now living in Quito, Ecuador, and will be heading to Buenos Aires in early June. In addition to founding Trekity.com, they also run Travel Blogger Academy which teaches bloggers how to build and market their websites.