In June 2015, I spent a month in the jungle of Peru, doing an ayahuasca retreat and plant diet (more on that process in Part 4 of this series). This being my first time visiting the jungle in this fashion, I can only speak for my own experience; here are some recommendations for what to bring and expect if you're planning a similar trip to the jungle yourself.
This post was originally published in 2015. It has since been updated for accuracy of links and content.


WHAT TO EXPECT – Accommodation
I stayed at Sachamama; a jungle retreat centre run by don Francisco Montes, a shaman, ayahuascero, and perfumero (one who makes perfumes and works with plants for healing). Guests of Sachamama generally stay at least a couple of weeks, and are all participating in plant diets and ceremonies; a process requiring isolation, a basic diet, and a degree of supervision. (More on this later in the series).
You can find a wide range of accommodation options in the jungle, depending on your price range and desired activities. But at Sachamama (and likely many other similar retreat centres in the area), here's what to expect:


Bucket Showers
There's no electricity, and thus no running water. Sachamama (as with many jungle retreats) is way off the grid, a good 30-minute trek off the road.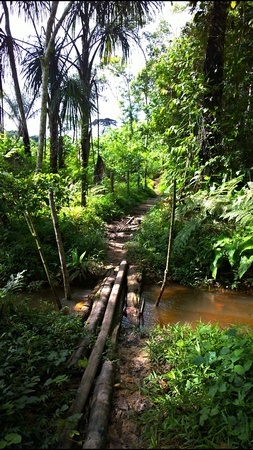 There was a large garbage pail-sized container of water (refilled regularly by a staff member who carries buckets of it by hand from a nearby stream) and a small bowl for pouring the water over my body, sitting prominently in front of my "tambo".
Although rustic, with the heat of the jungle I never missed having hot showers, and bathing by pouring bowls of water over me was easy and refreshing. And showering outdoors in nature is as romantic and charming as you might imagine.
Another large container of water sat next to the toilet, which was flushed by (strategically) pouring bowls of water into the toilet bowl.


Don't Bring (too Many) Electronics
With no power, your computer won't do you much good. Thus I severed my umbilical cord to my laptop and left it behind in Pisac for my month in the jungle, which I was grateful for on many levels. If you bring a solar panel, you can charge small USB-powered electronics like phones, e-readers, etc.
But one of the first things you'll discover (something I learned when living sustainably in Hawaii in 2007) is how to conserve your use of power, because even with a solar panel, the sun doesn't always shine. I rarely listened to music on my phone, and there was no cellular service so I had it in flight mode the whole time. And certainly, there was no playing games or other erroneous power-eating activities going on.
Another good reason not to bring precious electronics to the jungle is the humidity and critters, which have a way of getting into every nook and cranny and eating/corroding/growing mould in the most inconvenient spots. My e-reader started acting up in the jungle for some unknown reason, and hasn't worked properly since.


You're Out in the Elements
Although I had few expectations before travelling to the jungle, even what few I had were shattered adjusted when I arrived. I was simultaneously delighted and a little bit worried when I first saw my tambo. It consisted of a raised wooden platform about 8×10 feet in size, with a corrugated tin roof. Inside was a small bed with a mosquito net, a hammock, and a wooden stool and small table.
And no walls.
The bathroom was an alcove with a toilet (and bucket of water for flushing), made private by a four-foot high "wall" of palm fronds.
Despite its small size, my tambo was comfortable, and with open-air access to the jungle all around me, it even felt expansive at times. There was nothing sweeter than lying in bed and seeing, hearing – even smelling – the jungle all around me.

WHAT TO BRING TO THE JUNGLE
Having described the basic living situation, I'll elaborate through the following list of things to bring when spending a month in the jungle, and why:


Sturdy Bag (Waterproof if Possible)
The closest thing to a closet I had in my tambo was some string across the sides on which to drape things, which was good for hanging my towel and a few miscellaneous items and not much more. And if I hung anything out for too long, it usually grew mould.
Instead, my worldly jungle possessions lived in my bag, which was the best place for them as protection against the elements, critters, mould, etc.
I was lucky to have borrowed a friend's North Face Base Camp duffel bag with backpack straps, which was the best possible bag for the jungle that I could have imagined. (When I returned from my month in the jungle, I ordered an identical bag of my own). It was light, had easy access to the contents, and plenty of protection from the jungle elements (and critters, which tried their best – more on that saga in Part 3).


Rubber Boots
Even in the dry season (June – September), rain is frequent in the Amazonian jungle, and the terrain ranges from damp to muddy to full-on underwater. With rubber boots I could navigate the property with ease and without concern.


Flip Flops (and/or Crocs)
I brought both. My flip flops were for showering, and my Crocs (or rather, a cheap knock-off version thereof) were for pottering in and around my tambo.
(See also: My Search for the Perfect Travel Sandal)


Water Bottle(s)
The hike up to the main house was uphill (both ways), and that was where I could refill my water bottle with drinking water. Thus, in addition to my regular water bottle of awesomeness, I brought a couple of plastic "disposable" water bottles so I wasn't constantly having to make the trek to refill.


Solar Charger
If you have things that need recharging and there's no power where you're staying, a solar charger is invaluable. I also brought a couple of portable chargers in case I needed a boost of power and there was no sun (as did happen a couple of times). Portable chargers are often easier to charge with a solar charger since the sun doesn't always shine and they don't need as strong/constant a stream of power to charge as a phone and other electronics do. So I usually ended up only using the solar charger for my portable chargers, which I then used to charge my phone.


Bug Spray
"Get the strongest DEET you can find," advised a friend when I was headed to Colorado earlier this year, knowing I'd be going to the jungle in a few months and could stock up on some supplies that aren't available in our area of Peru.
I don't like bug spray and I can't stand DEET, nor do mosquitoes bother me much usually, so I was ambivalent while in standing in front of rows of bug spray with various concentrations of DEET. Each bottle carried graver and more verbose warnings with incrementally higher concentrations, so it was with much hesitation/trepidation that I picked up the 98% DEET anyway, trusting my friend's strong advice.
After almost two weeks of using a natural bug spray and being obliterated by mosquitoes and other biting creatures (creating a map of scars all over my body), I gave up and unceremoniously slathered myself in DEET thereafter, with much gratitude for my friend's advice.


After-Bite Cream
Again, get the best you can find. I was stunned at my body's reaction to bites in the jungle, and spent a few sleepless nights desperately trying not to scratch and make them even worse. This was with the help of a local skin cream that was the best available but sill not incredibly helpful.
Good after-bite cream is an investment you won't regret.


Quick-Dry Clothing
Leave the jeans at home; nothing dries in the jungle unless it's in the direct sun, and even so, mould can still attack. The lighter your layers, the better off you'll be. Besides which, with the hot temperatures heavy clothing is useless.


Long Sleeves/Pants
Despite the perceived jungle heat, it gets cool at night, and with the pervasive bugs coming out in force, I always wore a light long-sleeved layer in the evenings and overnight. And I consistently wore pants (day and night) as an extra layer of protection against mosquitoes. Having survived both dengue fever and chikungunya, I know that mosquitoes are no laughing matter, and in the Amazonian jungle they can carry other more serious diseases as well.


Microfiber Towel
My travel towel is an old faithful that I've had since I started travelling in 2006, and it was especially handy in the jungle, with its quick-dry properties and easy packability.


Rain Jacket
Despite the fact that June should be a solid start to the dry season in the Peruvian jungle, it rained every day when I was there, from a five-minute sprinkle to entire days of it.
Although this year saw an apparently atrocious (even disastrous) amount of rain through the unseasonably long wet season, I'm led to believe that even under normal circumstances, there's no real such thing as "dry", even in the dry season.


Headlamp
With no power (nor ambient light other than the moon) and 6pm sunsets, your headlamp will be your nighttime buddy. Hopefully it's a rechargeable headlamp (and you can recharge it using your solar charger. If not, bring some extra batteries while you're at it; a few hours of reading each night ate through more batteries than I had expected.


Ziplock Bags
Ziplock bags are invaluable for travel in general, and even more so in the jungle. I brought a bunch and used them to organize toiletries, protect electronics, and even to wash my undies.

WHAT TO LEAVE AT HOME
Prior to establishing a home base in Peru's Sacred Valley, I used to bring my entire full-time travel entourage everywhere I went. Man, am I ever glad I didn't haul all that crap into the jungle! If you're travelling long-term or full-time, I highly advise you find somewhere to leave your main pack and just bring what you need to the jungle. Here are a few things you don't need:


Jeans or Sweaters
They're too heavy and hot, they won't ever dry, and they're begging for mould to grow on them. 'Nuff said. Sweaters and anything made of wool are also a hot commodity for creatures that like to eat such things (of which there are many).


Favourite Clothes/Shoes
Mould, ants, termites, dirt/mud, and other unknown forces of nature can destroy just about anything you bring. So leave the Prada behind as well. A fellow who was staying in a nearby tambo to me showed me the tattered remains of his favourite belt, which ants managed to devour in less than a day.


Laptop/Expensive Electronics
A friend warned me that he brought his laptop to the jungle once, and after some tiny bugs (possibly ants) had their way with it, it never worked the same again. Even my e-reader mysteriously stopped working properly after a couple of weeks of jungle humidity.
Besides which, if there's no power where you're staying, you'll be hard-pressed to charge large electronics, so leave them at home.
With these expectations and recommendations at hand, hopefully your trip to the jungle will be as comfortable and (generally) successful as mine was.


Stay tuned for my experiences (for better and worse) with the creatures of the jungle (Part 3), what it's like to do a plant diet and ayahuasca retreat (Part 4), and excerpts from my jungle diary (Part 5).
And if you missed it, check out Part 1 – about Iquitos.