Sadly due to Dengue Fever getting in our way (!), we only had one full day to spend in Singapore between the four-day train ride from Chiang Mai and our flights to Australia.
Interestingly, we weren't sure if this was a curse or a blessing; it appears that people either love or hate Singapore. Here are some reasons why people could both love or hate it:
This post was originally published in 2008. It has since been updated for accuracy of links and content.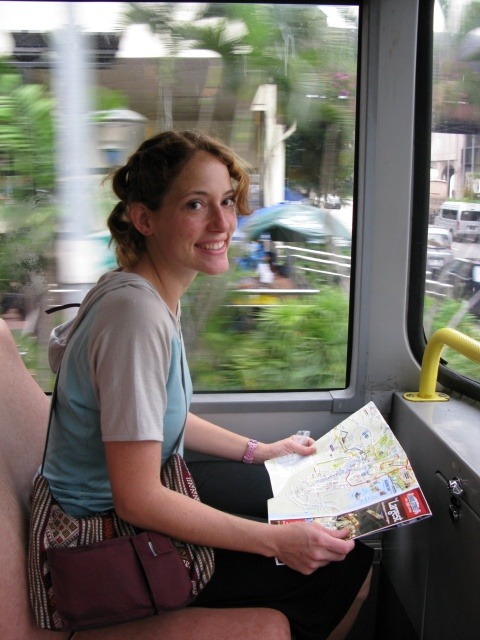 It's a country that is a big city.
If you're not a city person, then Singapore consequently wouldn't be your cup of tea. If you are a city person, then Singapore is paradise, full of life, diversity, and brimming with "success". Either way, I have to say that there are many huge parks, beaches, and resort-like areas that even a non-city-person should have been able to find something satisfying in Singapore.


It's very expensive.
I can't find many positive points to this reality, except to observe that the biggest complainers of cost in Singapore are those that just came from considerably less expensive areas of Asia (like Thailand), and go through some serious sticker shock. When you compare the prices in Singapore to those of any world-class large city, then it's actually not that expensive – in fact in some cases it is way cheaper.


It's very clean.
Now I would view this observation as a positive one through and through, however naysayers of Singapore cite the cleanliness as a kind of sterile lack of personality. I say it's better than garbage and garbage-related pests lining all the city streets.


It's very crowded.
In just five minutes of strolling through Bugis market (the city's largest outdoor marketplace), we were poked, prodded, tripped over, pushed, beaten up, and generally manhandled more than our entire trip through the rest of Asia! In trying to board the public bus, an old woman hit Kelly repeatedly with her cane trying to push by us as we clumsily discerned how much we had to pay the driver, that he has bruises. Yup. It's crowded. But again – welcome to the big city; you either succumb and love it or fight it all the way.


It's very fashionable.
It appears that in Singapore, even people who aren't trying look like a million bucks. Singapore is the height of fashion, and we felt a little grimy and tired looking in comparison to our haute-couture citizens.


It's very multi-cultural.
Almost nobody from Singapore is actually from Singapore. Hmmm….memories of Toronto. You walk down the street and see people from Thailand, Mayalsia, India, China, and the western world. Many people speak English, and the rest usually speak Chinese. It was refreshing to have a greater chance of being able to communicate with strangers in English after traveling through areas where we were in a minority. It was also refreshing to see so many different cultures (and foods!) collide and co-exist. Similar to Toronto, Singapore has pockets dedicated to many cultures: Lucky Chinatown, Little India, Little Italy, and so on.


It's very high-tech.
From the huge number of retailers of the latest consumer electronics, to the awesome public transportation system, technology is in abundance in Singapore. Taking the bus was a treat. The bus stop we waited at was at a convergence point of about eight buses. An LED sign gave us up-to-the-minute updates as to exactly when each bus would arrive at the stop. This ain't no pre-posted schedule either; it is GPS technology at its best. Once on-board the bus (bruises and all), we decided to climb up to the second floor (it was a double-decker). Before we did so though, we could see on another LED screen just how many seats were vacant so as not to waste a trip up the stairs if it was too crowded.


It's very safe.
I guess the only people who wouldn't like this attribute are the drug dealers (or users) who face a death penalty if caught trafficking or in possession. Otherwise the ability to walk around late at night (as we did when we got off the train at 11:30pm with no place to stay and over an hour of wandering in search of accommodation), without risk of being mugged or otherwise mutilated is a treat.
After only Singapore in a day, striking up conversations with extremely helpful shop-keepers and taxi-drivers, and wandering the streets and admiring the scenery, we certainly felt at home. In many ways it was a pleasant reminder of Toronto, and helped us to reminisce and enjoy a little piece of home while still being so far away from it. Singapore is most-certainly on our "must-return-to" list.