Since graduating college in 2012, Erika Bisbocci of www.erikastravels.com has lived in Namibia, New York and Seattle and traveled across much of Asia, Europe, Africa, the South Pacific and the Americas. She now works as a flight attendant for a major US airline and spends her days off backpacking, blogging and enjoying the outdoors.
This Financial Case Study was originally published in 2016. As was the case for nearly everyone worldwide (but perhaps especially anybody in the travel and airline industry), Erika's lifestyle came crashing to a halt as a result of Covid. She took nearly a year off from her job and hunkered down in Seattle with her husband and cat. However, while international travel was only a distant dream for much of the year, she was still able to enjoy local travel and road trips around the Pacific Northwest.
Here's how Erika is transitioning from her career as a flight attendant to something a bit more pandemic-frendly.
See also: Tips for Transitioning to Full-Time Blogging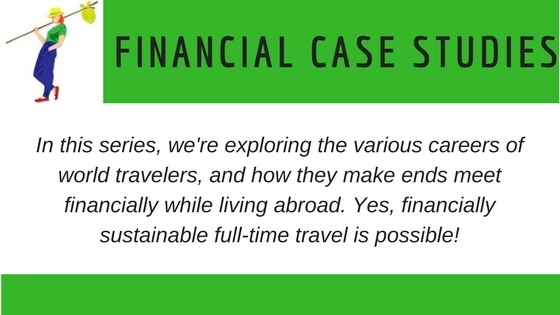 How long have you been living/working on the road, and where have you traveled to?
2016: I just hit my 70th country and have traveled to five continents, the Caribbean and the Pacific Islands. After graduating college in 2012, I moved to Namibia to teach English and have since returned to the US, where I've been working as a flight attendant for the past two years.
2021 UPDATE: While I love the freedom of being a semi-nomad, my lifestyle has definitely slowed down in the past few years. I'm still working for an airline (though currently on a leave of absence) and take all the opportunities available to travel.
Just weeks before Covid hit, my husband and I returned from an unforgettable trip to Egypt and Sudan. The North African countries were my 101st and 102nd countries respectively. As a couple, we've traveled to around 30 countries on five different continents.
Since the beginning of the pandemic, we've decided to take a break from international travel due to safety concerns. Instead, we've taken time to enjoy the outdoor destinations in our own backyard.


Please describe what you do for income.
2016: I am a flight attendant for a major US airline.
2021 UPDATE: I continue to fly for a major US airline, though I am finally also beginning to see positive cash flow from my travel blog.


How many hours per week do you work on average?
2016: Hours worked weekly in the airline industry are very difficult to calculate. Sometimes I work every day for 10 hours a day, and sometimes I don't work at all for a week or more. I have a lot of flexibility to choose which dates I want to fly and, as a result, I find that some weeks I work 50 hours, while others I don't work any at all.
Since flight attendants are only paid when the boarding door is closed, it is difficult to compare the number of hours we work with other jobs. A full time monthly schedule is between 80-100 hours per month.
2021 UPDATE: My schedule hasn't changed much since I first began flying. Hours in the airline industry are still highly variable month to month.
Prior to the pandemic, I worked about 12 days a month. When I return, I expect to cut my flying days to around 10 per month.
I expect that I'll be able to offset the reduction in flight hours with income from my blog.


How much money do you make?
2016: Pay is another component that is difficult to calculate as a flight attendant, since it varies so much month to month and year to year. Hourly salary at my airline starts at $25/hr and tops out at over $60/hr after twelve years. In addition, I receive hourly per diem and the possibility for flight leader pay, international pay and language pay. After completing my second year, I am now making about $30/hr.
In 2015, my gross earnings were $42,000 and I cleared just shy of $30,000 after taxes, healthcare contributions and 401k contributions.
2021 UPDATE: In the airline industry, pay increases with seniority. I now am at the point in which I make close to $50/hr. While it is significantly more than I was making in my first few years, I've also chosen to fly less. I suspect that, prior to taking my year-long leave of absence, I was making around $48,000/yr flying.
If I'd chose to work the same amount of hours as my first few years on the job, then I'd have probably made closer to $60,000.
In recent months, my travel blog has been bringing in a few hundred extra dollars a month.


Do you make enough money to support your lifestyle?
2016: Absolutely. I've always been a saver as opposed to a spender, so I've found it relatively easy to make ends meet thus far (I think living in Africa on a volunteer stipend for a year certainly taught me how to stretch my pennies).
While being a flight attendant is certainly not a high paying job, it complements my lifestyle very well and allows me to live relatively comfortably within modest means.
One of the greatest perks of my job is that it gives me and my family unlimited plane tickets to see the world either for free (domestically) or at very reduced costs (internationally and with partner airlines). This has saved me thousands and thousands of dollars over the last few years and enabled me to live out my dream of traveling on a semi-permanent basis.
Each month, after paying for rent, bills and travel expenses, I have a few hundred dollars left over that I invest in savings and my 401k.
2021 UPDATE: Absolutely. I've always been a big saver, and my habits have not changed over the years. My husband and I still take advantage of free airline tickets and try to make our dollars stretch as much as possible.
Of course, owning a house and being a bit more settled comes with higher costs. We now have a mortgage to pay and whole host of monthly recurring bills. Travel is just another expense that we plan for every month.
See also: Financial Planning for Travelers


What do you like most about your career and lifestyle?
2021 UPDATE: I love the flexibility that it affords. Choosing my hours and not being subject to a 9-5 schedule is incredibly liberating. Flying is also the perfect job to have in conjunction with blogging, since it affords me large chunks of time off.


What are some of the challenges you have with this career and lifestyle?
2021 UPDATE: Spending so much time away from my job in 2020 is making me realize how much I enjoy having a routine at home. I'm finding it more and more difficult to come to terms with the fact that, when I go back to work, I'll have to leave Dan at home for days on end.
Going forward, I know I'll struggle with balancing my need for adventure with my desire to feel more settled.


What is your vision for the future of your lifestyle on the road?
2016: For the foreseeable future, I plan to continue my semi-nomadic lifestyle by working for the airlines and backpacking extensively on my days off. My goal is to eventually focus less on flying and more on my blog—hopefully flying on a part time basis and shifting focus toward becoming a location-independent, freelance writer or digital nomad.
2021 UPDATE: It is a bit painful to read my previous answer and realize that I haven't gotten to where I wanted to be with my blog. Other priorities always got in the way. It took a global pandemic for me to turn my hobby blog into a business. As ironic as it seems, I've seen more traffic growth during lockdown than I'd seen in nearly a decade prior.
That being said, while I continue to travel and write about travel, I've certainly settled down a bit. I expect I'll be even more sedentary in the next few years and don't expect to be fully nomadic again for quite some time.
Dan and I are considering moving to a place that affords us easier outdoor access and a more community-minded environment. Bend Oregon is high on our list.
As soon as it is safe to do so, we plan to complement our outdoor pursuits with intermittent international trips. We are also open to the idea of spending a few months at a time abroad, since Dan can work from home and I have tons of flexibility.


Any advice for the aspiring traveler about living and working on the road and managing finances?
2016: Figure out what your priorities are and learn to spend money on what matters most to you. If you really want to see the world, don't put off travel until "someday," because life may get in the way and that someday might never arrive.
Yes, traveling is expensive and it can be difficult to do while in debt or paying off student loans. But if you have enough money for a new car and can afford out to dinner and drinks on a regular basis, chances are that you will be able to afford living on the road—especially if you complement your nomadic lifestyle with a job that is either based overseas or allows you to work remotely.
It just depends on how you choose to spend your money and the level of comfort that you require.
2021 UPDATE: Years later and despite slightly different circumstances, my answer remains largely the same. Prioritization is key, as is cutting back on frivolous expenses.
Dan and I are extremely intentional about our spending. We rarely buy things we don't actually need.
Affording frequent travel has never been a problem on our salaries. I think we can chalk it up to the fact that we still budget our money much like we did when we were broke college students.
See Also: How to Drastically Cut Your Expenses to Save Money for Travel