Amar Hussain is the travel blogger behind Gap Year Escape. In 2009 he left on a gap year, which never ended and is now a "gap life"! He's an adventure traveller, blogger, digital marketing consultant and self proclaimed M&M connoisseur. Learn more about his digital nomad career and lifestyle here!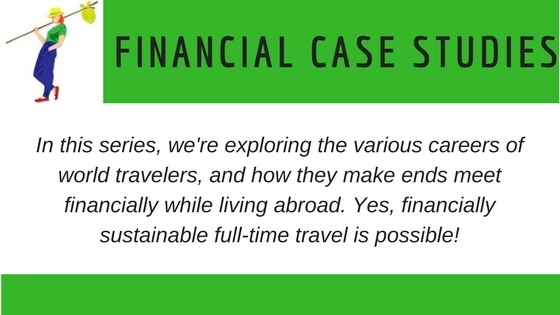 This post was originally published in 2018. It has since been updated for accuracy of links and content.


How long have you been living/working on the road, and where have you traveled to?
I started on my first gap year in 2009. I loved it so much that I then proceeded to turn it into a 'gap life'. There have been stints where I stop and call a place home but that was more for sanity rather than a need to stop.
Over the last nine years I've been fortunate enough to travel to all seven continents, with the biggest trip being a down-the-world overland adventure taking in 22 countries, from Canada to Antarctica.


Please describe what you do for income.
I have several sources of income which have changed over the years. Predominantly my income comes from my blogs in the form of affiliate revenue and my digital marketing consultant digital marketing consultant agency where I offer SEO and copywriting services.


How many hours per week do you work on average?
This can really depend on work flow and planned trips. Sometimes I know there are just some countries where I will be extremely busy or wifi/3G will be an issue, e.g. Namibia. For these I'll work an hour a day just doing e-mails and keeping things ticking over.
For weeks when there are bigger projects, I can be working a standard 9-5. On average I'd say that this works out to 15-20 hours a week. Not quite the four-hour work week but I'm getting there.


How much money do you make?
Years ago in my early blogging days my only income source was purely sponsored posts. I developed a network of six blogs and sold ads making between $4,000 to $7,000 per month. To be frank, it was easy money but sadly those days are gone, for me anyway. I know of some people doing extremely well still doing advertorials with brands.
Like many bloggers I had to diversify and adapt which led me into Amazon FBA and launching a men's grooming products business. This was netting about $1,500-$3,000 per month but personally the business wasn't for me. People do extremely well with Amazon FBA with five to six figures a month businesses (hence why it appealed to me!). For me, I had some bad luck with suppliers, listing hijackers, Amazon scrubbing my reviews and generally just wasn't a fan of the goal posts moving.
Now I run two blogs, my travel blog (which has gone down in recent years as competition has grown) makes around $1,000-$1,500 per month through affiliate programs such as Amazon, Booking.com, Affiliate Window and CJ, and then the website for the grooming products business I converted into a blog which makes a few hundred dollars a month from affiliates. The latter is one that has way more scope for growth but I've been focused elsewhere.
My main focus is as a digital marketing consultant through my own agency. Copywriting clients bring in around $3,000 per month and SEO clients that are on monthly plans bring in the same. Finally, one-off SEO clients who want strategy and technical audits, can bring in $1,000-$2,000 per month on average. However, most one-off clients, eventually come back as regulars, either for SEO or for copywriting in the form of regular blog content.


Do you make enough money to support your lifestyle?
Yes, most certainly, and my hobby happens to be travel so almost all of my excess income goes into adventures. I'm also pretty frugal, especially with my beginnings in budget backpacker travel.
I never lost that bug for finding good deals. I'll usually try and travel in fringe season to avoid peak costs, I pretty much want to go everywhere so use things like Jack's Flight Club and just wait to see what great deal pops up. Finally, in recent years I really got into collection points. Using blogs like Upgraded Points cuts down my research time in understanding how cards and redemptions work.
Finally, I am now thinking towards the future and aside from investing in cryptocurrency (which has done pretty well), as I don't have any retirement savings plans. Instead I'd like to build online businesses to sell and then invest in a property portfolio. We'll see how the next 5-10 years go!


What do you like most about your career and lifestyle?
I think the answer here would be the same for everyone; the freedom. Not only is the freedom to roam important but also in the day-to-day. Not being bound by any specific daily routine. Of course that doesn't mean you can just do whatever you want every day, this lifestyle still does require work. However, least it's on my own terms.


What are some of the challenges you have with this career and lifestyle?
I think the challenge for me is that most of my friends are either nomadic themselves or they are in places I don't want to spend a significant amount of time. Sure, you can make new friends on the road but you can't beat that bond that develops over years of friendship. It just makes the reunions that much more special.


What is your vision for the future of your lifestyle on the road?
In my 20's I thought this lifestyle would never end but in my 30's I've come around to the idea of having a base, even if it's not one I live in permanently. Don't get me wrong, I don't want to be "settled", but living out of a backpack does get old!
I envisage that I'll have on and off seasons where I travel continuously, come back to a base, reset and then go off again.


Any advice for the aspiring traveler about living and working on the road and managing finances?
In the very early days, I pretty much spent everything I made working remotely on travel. It was a great way to live and I don't regret it. However, call it the naivety of youth, but I thought the easy money would last forever.
Whatever you're doing, give at least some thought to the future. Is what you are doing sustainable? Will you be able to do it and still earn a living in five years' time? Think about it now and it'll pay off in the future.
Interested in learning more? Check out these valuable Travel Lifestyle Guides:
How to Make Money While Traveling (7 Surefire Ways)
The Complete and Easy Guide to Insurance for Travelers
Travel Security: Keeping Your Finances, Data, and Identity Safe on the Road
The Ultimate Guide to Traveling With Money (as in, how to access, carry, and spend it)
Filing Taxes as a Digital Nomad: Everything You Need to Know