Pumpkin Pie…in Australia?
This post was originally published in 2009. It has since been updated for accuracy of links and content.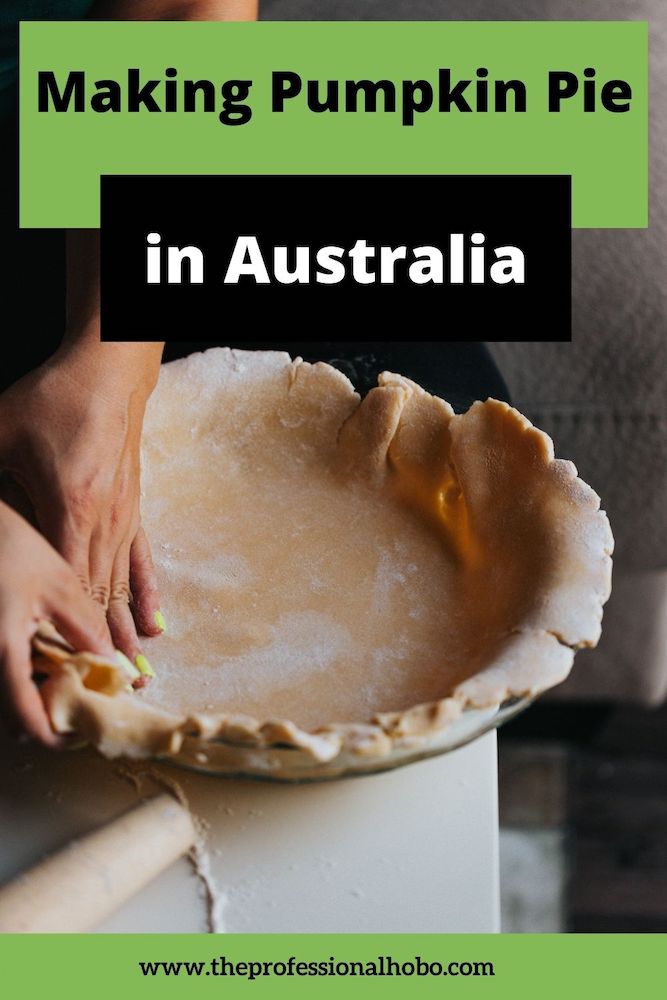 Australians love their pumpkin. As part of a standard "meat and three veg" meal, a slice of roasted pumpkin is often tastefully and deliciously included. Go to the supermarket, and you will likely find at least three different varieties of pumpkin, such as butternut squash, Japanese pumpkin (very yummy), and grey pumpkin.
And although roasted pumpkin is typically quite sweet, the idea of serving pumpkin for…dessert…is quite foreign to Aussies.
"I should serve this how? With what? As what part of the meal?" was the doubtful response of more than one Australian when I presented them with my North American contribution to their holiday meal. The idea of making pumpkin into a pie – a dessert no less – was practically unfathomable.
And when it came time to sample the fare, the variety of polite cringes they tried to hide while raising their first-ever fork full of pumpkin pie to their mouths was comical. Even more comical was the instantaneous look of surprise and delight upon tasting pumpkin pie for the first time, along with the much larger second helping they cut for themselves.
As a North American, we eat pumpkin almost solely as a dessert in the form of pumpkin pie. Although some squashes like butternut are served as savoury dishes, more often than not, if you think of "pumpkin" in Canada or the States, "pie" is the most logical word to follow. Pumpkin pie is typically served around Thanksgiving and Christmas season, although with the availability of canned pumpkin, it can be made any time of year for lack of fresh pumpkin being available.
Trying to find canned pumpkin in Australia is impossible. An Aussie friend of mine summed it up nicely when she said "why would you eat canned pumpkin? You'd never get an Australian to buy it." This is, of course, because they didn't know about the beautiful thing that is pumpkin pie. Until now.
So in my efforts to introduce Australia to pumpkin pie, I bought a lot of fresh pumpkin, boiled and pureed it up, and then proceeded to use the recipe below to create my Canadian gift to my Aussie friends. Depending on how watery the pumpkin puree is (mine was pretty watery) you may want to adjust the other liquid measurements in the recipe. I left out the 2tbsp of water entirely, and in some cases reduced the amount of evaporated milk. The mixture can be quite runny (the eggs will bind it all together), but I am accustomed to raw pumpkin pie filling having some girth. Trial and error is the best way.


EASIEST PIE CRUST IN THE WORLD
I hate pastries. I abhor working with shortening, rolling out dough, and fussing with pie crusts. When I bake pies at home in Canada, I pull the ultimate lazy-person-stunt and buy the frozen prepared kind. In Australia though, similar to canned pumpkin, they do not exist, so I was once again relegated to making it from scratch.
The good news is I found a recipe for pie crusts that does not require rolling, kneading, freezing, or the inclusion of shortening. Happy days! Try it out…you will not be disappointed. For savoury pie crusts, cut out the sugar and increase the salt to 1tsp.
190 grams of flour
1 tbsp (rounded) sugar
pinch salt
120 ml (about ½ a cup) vegetable oil
2 tbsp milk
Preheat oven to 400 degrees (200 Celsius).
Place all ingredients into a 9 inch pie pan.
Stir all together with a fork.
Pat mixture into the bottom and up the sides of the pie pan.
Poke holes in the bottom and sides with a fork.
Bake for 15 minutes or until light brown.
That's it. Really! It is that easy. Hurrah for easy pie crusts.


PUMPKIN PIE RECIPE
1 ¼ cup pumpkin puree
¾ cup sugar
½ tsp salt
¼ tsp ground ginger
1 tsp cinnamon
1 tsp flour
2 eggs, lightly beaten
1 cup evaporated milk
2 tbsp water
½ tsp vanilla
pastry shell (see above for crust recipe)
Preheat oven to 400 degrees (200 Celsius).
Combine pumpkin, sugar, salt, spices, and flour in a mixing bowl.
Add eggs, mix well.
Add evaporated milk, water, vanilla, and mix well.
Pour into pastry shell.
Bake at 400 (200 Celsius) for 15 minutes, then reduce heat to 350 (180 Celsius) for 35 minutes.
A word to the wise: check on the pie often. Reducing the heat is essential to the pie's success, and you will need to be vigilant to ensure that the crust or filling does not brown too much on the top. I ate more than a few pies myself this season by making the mistake of not keeping an eye on them and letting them brown too much to give away…at least that is my excuse and I am sticking to it.
PS – Are you new to this site? Then, WELCOME! Click here to find out what else you can find here.
Check out my Travel Lifestyle Guides for more ways to earn money remotely, spend it wisely, and balance the two so you can travel as long as you wish, in a financially sustainable way.