This is by far the funniest interview I've done to date. But when EMMY-nominated Rachel Rudwall and I aren't laughing, we're talking about how to get your own TV show, how the biz has changed over the years, and how her personal life changed her career (a few times over).
Other Interviews to Check Out:
How to Bootstrap 7-Figure Remote Businesses, With Ray Blakney
Kach Umandap: Philippines Passport Travel, $ Tips, and Montenegro Residency
20 Years of Travel, Trading, and Kids: Pat Schulte, Wanderer Financial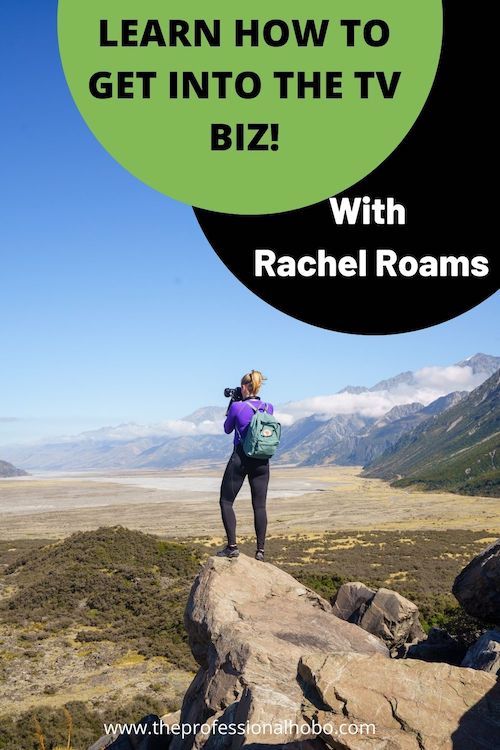 Meet the Amazing Rachel Rudwall (Rachel Roams)!
As an EMMY-Nominated On-Camera Host, Producer, Camera Operator, Writer, and Photographer, Rachel Rudwall has traveled all seven continents, lived in three countries and journeyed through nearly 70 nations.
Rachel loves dropping herself into faraway lands to relate their stories to outsiders. In fact, she does such a good job of it that she was recently named an Explorers Club "Fellow" alongside greats like Buzz Aldrin and Sir Edmund Hillary.
Rachel has had countless global adventures, ranging from TV hosting for Travel Channel's Epic Lists and HLN's Vacation Chasers, to digital hosting for TIME, Inc. and Tastemade, and from brand content creation for BMW and Chase Bank, to producing (producing!) shows like Ice Road Truckers and Ax Men.
She's the real deal when it comes to the tv business.
Beyond the screen, Rachel writes articles and shoots photography for magazines like AFAR and Forbes, and shares further global inspiration through Speaking, Keynote Addresses, and Conference Workshops.
Rachel has worked in every stage of media production, from development and pre-pro to field and post, and is skilled with varied editing systems, digital cameras and gear — drones included!
Her audience spans over 300,000 adventurous souls around the world. And, as a result of her extensive travel experience, Rachel has been a featured expert for Travel + Leisure, Forbes, Marie Claire Magazine, TIME, and many more.
Are you Impressed? I was.
I met Rachel in person at Women's Travel Fest in Portland earlier this year, and I was fan-girling her so hard, I was totally tongue-tied. It wasn't until she emailed me afterwards (she! emailed me!) and we had a real conversation over zoom that I realized this TV star is friendly, approachable, and soooooo funny. So, I booked another zoom conversation with her, this time to record it so you can enjoy her awesomeness as well.
After I finish telling her how amazing she is, I get down to the nitty gritty by asking her how she got her chops in the TV business. From there we cover things like:
The importance of storytelling in media production, sometimes as the only differentiator when anybody can get high-quality equipment these days.
How digital media democratized the process of getting a tv show, and yet television is no longer the ultimate end-goal that it once was.
What it's like to get noticed on YouTube and get a show from it, versus pitching a show directly.
Advice for people who would like to get into the tv biz with a show of their own.
Rachel's lifestyle of living out of a storage unit for years.
How Rachel's husband "ruined" all her plans for being in grand motion forever (and in turn, she "ruined" his career and Alaskan paradise) – and how they're both better for it.
"You are your best storyteller when you understand storytelling from varied perspectives" – and what that has meant for Rachel's career.
How Rachel transitioned to remote work because of the pandemic, and how it created huge opportunities for her.
Having a baby, and how it changed Rachel's career and lifestyle again.
Why broccoli is a hard sell (you gotta watch the video to know what that actually means).
How Rachel has shifted from constantly reaching goals and then saying "okay, what's next?" to instead staying "I'm here! What's this like?"
At the end, she goes all Yoda on me and drops some amazing wisdom as it pertains to lifestyle design, planning for the future (or not), and harmonizing the different versions of "you" – yesterday, today, and tomorrow.
Practical, Profound, and Just Plain Funny. (Also, hot.)
Between my brilliant editor's audio and visual insertions and Rachel's overall hilariousness, this interview is not only informative but it's also highly entertaining. You don't want to miss it!
Please forgive the poor lighting and shiny face on my side. I was filming in a makeshift studio that also happened to be a bazillion degrees. I'm lucky I didn't fully melt.
Click here to watch our chat, or press play below!
Learn More About and Connect With Rachel Roams
Rachel could totally be a bitch and everybody would still love her. But she's not. In fact in the interview she invites people to reach out to her and talk about random things like life and stuff.
You can do that on her website Rachel Roams, or just search Rachel Roams on your social channel of choice to find her: Instagram, Twitter, Facebook, and LinkedIn.