This post was originally published in 2012. It has since been updated for accuracy of links and content.
There's something about the feel, the look, and even the smell of a book. I love turning the pages, feeling the cover, and devouring the text – on a plane, a beach, in a waiting room, lounging in bed, or anywhere else I happen to have a few moments to "escape".
There's something about the printed word, read off a good old fashioned piece of paper, that represents a pinnacle of success to many writers, should their words be immortalized in such a way.
There's something about books. Multiple times a week, people tell me "you should write a book"! Never mind the fact that I've probably written the equivalent of a dozen books between this website and all the other places I'm regularly published in magazines and extensively online.
There's just something about books.
I was lucky enough to have my words first immortalized in print as a co-author of 10,001 Ways to Live Large on a Small Budget, released in 2009.
And I'm pleased to announce the new release of my second co-authoring experience, in a book called From The Grand Canyon to the Great Wall: Travelers' Best, Worst, and Most Ridiculous Stories From the Road.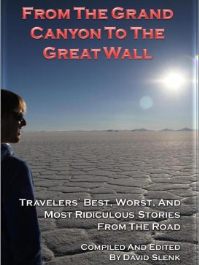 The book is a compilation of 67 stories written by 54 different authors taking place in 45 different countries around the world. I have two stories being published in the book – one about a bizarre encounter I had on a side street Spain, and one about the rigours of romance on the road.


Getting Support as a Writer
With the release of my first book, I learned a few hard lessons about getting moral and professional support, especially while living abroad.
It has made me gun-shy about self-promotion in general; even more so when it comes to dealing with family and friends.
So I don't want to flog this book on anybody – be you a stranger, a travel/writing colleague, or my mother (hi mum!).
I won't keep track of who does and doesn't order the book, so don't worry – you're not being watched.
I do believe, however, that From The Grand Canyon to the Great Wall is a fun read, and I expect you'll enjoy it.
Thank you for your support!