There's so much to say about the Florida Keys, and so much more yet to see. Having explored the Florida Keys through the eyes of people who visited and never left, this post will explore the Florida Keys – and its stories – through the camera lens (and a thousand or so words).
This post was originally published in 2014. It has since been updated for accuracy of links and content.


Key West
I was enthralled with Key West from the moment I arrived; so many colours, such contrast, and a surprising amount of history.

They're Listening…
"There's a lot of history to Key West," said Zero, my knight on shining Pedicab when I scrunched my nose at the idea of a boring historical tour. He worked in historical tidbits of information while we cruised the streets anyway, and I'm glad he did – it was fascinating.
Zero took the quintessential tourist shot of me (as shown above) at the Southernmost Point in the (Continental) US, before pointing off to the right and saying that the actual southernmost point would be the adjacent peninsula which houses the golf-ball-like Cuban Listening Station.
"You mean, the US is still listening to Cuba?" I replied incredulously.
"Yep," said Zero.
Not only was I (a happy-go-lucky-Canadian) unaware that there was a sonic listening station to begin with, but I was surprised that it's still in use. I guess the American government is still baffled by the utter perfection of the Cuban mojito.


Sunset Celebration
Every night (yes, every night!) in Key West's Mallory Square, hundreds of people gather to celebrate the sunset. There are street performers, fire spinners, vendors, coconuts, and locals and tourists alike, sharing one goal: to admire the end of another beautiful day.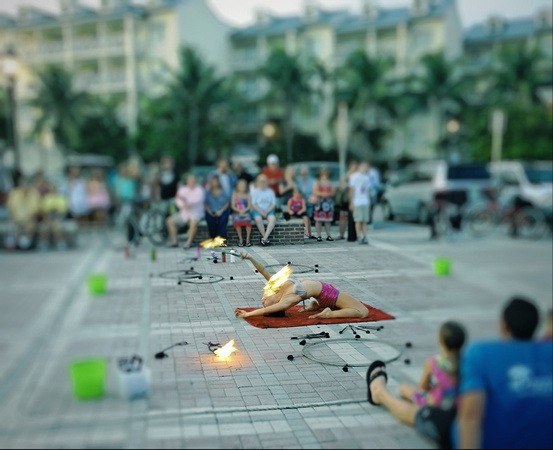 Dry Tortugas National Park
"Best tourist activity in the Keys," said Zero approvingly when I told him I was visiting Dry Tortugas National Park the following day. It's the least-visited National Park, mostly because it's 68 miles west of Key West; a 2.5 hour boat ride each way, making this excursion a full-day experience.
Among other activities, swimming off the beach and snorkelling around the old pier posts is interesting, with lots of coral and colourful fish.
If you're a bird watcher, you'll love spotting the hundreds of thousands of sooty terns, masked booby, brown noddy, and frigate birds that nest and migrate through the Dry Tortugas; a special place that is the only North American nesting ground for some of these species.
Fort Jefferson is the largest masonry structure in the Western hemisphere. It was used in the 1800s as a fort, and later a prison, before becoming a tourist site. (A natural enough progression if you ask me).
Surrounded by a moat in addition to the 70 odd miles of open water, I was confused by the place. Why was this a good place for a fort? Aren't forts supposed to protect something – like, land and people and stuff? (In reality it was supposed to protect US shipping channels, but still defied my own sense of logic since ships could simply give it a wide berth). I was further befuddled by the literature explaining measures taken to keep prisoners from escaping. I mean….where would they go? (Just saying).
Either way, it is an interesting historical site to behold, especially given its remoteness.


Moving North
The Florida Keys are a string of islands spanning 120 miles, connected by 42 bridges (there are over 1,700 key islands, but most of them are only accessible by boat). Addresses are marked by individual key names and mile markers rather than numbers and street names. The bottom of Key West is mile marker "0" – literally the end of US-1, which runs from Key West all the way up to Maine at the Canadian border, 2,369 miles away.
Between Big Pine Key and No Name Key is a great place to hop in a kayak and enjoy the sunset, as I did with Big Pine Kayak Adventures.
The Florida Keys aren't particularly known for their beaches; instead it's a haven for boating and fishing enthusiasts.
Dawn and dusk are great times to spot the key deer; they only live in the Florida Keys and a full-grown one is about the size of a Great Dane dog.


Old Seven Mile Bridge
Known as "Old 7" to locals, this bridge was built over a century ago as a railway bridge (capturing my heart as a train travel enthusiast). In 1938 it was converted for cars, and in 1982 a newer bridge was built and "Old 7" was retired, and is now undergoing a massive restoration project to make it a historical haven for walkers, bikers, and pier fishermen.
Despite facing a few personal demons in getting on two wheels, renting a bicycle and biking the restored two-mile stretch of Old 7 was one of my favourite activities in the Florida Keys. Stop along the way and look over the side and spot various sea creatures like dolphins, turtles, and sharks.
Only two miles of Old 7 are traversable; after a break the rest of the dilapidated bridge continues on.

Sport Fishing
Fishing is a huge pastime in the Florida Keys, both close to shore and further off. There's a drop-off in the sea floor about 20 miles offshore, where you can catch just about anything.
Spending a morning with the crew of Team Warrior Sport Fishing, we caught a few fish (including a Mahi Mahi and a Blackfin Tuna). We took our catches straight to a restaurant and had them prepared (tuna tartare and coconut-encrusted Mahi). You can't get any fresher than that, and most restaurants in the area will cook your catch for you, which makes for an especially rewarding meal.


Swimming? Pass.
Like I said, the Florida Keys are not particularly known for their beaches; there are a few idyllic spots though, like this one. However just before I decided to go for a dip, I watched a large shark swim by and thought better of it. I guess I still have a bit of an ocean phobia.


Key Lime Pie
I had key lime pie at every. Single. Meal. (Yes, including breakfast). Although I had eaten many a slice of key lime pie prior to visiting the Florida Keys, I'm told they were all bastardized versions thereof, since true key lime pie requires key limes – which can only be found in the Florida Keys (and they're rarely exported).
Thus, while in the Florida Keys I simply had to find the best key lime pie. It was a close battle, but the winner had to be Sundowners Key Largo, with honourable mentions going to Blue Heaven with its kitschy decor being at least half the fun, Keys Fisheries where you MUST also get the lobster reuben (quite possibly the best sandwich I've ever had in my life), and Mrs. Mac's Kitchen.
Thank you to Florida Keys & Key West for hosting my Florida Keys trip.