Will Hatton has been travelling the world for more than a decade now. He started his travel blog – The Broke Backpacker– in 2014 initially as a platform to document and share stories of his adventures on the cheap. However, on an overland journey from the UK to Papua New Guinea, he fell in love with a very special someone in Iran. One hitchhiking adventure, one fake marriage, and one real marriage later, Will and his new Persian partner realised that to support them both financially, The Broke Backpacker would have to scale in size.
Experimentations, failures, and victories paved the way to astounding success until the global pandemic hit in 2020. 2020 was a tough year for Will and it was during this trying time that Will's marriage broke down and his website once more fell into his sole domain. However, silver linings, the resulting struggles have since led to some of Will's greatest triumphs in the world of online business. He and his ex-partner remain very steadfast friends, The Broke Backpacker has a dream team of devoted travellers servicing it, and the pivots in business strategies since the onset of the pandemic have left The Broke Backpacker as strong – and if not, stronger – than before!
This financial case study was originally published in 2018. Given the dramatic changes to his life and business since then, I asked him to give us a comparative update. Read on below to see his lifestyle and career in 2018 versus 2021!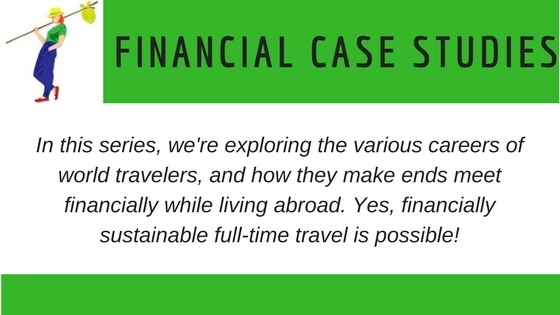 How long have you been living/working on the road, and where have you traveled to?
2018: I've been on the road almost my entire life and have travelled all over, however I'm not a passport stamp-collector and have no desire to visit every country in the world – I would far rather get to know a place properly. I spent two years living and travelling in India when I was 19 and that was a real game-changer for me; I learnt a lot about myself and what I could handle. (Nora's Note: my own recent travels through India were also a game-changer for me!)
More recently, I've been travelling in Iran, Pakistan, Nepal, Bhutan, Myanmar and Indonesia. For about a year now, myself and my girl have been based in Chiang Mai in between adventures and it has been a really amazing experience to hunker down and actually get into a decent routine. It has been a different kind of adventure, and one I have thoroughly enjoyed. (See also: How to Find an Apartment in Chiang Mai)

2021 UPDATE: While the travels have lessened in extremities over the years – and particularly since COVID reared its ugly head – there most certainly are still adventures! My life these days is primarily based out of Bali where I'm also working with a new business partner on an entirely separate venture – Tribal Hostel – a co-working digital nomad hostel.
Pakistan remains my treasured destination of choice. I return there once a year to meet my Pakistani soul-family, climb some epic mountains, smoke a buttload of hash, and just generally get some space from the business of doing business. 2020 was a bust obviously, however, I managed to make a return in 2021 for a three-week expedition. The results were very pleasing indeed.


Please describe what you do for income.
2018: Over the last year, I've been involved in a lot of different ventures aimed at diversifying my income. In early 2017, I was facing mounting credit card debt and was in an extremely tight situation. My lovely wife, Esme, is just as broke as I am and on account of her expensive visas (she is Iranian and visas are expensive for Iranians) it looked like we were going to be split apart due to a lack of money. We settled down and focussed on working our asses off, jumping into as many opportunities as possible. As we grew and jumped on new trends, I invested more and more money, eventually racking up a credit card debt in the five figure range. 2017 was a scary and difficult year for us financially but we turned it around and by the end of the year we were making seriously good money.
Right now, we make about $5000 a month from The Broke Backpacker – this is mostly through affiliate sales on hostels, travel insurance, and adventure gear as well as sales of my ebook on how to travel the world on $10 a day.
A year ago, I launched Broke Backpacker Adventure Tours and in September 2017, I led the first tour of 11 backpackers on a 17 day expedition around Pakistan. We plan to run four more of these tours in 2018 and so far the trips sell out within a few days of us launching them. I won't be running all these tours myself and have a close buddy to fill in for me as the lead guide where necessary. The tours make me a profit of about $12,000 a pop and provide me with valuable cash injections which I can roll over into other ventures.
I also run an SEO agency with another business partner; we launched this about a year ago and it's on autopilot in the background – overall, it probably takes me less than an hour a week to keep this ticking over and it makes me a solid $1000 – $3000 profit a month.
I recently launched Active Roots – an adventure gear company – with a business partner and although we are currently about $10,000 in the hole, I am confident that this will be a very profitable business soon as well. Launching Active Roots was a really useful exercise as it taught me how to design products, liaise with China, organize warehousing space for our Amazon store, and handle the logistics of international shipping – I intend on capitalizing on this later this year by launching a truly innovative adventure product – watch this space!


2021 UPDATE: The Broke Backpacker still remains my most prominent (and profitable) project. 2021 has been much kinder to us and the site very happily supports a rather large and diverse team as well as enough profits to be diverted to other projects.
In 2021, I made the difficult decision to stop working with Epic Backpacker Tours after problems with finding the right people to put on the kind of experience I wanted. The company continues to run operations under the same name and different leadership but I am not involved and can not honestly vouch for the current tours being offered.
We have a few other little side-project sites we are working on in the background.
Lastly, although it isn't making money yet, this year will see the launch of my next darling project (after Tribal Hostel): Necopact! (Codename: Neco.) Neco is my first proper foray into the backpacking gear space. While I previously had a mixed result with my drop shipping experiments and Active Roots, Neco is an entirely different beast. It's a premium top-quality backpack suited for the life of a digitally nomadic modern-day traveller. Better than that, it's a sustainable backpack that's going to see plastic being taken out of the ocean as well as a lot of fairly paid workers across Indonesia. Stay tuned!


How many hours per week do you work on average?
2018: Right now, I work about sixty hours a week. I like to be busy and productive so sometimes I'll work 100 hours a week. I do however have the option to take time off whenever I want but, honestly, that ain't for me. I spent a lot of my younger years not working, living rough and struggling to understand why people would want to work – I now get it, it's fun if you're working for yourself and focussing on building your own dreams rather than somebody else's.

2021 UPDATE: I work between 10 – 30 hours a week, depending on necessity and how I feel. Even when working 10 hours a week, I am still very busy throwing time at passion projects, my fitness goals and my obsession with personal development.
I've been making a very stern effort to treat myself to time off since the calamity of 2020. Digital detoxes have been a staple of my routine throughout 2021 (as well as more structured routines overall), and I also make extra sure to carve out weekends and trips away with my beautiful girlfriend and even went on another (boys-only) trip just recently to the Madeira Islands of Portugal with some of my best buddies. Learning to manage the work-life with the need for just being a goofy kid again has been a very necessary process.


How much money do you make?
2018: Over the last twelve months, our income has exploded.
We have been driving a ton of traffic to Amazon and December was, obviously, our best month ever…
In December 2017, we made approximately…
$2560 from Amazon affiliates
$1600 from booking affiliates
$800 from insurance affiliates
$600 from digital product sales
$1150 from pay per view advertising on the blog
$3000 + from sponsored content on the blog
I was beyond stoked with this but I face an uphill battle to replicate these numbers in January now that the Christmas buying frenzy has ended.
I am however very confident that I can hit 20k a month by the end of this year – not including cash injections from the tour side of the business.

2021 UPDATE: I'm afraid I can't share this information. All I'll say is that a friend's hamster told me you can make millions of dollars online if you play your cards right.


Do you make enough money to support your lifestyle?
2018: I've lived on the cheap for years so my lifestyle is pretty spartan. I do spend a lot on nutrition now that I can afford to, and if I can solve a problem with money, I'll do it. My time and stress levels are the most important things to me and I know that making money is pretty easy if you can just commit to the grind so I have no problem with spending money, I'm not interested in a savings account or retirement fund – my cryptocurrency portfolio is my retirement fund. I do intend on taking more money out in the future to invest in a string of epic hostels…

2021 UPDATE: Yes, absolutely. There were some hairy moments in 2020 and particularly when I had to stop taking a salary for a while to keep my staff employed and paid, but things are pretty gosh-darn tootin' fantastic right now! Truthfully, while I couldn't be considered a vagrant anymore, I still don't live a life of excessive glitz and glam. That said, I live in a damn nice villa.
My lifestyle – bar the odd bit of adventure travel for a holiday – mostly is the online entrepreneurship game. So if I'm making enough revenue to redeploy to all my exciting projects (which I'm very excited about because I'm an infallibly optimistic man), then my lifestyle is supported. Well, that and dog food. I need to keep my furbabies fed – they only get the best! I legit spend hundreds of dollars a month on their nutrition…


What do you like most about your career and lifestyle?
2018: The total freedom to do whatever I want and the knowledge that the sky is the limit to what I can achieve. Having the freedom to live life on your own terms is intoxicating but it's a life that is certainly romanticized by many influencers out there – in my opinion, everybody should try being broke; it's a character building exercise.

2021 UPDATE: While the freedom still remains at the top of the list – there is something very special about truly feeling like the arbiter of your own destiny – it's also the personal growth and development I've both consciously and unconsciously attained over the last several years. Entrepreneurship is tough – real tough. It's a lot of learning people and management skills and learning to direct other people to best use their skills (which is a skill unto itself). It's a lot of juggling, multi-tasking, and a constant requirement to be on top of your game. It's a life of constant hustle.
But that's why it ROCKS. It's hard, challenging, and uncomfortable (at times), and through those difficulties, you find an immense amount of personal growth. But as you grow into that role, it also expands your world. Kindred spirits attract.
I reckon, after freedom and personal growth that's what I'm most grateful for the career and life I've chosen. The humans I've networked with and built relationships with over the years are some truly stellar souls. Between my team, business partners, friends, and the people that blur the lines between, I have a very large (and international!) community.


What are some of the challenges you have with this career and lifestyle?
2018: Right now, I'm more pumped about my lifestyle than I have ever been. It took some serious time – two years and counting – of blood, sweat and tears to get where we are now but I now know that I will never have to be worried about whether or not I can afford basic food or bills ever again. That is an incredible feeling.

2021 UPDATE: Other than COVID lol? It's taxing. It can be a lot. There isn't much downtime unless you make it for yourself, and there is a lot of responsibility on your shoulders. And if you're remote working while travelling, that's another ballgame again. A full-time job stacked on top of another full-time job. There's growth in all that too, of course, but learning to be kind and listen to yourself is an absolute necessity in mitigating that stress.
Nora's Note: YES! I want to underscore what Will said: if you're remote working while travelling, it's like a full-time job stacked on top of another full-time job!! This is why my first piece of travel lifestyle advice is to travel slowly.


What is your vision for the future of your lifestyle on the road?
2018: I love to experiment and tinker with new business ventures – frankly, it's just really exciting to me and I enjoy the learning curve. My dream is to unleash my master project, Ditch Your Desk in the next four months – I've been working on this for over a year already with my business partner, close friend and comrade in arms, Aaron. Ditch Your Desk will be the ultimate resource to show others the different paths to financial freedom through making money online – I want to lay out everything I've learnt; what works, what doesn't work, how to invest wisely and how to motivate yourself when nobody else believes in you. The fact of the matter is that anybody can live this kind of lifestyle; you just need to want it enough, and hell – having access to the right resources certainly helps. Both me and Aaron are long-term backpackers and we want to give back to the backpacker community by arming our brothers and sisters with the intel they need to start their own online ventures.

2021 UPDATE: It's a hard question to answer given the unpredictability of the last couple of years. Setting up passive income, my exciting new projects, and enough of a nest egg to sustain my travels is very much a priority right now. And while I can't say what the future looks like, I can say this – The Broke Backpacker will ride again. The time will come when I hit the road once more – seeking great summits – without the phone, without the laptop, and without the bloody social media accounts. Just like the old days.
And I'm gonna write some top-tier sci-fi books while I do it!
Right now, I'm trying to CREATE more and focusing on writing my weird little books on the side and setting up for a Podcast later in the year. Outside of the work, well… I wanna be a dad. I am building a home at the moment and hoping to start a family when the time is right.


Any advice for the aspiring traveler about living and working on the road and managing finances?
2018: This lifestyle isn't easy… Don't even think about it if you're scared to work hard. A strong work ethic is the most important part of being your own boss and running your own businesses but do not fall into the trap of trying to do everything yourself – learn how and when to outsource.

2021 UPDATE: Aim high. Journal, write a personal manifesto, set clear goals, and be aware that it'll take some time to reach your goals. The life of a working traveller ain't always pretty – and it certainly ain't no Insta-inspired cocktails-on-the-beach scenario – but it isn't about the end goal. It's about, and excuse the platitude, the journey.
It's about the process, the growth, and the connections you make along the way. Everything else is just practice, provided you're willing to make the mistakes.
Oh and for the love of God, DO take digital detoxes. That is a 100% necessity. When the mind gets busy, leave the phone at home and go hike it off.