Will Hatton has been travelling the world for nearly a decade now and he started his travel blog – The Broke Backpacker – three years ago to document his adventures on the cheap. His style of travel changed big time when he met his partner whilst hitchhiking across Iran. They fell in love, got a temporary Islamic marriage and headed off on a whirlwind journey across Iran, Pakistan, India, Nepal and Bhutan. Faced with mounting debt, they've been working hard on taking the first steps towards a life of financial freedom and earning a reliable income online. They've experimented with many different ways to make money and have had some wild successes and some dismal failures along the way.
Will was featured in a financial case study in late 2016 as a "jack-of-all-trades turned blogger", and since then has changed tack (and income) dramatically through his revised efforts with his new wife. I decided to feature him again to demonstrate how much can change in as little as a year. Please enjoy this captivating interview!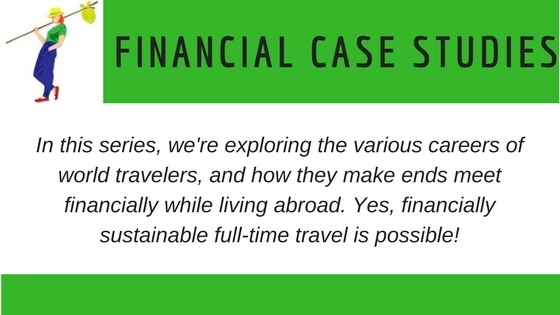 This post was originally published in 2018. It has since been updated for accuracy of links and content.


How long have you been living/working on the road, and where have you traveled to?
I've been on the road almost my entire life and have travelled all over, however I'm not a passport stamp-collector and have no desire to visit every country in the world – I would far rather get to know a place properly. I spent two years living and travelling in India when I was 19 and that was a real game-changer for me; I learnt a lot about myself and what I could handle. (Nora's Note: my own recent travels through India were also a game-changer for me!)
More recently, I've been travelling in Iran, Pakistan, Nepal, Bhutan, Myanmar and Indonesia. For about a year now, myself and my girl have been based in Chiang Mai in between adventures and it has been a really amazing experience to hunker down and actually get into a decent routine. It has been a different kind of adventure, and one I have thoroughly enjoyed. (See also: How to Find an Apartment in Chiang Mai)


Please describe what you do for income.
Over the last year, I've been involved in a lot of different ventures aimed at diversifying my income. In early 2017, I was facing mounting credit card debt and was in an extremely tight situation. My lovely wife, Esme, is just as broke as I am and on account of her expensive visas (she is Iranian and visas are expensive for Iranians) it looked like we were going to be split apart due to a lack of money. We settled down and focussed on working our asses off, jumping into as many opportunities as possible. As we grew and jumped on new trends, I invested more and more money, eventually racking up a credit card debt in the five figure range. 2017 was a scary and difficult year for us financially but we turned it around and by the end of the year we were making seriously good money.
Right now, we make about $5000 a month from The Broke Backpacker – this is mostly through affiliate sales on hostels, travel insurance, and adventure gear as well as sales of my ebook on how to travel the world on $10 a day.
A year ago, I launched Broke Backpacker Adventure Tours and in September 2017, I led the first tour of 11 backpackers on a 17 day expedition around Pakistan. We plan to run four more of these tours in 2018 and so far the trips sell out within a few days of us launching them. I won't be running all these tours myself and have a close buddy to fill in for me as the lead guide where necessary. The tours make me a profit of about $12,000 a pop and provide me with valuable cash injections which I can roll over into other ventures.
I also run an SEO agency with another business partner; we launched this about a year ago and it's on autopilot in the background – overall, it probably takes me less than an hour a week to keep this ticking over and it makes me a solid $1000 – $3000 profit a month.
I recently launched Active Roots – an adventure gear company – with a business partner and although we are currently about $10,000 in the hole, I am confident that this will be a very profitable business soon as well. Launching Active Roots was a really useful exercise as it taught me how to design products, liaise with China, organize warehousing space for our Amazon store, and handle the logistics of international shipping – I intend on capitalizing on this later this year by launching a truly innovative adventure product – watch this space!
Perhaps the biggest game changer for us financially was when I took the plunge and scraped together the very last of my credit… I put it all into Bitcoin and taught myself how to trade cryptocurrency. I diversified my portfolio and turned a $9000 stake into $350,000 in a year and I recently took out $50,000 which has enabled me to wipe out my remaining debt, treat my parents, buy plenty of cocaine and invest heavily into my (currently top-secret) master project for 2018.


How many hours per week do you work on average?
Right now, I work about sixty hours a week. I like to be busy and productive so sometimes I'll work 100 hours a week. I do however have the option to take time off whenever I want but, honestly, that ain't for me. I spent a lot of my younger years not working, living rough and struggling to understand why people would want to work – I now get it, it's fun if you're working for yourself and focussing on building your own dreams rather than somebody else's.


How much money do you make?
Over the last twelve months, our income has exploded.
We have been driving a ton of traffic to Amazon and December was, obviously, our best month ever…
In December 2017, we made approximately…
$2560 from Amazon affiliates
$1600 from booking affiliates
$800 from insurance affiliates
$600 from digital product sales
$1150 from pay per view advertising on the blog
$3000 + from sponsored content on the blog
I was beyond stoked with this but I face an uphill battle to replicate these numbers in January now that the Christmas buying frenzy has ended.
I am however very confident that I can hit 20k a month by the end of this year – not including cash injections from the tour side of the business or cryptocurrency. Technically, I can only count cryptocurrency profit as in the bank when I actually take it off the exchanges and put it in the bank! So whilst I do have a portfolio worth about $350,000, I am going to only count the $50,000 that I have already taken out of crypto…


Do you make enough money to support your lifestyle?
I've lived on the cheap for years so my lifestyle is pretty spartan. I do spend a lot on nutrition now that I can afford to, and if I can solve a problem with money, I'll do it. My time and stress levels are the most important things to me and I know that making money is pretty easy if you can just commit to the grind so I have no problem with spending money, I'm not interested in a savings account or retirement fund – my cryptocurrency portfolio is my retirement fund. I do intend on taking more money out in the future to invest in a string of epic hostels…


What do you like most about your career and lifestyle?
The total freedom to do whatever I want and the knowledge that the sky is the limit to what I can achieve. Having the freedom to live life on your own terms is intoxicating but it's a life that is certainly romanticized by many influencers out there – in my opinion, everybody should try being broke; it's a character building exercise.


What are some of the challenges you have with this career and lifestyle?
Right now, I'm more pumped about my lifestyle than I have ever been. It took some serious time – two years and counting – of blood, sweat and tears to get where we are now but I now know that I will never have to be worried about whether or not I can afford basic food or bills ever again. That is an incredible feeling.


What is your vision for the future of your lifestyle on the road?
I love to experiment and tinker with new business ventures – frankly, it's just really exciting to me and I enjoy the learning curve. My dream is to unleash my master project, Ditch Your Desk in the next four months – I've been working on this for over a year already with my business partner, close friend and comrade in arms, Aaron. Ditch Your Desk will be the ultimate resource to show others the different paths to financial freedom through making money online – I want to lay out everything I've learnt; what works, what doesn't work, how to invest wisely and how to motivate yourself when nobody else believes in you. The fact of the matter is that anybody can live this kind of lifestyle; you just need to want it enough, and hell – having access to the right resources certainly helps. Both me and Aaron are long-term backpackers and we want to give back to the backpacker community by arming our brothers and sisters with the intel they need to start their own online ventures.


Any advice for the aspiring traveler about living and working on the road and managing finances?
This lifestyle isn't easy… Don't even think about it if you're scared to work hard. A strong work ethic is the most important part of being your own boss and running your own businesses but do not fall into the trap of trying to do everything yourself – learn how and when to outsource.