Beck Power is a digital nomad thought leader, entrepreneur, and co-founder of several successful business ventures she runs from her base in Bangkok, Thailand. She's known for her no nonsense approach and entrepreneurial mindset hacks. Beck specializes in bootstrapping products and businesses that are profitable quickly and can be started with minimal capital. She has been featured on Entrepreneur .com, Digital Trends, Product Hunt, NY Magazine, Fast Business and Yahoo.com
Beck can usually be found in a foreign country. Learn more about her career as an entrepreneur here!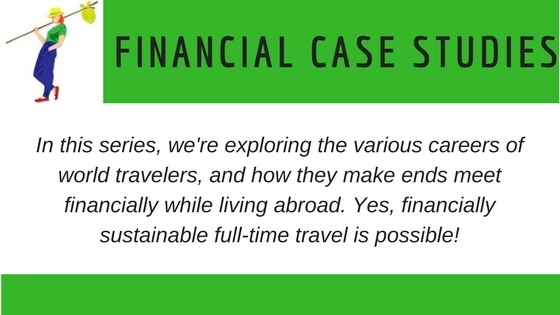 (This post was originally published in 2017. Content and links have since been updated)


How long have you been living/working on the road, and where have you traveled to?
Almost four years! I've stayed around Asia and Australia mostly, relationships have mostly kept me in one place. I travel every three months around the world, mostly the USA and Europe, but I call Asia home right now.


Please describe what you do for income.
I sell things on the internet! Well, that's what I tell my relatives. I run a small travel hacking course called NomadFly, and several larger internet projects under the umbrella of e-commerce. All my income is from online entrepreneur projects I run myself or partner with other people on.
I also have some investments.


How many hours per week do you work on average?
About 80! Haha. It sounds stupid but I love what I do and I'm not here to live on the beach. I'm going to retire in the next seven years (even though I probably will still work and love it) but for right now I'm hustling.


How much money do you make?
It depends on the month and this year has changed quite drastically. NomadFly makes a passive income of between $500-$1000 a month, and my other e-commerce projects (selling physical products and information products) make me $5-50k a month; it's pretty erratic depending on what I Launch and this is only this year so it's still new. I don't have a fixed income. I expect my investments to turn around soon too with one physical business I am working with an old business partner on.


Do you make enough money to support your lifestyle?
I'm lucky to have learned a lot in the last few years and turned my finances right around. I am now very passionate about digital nomads living beyond just the scarcity/survival lifestyle this can turn into. "Oh I can survive on the beach for just $300 a month!" Well that's great but what about when your visa run comes up or you have to go home for a funeral?
I have developed a lot of strong opinions on this (yes now I have money) and I want to help people break out of negative financial mindsets.


What do you like most about your career and lifestyle?
I love that if I want to, I can go do something else. I'm in charge of my time – and ultimately I love the responsibility and the power that comes with it. I am responsible if I screw up, but if I make $100k in a month, I'm responsible for that too.


What are some of the challenges you have with this career and lifestyle?
Relationships are hard to maintain while traveling. Romantic and otherwise – I have friends in a lot of countries who I rarely see and I also feel that nomads can be quite cliquey.

(Nora's Note: Amen on the romantic relationship thing. Here are my own sordid attempts at finding love on the road.)


What is your vision for the future of your lifestyle on the road?
I think for now as I build my businesses I will stay based in one place for the next few years. I don't mind switching the country but it's still a base (and will probably stay in Asia because it's cheap to live and cheap to run a business and outsource a lot of my life).
Eventually I expect to do the same thing but outside of Asia, when my income is more reliable and I have more speaking gigs etc.


Any advice for the aspiring traveler about living and working on the road and managing finances?
Do more work than just what you need to to survive. Treat yo'self and check in with your money blueprint to see how you can change it if you need to.