"Watch out for crocs," was the advice of a friend ringing in my ears as I slipped off the steps and onto the rocky beach in Darwin, Australia. I knew better than to swim in the ocean (rife with box jellyfish, salt-water crocodiles, and other lethal delights), but I figured the beach would be safe enough for a stroll.
Later that day I read that crocodiles "only occasionally" frequent Darwin's public beaches. So maybe I got lucky. Then again, spotting a wild salt-water crocodile catching some rays on the beach would go down in my travel books as a lifetime experience – if I survived it of course. Even losing a finger (or something else relatively expendable) could make for a neat story….ah, the whimsies a traveler/writer will entertain for their craft…
But I digress from fantasies of encountering deadly reptiles with a penchant for fair redheads. Darwin is far more than a crocodile-infested mangrove.
It's hot too. Really hot.
This post was originally published in 2010. It has since been updated for accuracy of links and content.


Darwin Heat
It was the heat that hit me first. A beautiful, tropical, humid heat that caused instant sweating engulfed me as soon as I hit the street. Although many would argue that this type of oppressive heat isn't comfortable, I say it's great – at least in small doses. For Darwinians however ("Darwinian" possibly being the coolest name ever for a resident), small doses are out of the question.
To illustrate this, I recall somebody once advising me of best time to visit Darwin, and the Northern Territory of Australia in general:
"Well, five months of the year it's the wet season, and it's freaking hot, humid, and wet. So the locals are generally miserable and crabby," he started. "The other five months of the year it's the dry season, and it's even hotter than the wet season. So the locals are generally miserable and crabby," he continued, not exactly creating a good case for visiting.
"The secret is to go during the months on either side of the dry season and wet season. It's still freaking hot, but at least it's not too wet or too dry. During these months, the locals are less miserable and crabby."
Seeing that most of the locals I encountered were actually quite pleasant, I'm guessing I made it here at the right time of year.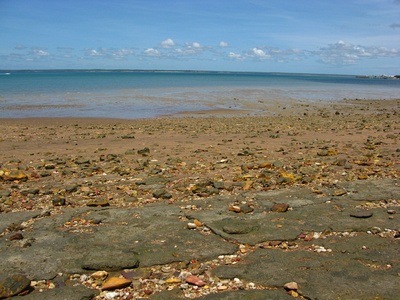 Darwin Attitude
In all seriousness, I quite enjoyed my few days in Darwin. The heat forces you to slow down, as it's impossible to move quickly. I'm usually a speedy walker (I've yet to meet anybody who outpaces me), and even I was relegated to a saunter on my daily outings.
Along with this lazy pace comes a contagious easy-going attitude. Similar to many tropical places that adhere to a "manana" (ie: I'll get to it tomorrow) mind-set, Darwinites are generally happy to take the time to chat with a friend (or friendly stranger), or just sit down on a park bench to cool off and enjoy the view.
Although Darwin has all the amenities you need, it also has the unmistakable feeling of being both remote and small. It's closer to Asia than it is to many – if not most – other Australian cities, and given this geographical proximity, it boasts an incredibly multi-cultural (yet cozy) population of 110,000.
So with its small population, rugged weather, formidable crocs, and general isolation, it's no wonder that Darwin feels like a special place to be, and has a unique appeal and disposition. Although I suspect it would be difficult to truly reach the ranks of being considered a "local" without putting in some serious time there, I would love to return and stay long enough to gain a better understanding of what local life is really like. Here's hoping.


I visited Darwin before boarding The Ghan – a 3-day train trip to Adelaide, through the centre of Australia.