Lola Akinmade Åkerström is one of the OG remote workers, but we barely discuss it for all the other amazing things she has done, like co-founding Local Purse, giving TEDx talks, living on 3 continents, finding her voice and her purpose in the face of discrimination around the world, and SO much more!
I dare you to not be inspired by this amazing interview.
Jump right into my Awesome Interview Series videos on YouTube here – and please give it a thumbs up, leave comments and subscribe!
About Lola Akinmade Åkerström
Lola Akinmade Åkerström is an award-winning visual storyteller, international bestselling author, and entrepreneur. She has dispatched from 70+ countries and her work has been featured in National Geographic, New York Times, The Guardian, BBC, CNN, Travel Channel, Travel + Leisure, Lonely Planet, Forbes, Huffington Post, and many more.
As a storyteller, Lola was the 2018 Bill Muster Travel Photographer of the Year. Her book, Due North, received the Lowell Thomas Gold Award for Best Travel Book, and she is also the author of international bestselling "LAGOM: The Swedish Secret of Living Well" which is available in 18 foreign editions. Her latest novel, "In Every Mirror She's Black", will be published as a lead hardcover on September 7, 2021.
She has been nominated for a Pushcart Prize and was honoured with a MIPAD 100 (Most Influential People of African Descent) Award within media and culture in 2018.
As a business owner and entrepreneur, she runs the Stockholm-based travel consultancy Geotraveler Media, co-founded the travel influencer marketing collective NordicTB, and recently co-founded Local Purse which supports travel guides and local artisans through live video shopping.
As a mentor, she runs her own online academy Geotraveler Media Academy, which is dedicated to visual storytelling and helping the next generation of travel storytellers put the heart back into the craft.
HOLY MOLY THAT'S A MOUTHFUL.
When I was preparing for this interview, I typed "Lola Ak" into the search field before it already recognized her name and spit out a ton of websites, interviews, awards, and accolades in addition to all the links to her businesses and books listed above.
Understanding just how busy she is made me feel all the more blessed to have her undivided attention for 40 minutes of dropping gem after gem after gem of honesty and wisdom in this interview.
Truly, it's not to be missed. Click here to watch us chat on YouTube, or watch below.
Lola's Journey from Nigeria to USA to Sweden
Lola grew up in Lagos Nigeria, and moved to the United States at the age of 15 to attend college. After working in a fruitful career in IT, she shifted gears and moved to Sweden. We talk about:
Growing up in Lagos Nigeria, and how Lola got the travel bug.
Why she ended up moving to the USA for college.
Moving from the USA to Sweden (when and why).
Lola's Career, and Being a Multipotentialite
Already in our chat, we discussed her career transition from IT to travel writing and photography. But this was just the start of an avalanche of amazing things that Lola would end up doing. We talk about:
Being a multipotentialite, and how Lola learned that term from a TED talk that I'm featured in!!
How she got into travel writing and photography whilst enjoying a fruitful career in IT.
How a trip to Fiji inspired a career change.
The 5-year career transition from IT to travel writing and photography.
Oil painting, and how it informed Lola's photographic style.
How Social Isolation Inspired Lola's Purpose
I invited Lola through the course of our conversation to discuss how being a black African woman has informed her life choices. Her answers were amazing. We touch on:
What it was like to not quite fit in in Nigeria, and how that also led to not quite fitting in in the USA.
How Lola always felt isolated because she couldn't be put into a box.
Being a black African woman in the USA.
Being a female, black, African entrepreneur in Sweden, and the kinds of headwinds Lola regularly faces.
Facing discrimination in Sweden versus the United States.
Finding her voice from a source of pain (social isolation) and how it got even louder when the sense of isolation increased in Sweden.
Fighting against societal norms, and how this created and strengthened Lola's voice.
Being a maverick, and what that means to Lola in reference to going against society norms.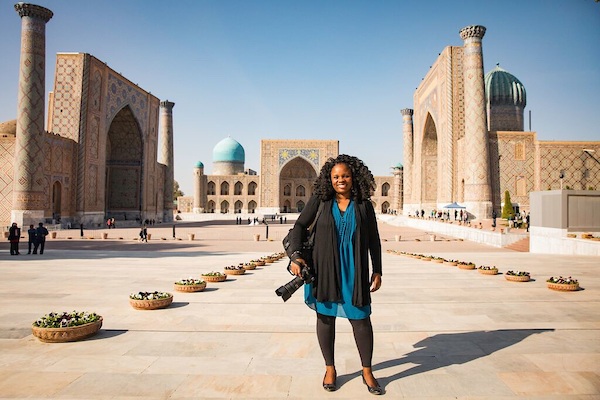 Books, TEDx Talks, and More
We touch on some of the noteworthy projects Lola has done and what inspired them. Things like:
Lola's TEDx talk "The Power of Asking Why Not", and what that means to her. (And ultimately how it is a way of life for her on many levels).
The book Americanah (written by a fellow Nigerian author, which I highly recommend), and how it inspired Lola's first novel and latest book In Every Mirror She's Black.
Despite feeling isolated in Sweden, Lola adores the country and is one of Sweden's biggest fans, so much that she wrote LAGOM: The Swedish Secret of Living Well.
The irony that LAGOM is printed in 18 languages, except Swedish, and why Lola doesn't care.
Local Purse (and How Awesome it is)
I have been impressed with Local Purse right from the start, and after having my own virtual tours and shopping experiences with Local Purse, I'm a raving fan. I pick Lola's brains about:
Why Lola co-founded Local Purse, and what it is.
A bit about my personal experience with Local Purse, and why I love it.
The beauty of Lola's dedication to local vendors and guides in the face of the pandemic fallout, when the industry was focused on propping up big companies, airlines, and hotels.
The amazing things that Local Purse has already accomplished with no funding so far! (Imagine what they will do with some funding….)
How Local Purse is different from most virtual travel experiences.
Work-Life Balance, and Juggling SO Many Projects
It astounds me how Lola has been able to accomplish as much as she has, and how she runs so many different businesses, in addition to being a wife and mother of two children. So I asked her, and she told me things like:
How Lola juggles so many ventures and projects (hint: it has to do with supportive family, business partners, and outsourcing).
How she replenishes her energy, and how it relates to her life purpose.
Relevance versus evolution.
The double-edged sword of remote work; you can work anytime from anywhere, but it often leads to working everywhere all the time.
Self-care, and taking real vacations.
Living With Purpose
One of the underlying themes to our entire conversation was Lola's purpose and how this sense of purpose has informed all her decisions. We cap off our chat with inspirational tidbits like:
Fighting isolation and creating cultural connection, and how this life purpose drives her.
Living without explanation, and trusting your voice.
Being who you are in a world that is trying to make you into someone else.


Other Awesome Interviews You'll Want to Check Out:
How to Create a Location Independent Lifestyle, with Jason Moore
Top 5 Travel Adventures, with Dave & Deb of The Planet D
21 Years of Full-Time Travel, with Wandering Earl, founder of Remote Club
What is Solo Travel Over 50 Like? With Janice Waugh of Solo Traveler