Here is a conversation I had with an Aussie mate the other day:
Me: "Do you have a nickel?"
Aussie Mate: "A what?"
Me: "A nickel".
Aussie Mate: "A what?"
Me: "Oh for god's sake. A nickel! You know – a five-cent piece!"
Aussie Mate: "OH! You mean a five-cent piece!" (hands over said currency)
Me: "Why? What do you call five-cent pieces here in Australia?"
Aussie Mate: (pause). "Um…five-cent pieces".
Of course.
I have to give Australians credit for their penchant for practicality.
This post was originally published in 2009. It has since been updated for accuracy of links and content. 


But this in turn, sparked a comparison of our respective Canadian versus Australian coins, and what they are called. I realized, in turn, that we Canadians are a little….well…loony.
Here is a breakdown of our respective coin denominations and names: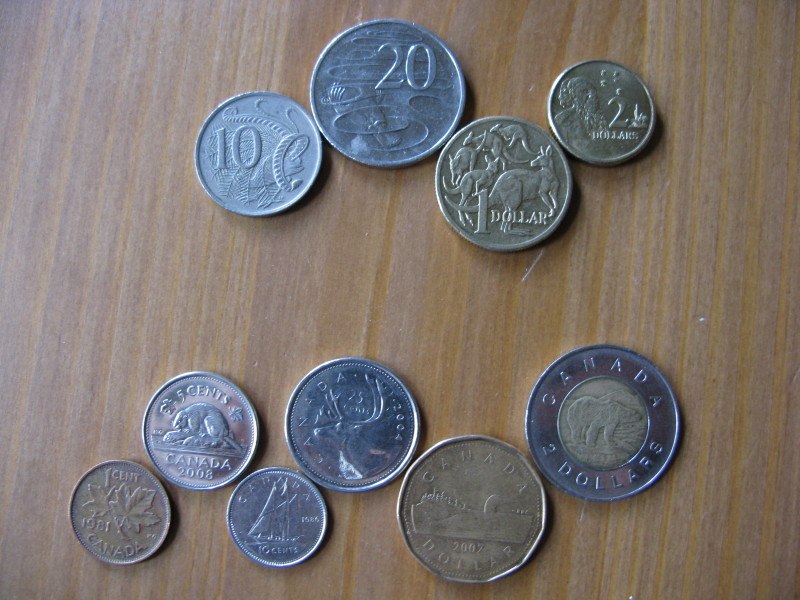 AUSTRALIAN COINS
Five-Cent Piece (not shown here)
Ten-Cent Piece
Twenty-Cent Piece
Fifty-Cent Piece (not shown here)
One Dollar Coin
Two Dollar Coin
And in the name of practicality, these coins are all named just what they are. This leaves little to the imagination. Canadians, on the other hand, like to confuse and befuddle:


CANADIAN COINS
Penny – one-cent piece (unlike Australia, we still have the penny)
Nickel – five-cent piece
Dime – ten-cent piece
Quarter – 25-cent piece
Loonie (yes, you read it right) – dollar coin
Toonie (no really, I'm serious) – two dollar coin
I remember when we introduced the dollar coin in Canada many years ago, there was a big deal made of what to name it, the process calling for national input and even votes. Because of Canada's famous loon (a gorgeous water bird with a captivating call), "Loonie" seemed to fit.
And due to a combination of our lack of imagination and unique sense of humour, it only made sense to call our ensuing two-dollar coin a Toonie.
Rick Mercer is a Canadian political satirist who did a series called "Talking To Americans." In it, he approached Americans (usually in small towns in states that are far away from the Canadian border, and that have little to do with their northern neighbours), and tell them outlandish stories about Canada (like that our parliament buildings are made of ice – because we do live in igloos after all – and that because of global warming our government is melting). And more often than not, his interviewees actually believed the stories.
The one story they DIDN'T believe (and how can you blame them), is that we call our one-dollar coin a Loonie.
In the tale of Canadian versus Australian coins, Canada wins by virtue of the tale of the Loonie and Toonie.