When I sat down to read Queen of the Road, I wasn't sure what to expect. I should have: the cover of the book is quite explicit:
Queen of the Road: The True Tale of:
47 States,
22,000 Miles,
200 Shoes,
2 Cats,
1 Poodle,
a Husband,
and a Bus with a Will of Its Own
…pretty much sums it up, right?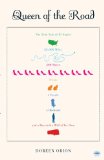 This post was originally published in 2009. It has since been updated for accuracy of links and content.


This travel memoir is written by Doreen Orion, self-proclaimed Long Island Princess who counts among her life's accomplishments, the accumulation of 100 pairs of shoes.
When her husband Tim (who earns the loving nickname of Project Nerd) reveals his "mid-life crisis" dream of traveling around the United States for a year on a bus, Doreen begrudgingly hangs on for the ride of her life. Being bus phobic, a homebody, and wondering how on earth she would fit 100 pairs of shoes (as well as the matching outfits) on a bus, this was not her idea of a good time. But in the spirit of compromise required for a successful marriage, she is finally lured in by the dishwasher and satellite tv that just might make this bus trip survivable.
With a creative and contextual martini recipe to start off each chapter, and a dose of self-deprecating humour to keep the tone light, this is a fast and fun read. More than once, I was caught in a public place, guffawing out loud at Doreen and Tim's antics and adventures.
I find that many travel memoirs can be anticlimactic by the end, but Queen of the Road doesn't disappoint. Lessons are learned, values are enhanced, and crises are averted. I closed the book at the end with a smile on my face, and anecdotes to share with my friends in recommending that they read Queen of the Road themselves.