"Why on earth would you go to Montana?", asked more than one person of me when I announced my upcoming travel plans.
"I'm speaking at the Travel Blog Exchange conference, then I'm doing a Montana road trip."
"Why on earth would they have a travel conference in Montana?" came the reply.
Referred to (un)affectionately as a "flyover state", Montana isn't particularly known for being a destination in its own right. So imagine my surprise, after a little over a week of covering off the best things to do in Yellowstone Country (a large area but ultimately a small chunk of the south part of the state), when a wee inner voice uttered four words I never ever thought Montana could inspire: "I could live here."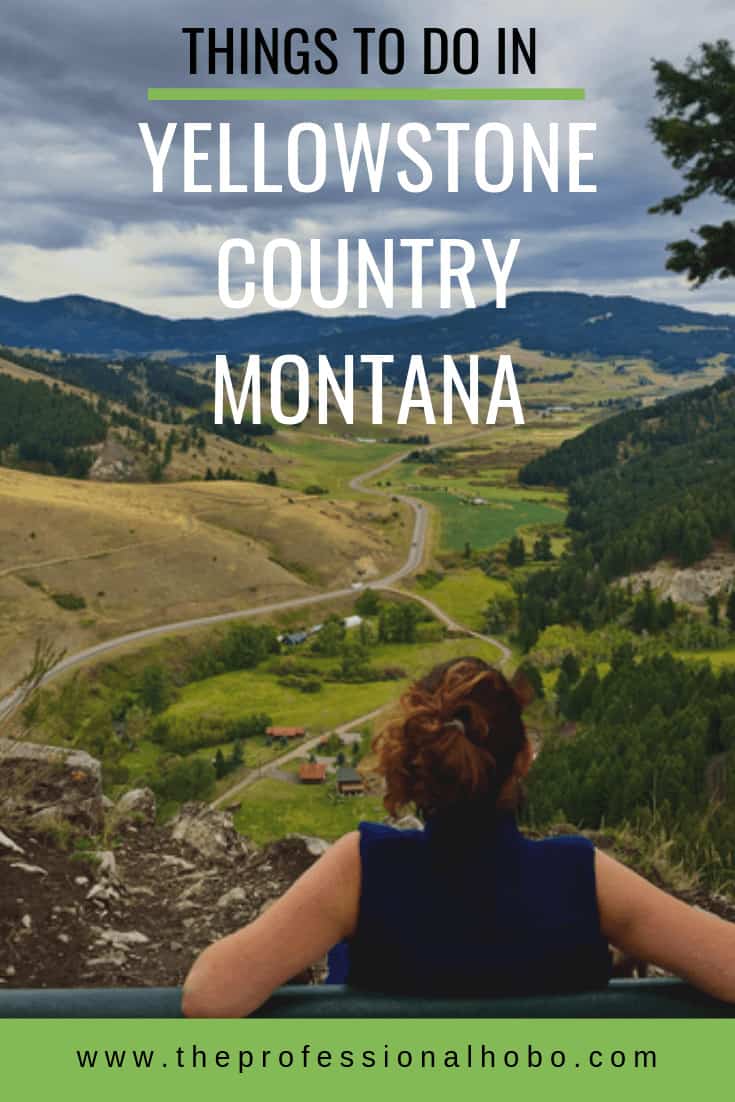 This post was originally published in 2019. It has since been updated for accuracy of links and content.


It All Starts in Billings.
Actually, it doesn't all start in Billings. (It's just where I started).
Billings was where the conference was held, partly because it is Montana's largest city. Now don't get all impressed by that fact; the gigantic state of Montana (which is larger than the entire country of Germany) has one million people; Billings makes up less than 150,000 of that.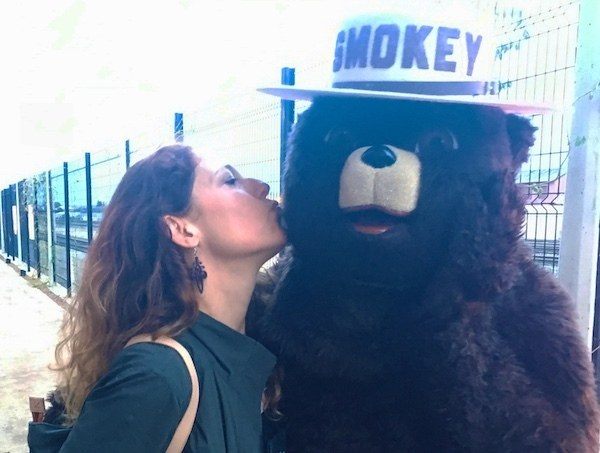 So the first two things I learned about Montana, are that there's a lot of empty space, and pretty much everywhere you go (even it's biggest city), it feels like a small town. While hardcore urbanites might cringe at that idea, I found it charming and full of character.
And I certainly met a few characters in Montana.


Red Lodge, Montana
Gwen sat down at our lunch table in Red Lodge Montana and started talking to us like we were continuing a conversation we'd started a few minutes earlier. Only thing is, we had no idea who she was.
That was soon rectified.
Exemplifying the spirit of Red Lodge (a small town at the entrance to the Beartooth Scenic Highway – cited as the most scenic drive in the U.S.), Gwen took us on a literal and metaphorical journey through Red Lodge that left our group in awe of this tiny town with a huge heart.
"Red Lodge's population is exactly 2,222 people. We like that number. So when a baby is born, the old people get real nervous," was Gwen's opening line.
"Around here, we say it's officially winter when the snow is still in Martha's yard after 10am," she continued in her running monologue. Right after that happens, the town gathers (in Martha's yard) to celebrate "the Last Sundae of Summer"; people bring sundae toppings and fix themselves up a sundae using the fresh snow in lieu of ice cream.
By this point, our small group was in love with Gwen – and by extension, Red Lodge. And they both continued to deliver.


Wildlife in Red Lodge Montana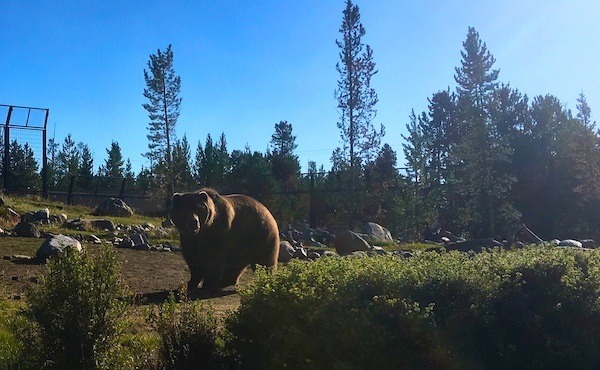 You want wildlife? You got it. In fact, the school teachers in Red Lodge are required to carry bear spray at all times. While the bears don't tend to come into the school buildings, they have been known to hang out in the yard.
And this isn't limited to Red Lodge; a few days before I arrived in Big Sky Montana, a bear cub made its way into a restaurant bathroom. And while I was in Montana's urban hub of Billings, a mountain lion was reportedly on the loose in town.
Montana is a wild place, as I would soon discover for myself.
Red Lodge's proximity to the mountains makes it extra exciting. "We have two bears that hang around our property," started Gwen. "I named them both of course. Bebe The Bad Bear is the most annoying. She licks the windows all the time."
"What? A wild bear licks the windows? Of your house?" I replied, incredulous.
"Yep."
"While you're in the house?"
"Yep."
"So, you actually see her as she does this?"
"Of course not! I'm watching tv. My husband thinks Bebe licks the windows cuz she doesn't like what I'm watching."
From that moment on, my colleagues and I were extra careful to look left and right before crossing the road in Red Lodge, and we weren't looking for cars.


Small Town Hospitality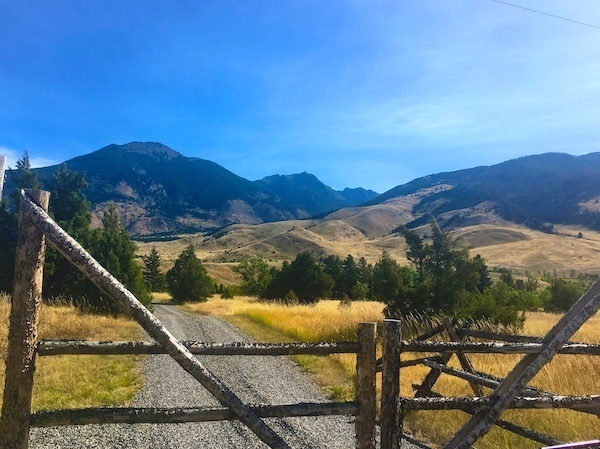 While some people cringe at the idea of living in a small town, others find it idyllic. If you like the anonymity of a city, you might be challenged, given the inherent family dynamic.
There are no chain establishments in Red Lodge, and it's a badge of pride. "The only way for a town like ours to survive is to shop locally," said Gwen, while admitting that people will get together to do necessary regular runs into Billings (one hour away) for supplies.
Trips to Billings are also necessary for more sophisticated medical care. When Gwen had cancer, a sign was posted at the local Chamber of Commerce asking for volunteers to drive her to and from her chemo/radiation treatments. Every single day, a different person arrived to pick her up! The outpouring of local support surprised even Gwen.


Skiing in Red Lodge (and Yellowstone Country Montana)
While Red Lodge got its start in the 1800's as a coal mining town, it's now known primarily for two things; being the starting point for the Beartooth Highway (more on that in a minute), and also for being one of the best-kept secrets when it comes to skiing. Red Lodge Mountain is on the eastern front of the Beartooth Mountain Range (Montana's tallest mountain range), and it offers everything you could possibly expect from a ski resort – except the crowds.
In fact, the same can be said for the three big ski resorts in Yellowstone Country Montana – the other two being Bridger Bowl near Bozeman (arguably the busiest, yet still devoid of lift lines), and Big Sky, which is a year-round playground resort town offering an obscene amount of outdoorsy activities. Montana's winter tag line is "world-class skiing, without the world." (Click here to learn more about Skiing in Montana, and other winter activities).


Beartooth Pass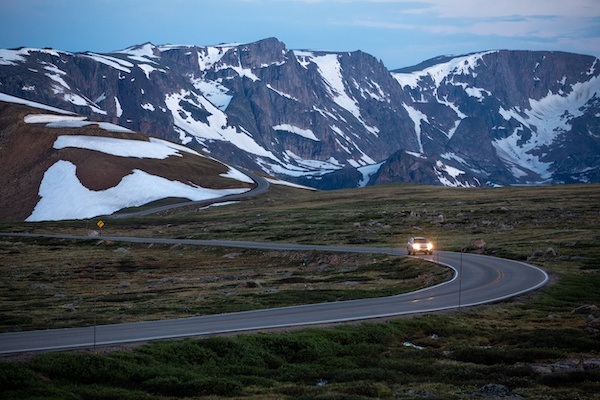 Beartooth Pass (also referred to as Beartooth Highway Montana) is the most scenic drive in the U.S.; but sadly, I couldn't tell – this September day saw low-lying clouds, cool temperatures, and rain.
Later the same day, the highway was closed entirely due to snow. In fact, Beartooth Scenic Highway is only open from May to October; the rest of the time it's generally buried in obscene amounts of snow. Gwen showed us a picture of a local road near Beartooth Pass that is plowed; we were aghast to see a literal wall of snow well over 20 feet high.
But when the timing is right, it's magical, on four wheels or two; the American Motorcyclist Association named the Beartooth Highway the #1 motorcycle ride in the United States!


Visiting Yellowstone Country – Planning a Trip to Yellowstone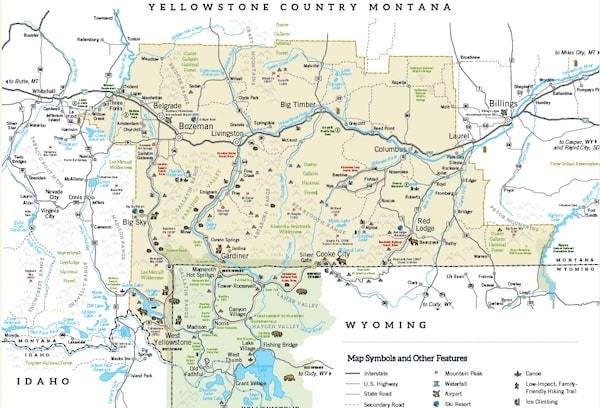 My journey through Montana was specifically focused on visiting Yellowstone Country, which is about sooooo much more than Yellowstone National Park. In fact, most of the national park itself is in Wyoming, with only a sliver in Montana and another sliver in Idaho.
That said, Montana is home to three of the five entrances to Yellowstone National Park, so if you're planning a trip to Yellowstone, Montana will likely be a part of your Yellowstone itinerary.
The north entrance (at the adorable town of Gardiner Montana) is the only one open to road traffic year-round. During the winter, you can access the park using the other entrances on snowmobile, snow-coach, skiing, and snowshoeing. Betcha didn't know you could explore Yellowstone in the winter, huh? Well, it's a winter wonderland; even I (one who detests winter and has done a good job of avoiding it for the last 13 years) am intrigued to return to Yellowstone Country when the snow flies.
My visit to Red Lodge and the Beartooth Scenic Highway was an easy day-trip with colleagues from Billings before the conference began. After the conference (I killed it by the way – hire me to speak at your next event and you won't be disappointed), myself and a colleague (Meagan) went on a road trip for the next five days, courtesy of Yellowstone Country Montana, and led by Colin whose wry sense of humour and love of Montana shone through his quiet demeanour. Disclosure: the trip was complimentary, but I was not compensated nor encouraged to write anything specific. All opinions are my own.
Back to the story of Montana.


Yellowstone National Park (What to do on a Yellowstone Vacation)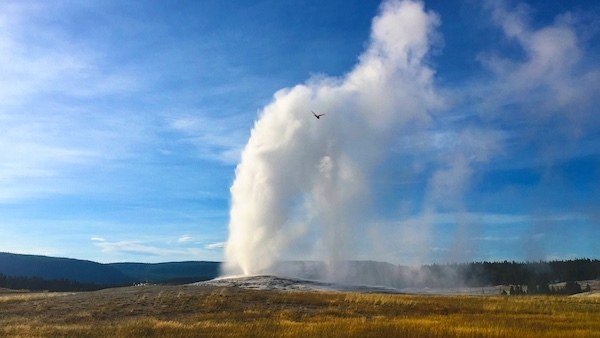 While my trip was focused on Montana, it simply wouldn't be complete without a visit to Yellowstone National Park (which straddles both Montana and Wyoming). With only half a day, we had to pick and choose what to see. Old Faithful was of course a must (being somewhat iconic, as well as dependable with eruptions approximately every 90 minutes), but in reality it paled in comparison to some of the other sites, which were unassumingly magnificent.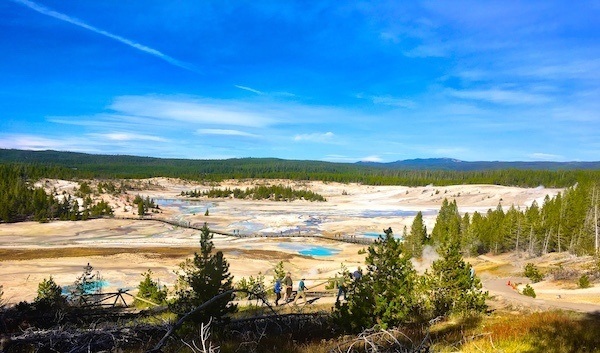 Norris Geyser Basin (not to be confused with Norris Hot Springs, which is in another part of Montana – where you'll find lots of natural hot springs on the whole) had various easy looping trails that took us by sulphur springs of impossibly blue hues and steaming pits resembling alien landscapes.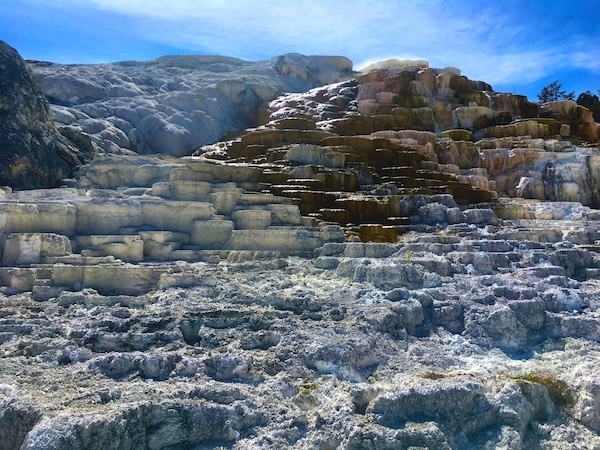 Mammoth Hot Springs Terraces was another brilliant stop, and it is constantly changing and evolving. Both Colin and Meagan had visited this spot at different times a few years ago, and said it was comparatively unrecognizable.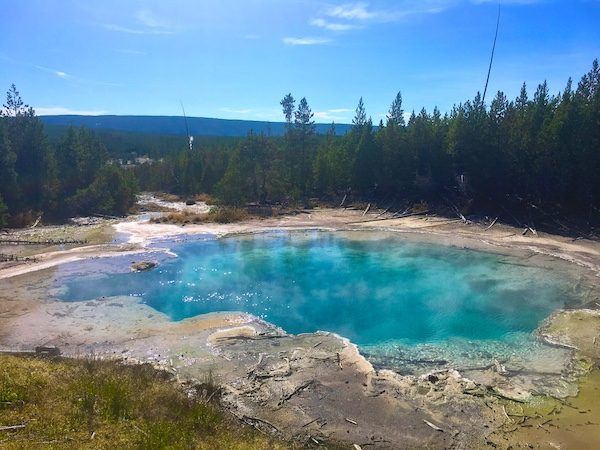 But the truth is you can't really go wrong in Yellowstone National Park. Its 3,400 square miles encompasses 1,000 miles of trails, 10,000 hydrothermal features, 290 waterfalls, 500 geysers (300 of which are active), and more.
And the wildlife? Off the charts. In one afternoon of driving around the park, we saw elk, bison, tons of large birds, a bear, and even a wolf. (Click here for Yellowstone National Park info)


West Yellowstone and Big Sky Montana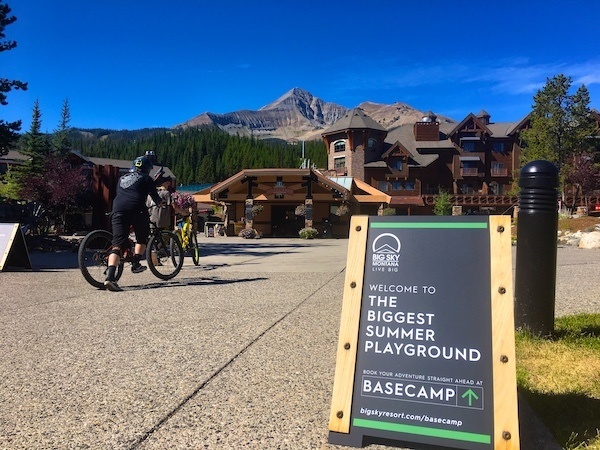 The next few days were spent bouncing around in and between West Yellowstone (the western gateway to Yellowstone National Park and the town closest to Old Faithful) and Big Sky. Both towns are almost entirely in existence for tourists; West Yellowstone as the gateway to its namesake park, and Big Sky as a world-class ski resort.
But there's so much more to do in the area than ski and visit Yellowstone National Park. Big Sky Resort is a summer playground for mountain bikers, climbers, hikers, and more. The Gallatin River Montana, which the road between Big Sky and West Yellowstone follows (the same road that goes from Bozeman Montana to Yellowstone), is home to rafting, zip-lining, kayaking, horseback riding, and last but far from least, fly fishing.


Fly Fishing – One of the Best Things to Do in Montana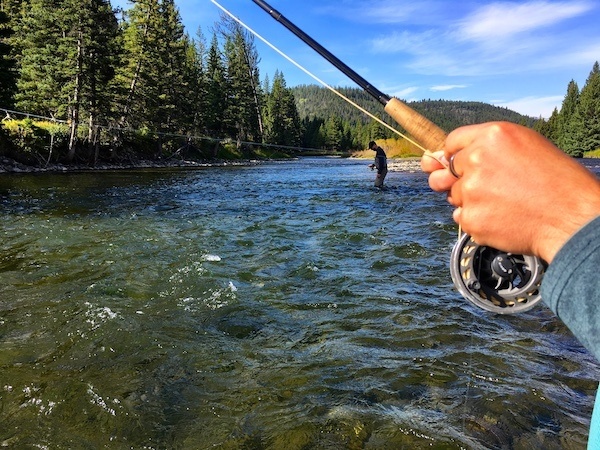 Fishing isn't really my jam. When I told my mother that fly fishing had been put on my Yellowstone trip itinerary but I didn't really want to go, she railed. "You have to go! That's one of the best things to do in Montana! Haven't you seen A River Runs Through It?! It's iconic!" She proceeded to regale me with a bevy of reasons why I'd be remiss not to go.
I'm glad she did, because while I realized that I'm generally useless at catching fish (Meagan caught 15 fish for my 1), fly fishing allowed me to embrace Montana in a special way.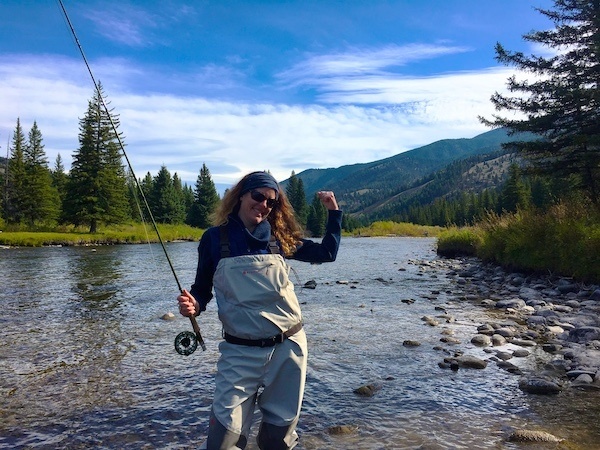 In Yellowstone Country alone, there are over 1,000 miles of shoreline to fish, including nine blue ribbon trout streams (which is a very big deal in fish-speak). Throw a stone (or a line?) and you'll likely hit a fly fishing outfitter, and for good reason. As long as your name is not Nora, you'll be catching lots of fish (all of which are released when fly fishing with a guide, to preserve and protect fish populations).
Despite my paltry take, I enjoyed getting out into nature, standing in a river (who knew the current was so strong!), and enjoying some epic Montana scenery. Fly fishing is truly is part of the territory when visiting this part of Montana. (Click here for Montana fishing info)


Bozeman Montana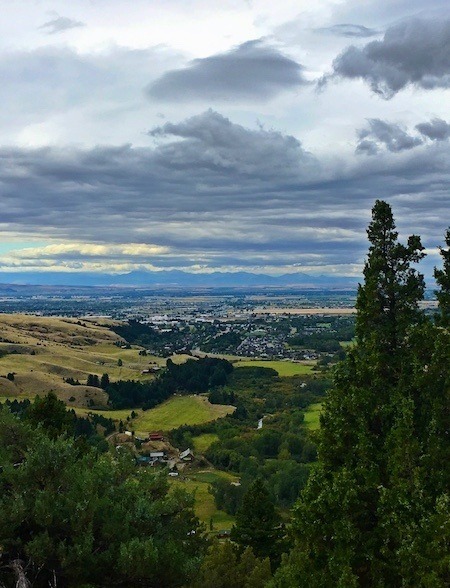 Bozeman and Missoula are both university towns, and as such are the most liberal cities in Montana (which on the whole is a pretty conservative state). Both have also been cited in the top 10 on various lists of best places to live in the United States. Locals even call it Boz Angeles, in reference to the huge influx of Californians and celebrities relocating or setting up holiday homes in the area. And after spending a few days in Bozeman, I can see why they would.
Sitting in a coffee shop (one of my favourite things to do when getting a feel for a place), I saw lots of people in their 20s and 30s. Apparently lots of students who come to study at Montana State University just never leave.
It's a casual place; during my three days in the Bozeman area, I didn't see one single person wearing a suit, though I'm sure such people exist. I did, however see more checkered flannel shirts than I'd ever seen in one place. I asked Colin if there was a checkered flannel shirt convention happening; he replied in defence of the practicality of flannel shirts (he owns five himself), before informing me that it's part of Pacific Northwest men's fashion sense. (My bad; my travel lifestyle renders my fashion sense far from current).
With flannel shirts the norm in Montana, the choice remaining for men is baseball cap or cowboy hat. Bozeman is home to more baseball caps, while other areas of the state are cowboy hats all the way.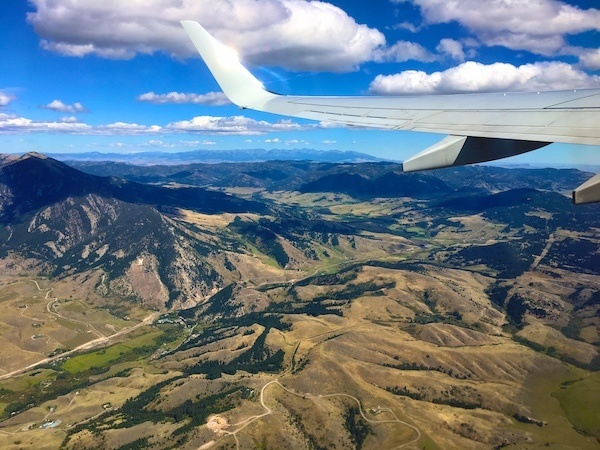 In addition to being so very liveable, Bozeman is one of the best airports to fly into as part of your Yellowstone trip itinerary; you can rent a car there and take the leisurely drive from Bozeman Montana to Yellowstone. While West Yellowstone airport is the closest to the park, Bozeman airport has a much better selection of flights, and the drive down the Gallatin Gateway through Big Sky is pretty epic.


The Culture of Climbing in Bozeman
Deciding to do as the locals do on rainy morning, I hit up a climbing gym. Spire Climbing Center is one of two climbing gyms in town, and another one is being built (considering a population of about 50,000 people, this indicates a disproportionate number of Bozeman residents are climbers). It's a big gym with a ton of facilities, and on a Tuesday morning it was surprisingly full.
"Actually, it's kind of dead right now," said a staff member when I remarked at how busy it was for a weekday morning. "It's weather dependent; if it's raining out, it's crazy in here. If it's nice, people are out climbing."
Whether it's ice climbing or rock climbing, it's evident that people like to get out – or rather, up. And with six different mountain ranges surrounding Bozeman, you're spoiled for choice. (Click here for more info on rock climbing in Yellowstone Country)


Skiing in Bozeman
With the Bridger Bowl world-class ski resort 20 minutes away from Bozeman, you'd be daft not to ski. Bridger Bowl was named one of the world's top 25 ski towns by National Geographic Traveler. The snow is called "Cold Smoke" in honour of its light dry powder.
But that's not all; just a wee bit further out is Big Sky, which is twice the size. If I lived in Montana (and believe me, I envisioned myself living there more than once during my trip), I'd be skiing all the time.


Planning a Trip to Yellowstone Country – The Best Way to Visit Yellowstone
Far and away, I recommend a road trip as the best way to visit Montana's Yellowstone Country, and Montana in general. It's a large state, the scenery is gorgeous, and there are so many opportunities to pull to the side of the road for anything from a photo to a picnic to a vast collection of outdoor activities.
Montana has 50 State Parks, many of which are devoid of any pomp and circumstance. Take Madison Buffalo Jump State Park as an example; this is a site of great historical significance, and you'd barely notice it if you weren't looking for it. There's only a small parking lot, an information board, and an honour-system donation box for the state park admission fee.
Depending on the kinds of activities you like to do, you could do a themed road trip. The Montana Brewery Trail is a prime and popular example. Montana is home to a vast number of craft breweries, and the selection and quality of beers is really good.


What's the Best Time of Year to Visit Yellowstone Country?
Trick question! There is no best time of year. There's something to do at any time of year, and while you might assume that summer is where it's at (as I did), in fact, the world is catching on that Yellowstone Country is an amazing winter destination as well.
Winter activities include dog sledding, snowshoeing, ice climbing, sleigh rides, hot springs, snow coach tours, and world-class skiing – without the world.
So, pick your season, and go to Montana. Maybe you'll never return. You wouldn't be the first.


Planning a Trip to Montana? Check out these Resources:
Sort out Your Cell Phone Plan Before you Go
Get 50% off Your Flights with Travel Mystery Shopping
Packing? A Travel Capsule Wardrobe will save you space
Can't Decide Between Checked or Carry-On Luggage? This post will help