Susan Hurley is a blogger and advertising copywriter. After starting her career in Boston and San Francisco, she paid off her sizeable student debt by following the Dave Ramsey plan and relocated to Asia last year; first Hong Kong, then Singapore, and most recently Vietnam. She doesn't have a master plan or even a timeframe but rather, just ventures to wherever her work takes her. Please enjoy this week-in-the-life of Susan Hurley, as she makes her way from Vietnam to America with pit-stops in Kuala Lumpur and Hong Kong.
This post was originally published in 2013. It has since been updated for accuracy of links and content. 


Day 1
Vietnam to Malaysia
I'm glad to be leaving Vietnam today. For some reason, I didn't make friends here like I did in Hong Kong. The expats in my neighbourhood seem strange and my coworkers keep to themselves. No one at the office goes out after work and if they do, I don't know about it.
One huge exception is Nhung, a Vietnamese copywriter at my agency, who's been there for me from the start. She pulls up to my place on her moped one last time, to ride with me to the Saigon airport.
While we wait for our cab, we have an in-depth discussion about why publicly picking one's nose is perfectly fine in Vietnamese culture. As I understand it: Arm itches? Give it a scratch. Something on your knee? Brush it off. Something in your nose? Get it…get it good! The first she knew of anyone having a problem with unabashed nose picking was at her international school. The foreign teachers there would have none of it!
I've never been to Malaysia before. The first time I ever heard of it was in a Seinfeld episode where Elaine envies a man who got his glasses there.
After an evening flight to Kuala Lumpur, I check into the Reggae Mansion. It's after midnight by the time I check in and the rooftop bar is in full swing. I stay up till 3am talking to two guys from Daytona, FL., Tom and Michael. They're both engineers taking a few months off "until the money runs out". After KL, they're headed to Vietnam to motorbike from Hanoi to HCMC.
Day 2
Kuala Lumpur
I take a quick cab ride to Pavilion, a huge mall close to my hostel "for a meeting". I recently stopped using the word "interview", as it prompts well-meaning folks to dole out unsolicited job-hunting advice.
Pavilion is modern and airy, with stores ranging from Hermes and Versace to Roxy and Fossil. Like Singapore and HK, Kuala Lumpur prides itself on its great shopping. I never understood the draw. Are there that many people who enjoy trading their money for things to fill their homes and closets?
Creative Director Andrew and I meet at a café inside Pavilion, as the office is closed for Federal Territory Day, the anniversary of both KL and its territory. My connection to him is tenuous – 3 degrees of separation from a well-connected advertising friend in Singapore.
I think the meeting goes well, which usually means I won't hear from him again. The ones that don't go so well are the ones who usually call. Afterwards, I wander around the mall and find this curious L. Ron Hubbard display in a large bookstore. I've never actually seen any of his sci-fi books before. Later, I read online that Scientology's making a concerted push to get into Malaysia and South Korea.
Back at the Reggae Mansion, I lie down for a nap as the most heavy-footed person in KL paces the floor above me.
Around dinnertime, I tag along with Cosi, a Zimbabwean from London. We walk a few blocks to Chinatown for some Indian food. Cosi ducks out for a few minutes to buy a beer from a store close by. While he's gone, the Indian man serving us approaches me and asks if Cosi is my boyfriend. I inform him that Cosi is my husband and that we have four children together.
When Cosi gets back I let him know, "a lot happened while you were gone." Namely, that he's now married with four kids. Surprise!
Back at the hostel, Cosi and I talk to two Australian girls on their way to "Bemma". I occasionally meet someone headed to a place I've never heard of and assume this is one of those times. I asked, "Bemma…?" She replies, "Yeah, Bemma. …Bemma. You know… Mi-yan-mah." Oh! Burma. They're going to Burma. I blame my lack of sleep for not catching that.


Day 3
City Tour with Mathias and Eefje
For my one full day in KL, I decide on a city tour for about $23. Throughout the tour, I stick with Mathias and Eefje, a Dutch couple taking three months off their jobs to travel Australia via camper. They've just started their trip and have a few days in KL before heading down under.
Eefje tells me about all the postcards she has to send, especially one to her grandmother whose 90th birthday they'll miss. Browsing one of the gift shops, I think of how fun and unexpected it would be, for me to send her grandmother a postcard. Eefje gets to check it off the list and Oma gets a surprise from a stranger.
In a fun piece of family drama trivia, Mathias's first kiss was with Eefje's sister when they were both 12. While we're at the National Palace I give her my camera and say, "Take a picture of Mathias and me like we're a couple!" Eefje laughs, "Just don't kiss him!" I ask, "Why, because then you'll think I'm your sister?"
Back at the hostel, I hang out at the rooftop bar into the wee hours. An enigmatic Swedish guy, Viktor, just got back from Penang and is hanging out in KL until his Wednesday trip to Bali. He's never been to Hong Kong, so I invite him.


Day 4
Malaysia to Hong Kong with Viktor
My new travel partner and I get an early start so he can secure a plane ticket at the KL airport. Lack of sleep makes the plane ride rather painful; luckily we have three seats between us. (Guess who gets to stretch out and sleep most of the way…)
At one point I ask Viktor, "What time is it?" Sleepily he answers, "A lot!"
After four months, it's nice to be back in Hong Kong. I like walking down crowded streets without worrying about my camera or handbag getting snatched. I believe Hong Kong hostels to be among the worst in the world, so I budget a little extra and stay at a proper hotel, the Wharney Guang Dong in Wan Chai.
Viktor and I have dinner at Times Square with my friend, Jessica. Afterwards, we walk though a fresh food market and learn that he's never seen a red apple. Thanks to my endorsement, he buys one and is halfway through when I see that it's a mushy one. Now Viktor thinks that all red apples are naturally mushy.


Day 5
Breakfast with Eric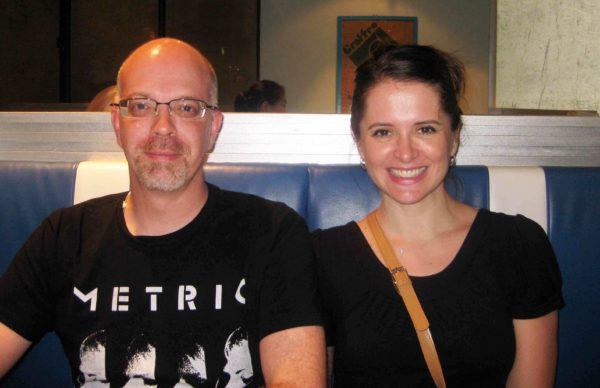 We meet my friend Eric for breakfast at the Flying Pan. He just got back from Bali and gives Viktor some helpful tips; like avoiding any taxi that's not the actual Blue Bird taxi. Seems Bali is right there with Vietnam when it comes to taxi rip-offs.
In the afternoon I drop by an agency "for a meeting". Creative Director James seems ready to secure me full-time for March, but we are quite far apart on salary. I'm ok with my Asia salary being less than my US salary (if I weren't then I never would have come here.) However, in this case I'd be making less than I made during my college internship, in a city where my rent could easily be two grand a month for a studio.
James's large cubicle is packed with boxes, papers, a stroller, various snacks, and countless other items. He's determined to clean it before Chinese New Year, as he won't be able to afterward, per Chinese tradition. Cleaning or cutting your hair gets rid of all the good luck the New Year just bestowed.


Day 6
Fishing Village
One of my blog followers messages me, offering to walk Viktor and me around the Lei Yue Mun fishing village here in Hong Kong. Bing moved here from Canada 24 years ago and hopes to move back to Canada in the not-so-distant future.
Bing doesn't like that Hong Kong is never quiet. He points out the ever-present, baritone rumble coming from trucks, machinery and underground. He also can't stand all the cigarette smoke. I shoot Viktor a look and agree, "Yes! There's nothing worse." Viktor claims to not smoke but I've seen it happen. Big non-smoking faker!
I photograph a number of stray dogs as we walk through the village. They all have sad, defeated, pathetic looks in their eyes; nothing like the bright-eyed, confident dogs of the US. The strays won't let me get too close to them before darting away. My trick for getting them to look at me: cat impressions.
As we walk through the village, Bing shares his thoughts on how society at large favours womenfolk and warns Viktor that if he ever gets divorced, that the courts will rule in favour of his ex-wife. I'm too tired and hot to ask if Bing's ever been divorced.
It's February, but jeans are too warm and the heat starts to give me a mild headache. Exhausted, Viktor and I part ways with Bing and I have just enough time for an hour nap before my two back-to-back agency meetings.
My first meeting is with Creative Director Damian, an Australian who's been here in HK for two years with a decade in China before that. We discuss Hong Kong salaries and expenses and he mentions that his rent here is four times what it was in Shanghai. "Hong Kong is just expensive."
I ask him what the tradeoff is for living in such an expensive city. He doesn't have an answer.
My second meeting is in the same corporate park, Taikoo Place; I meet Creative Director Philip, a Hong Konger and native Cantonese speaker who enjoys the one Cantonese phrase I can say perfectly. It means, "twenty-second floor."
Philip tells me that if he were in my shoes, he'd get out of Hong Kong and go someplace like Shanghai. I'm getting the feeling that many of these guys live here because their families are rooted here; in-laws, kids in school, network of friends.
Even though I've never been there before, Shanghai is becoming a strong contender for my next destination.


Day 7
Hong Kong to America
Laura's my seat mate from Hong Kong to Tokyo. She's a 9th grade math teacher at a private school in Nansha, China. Originally from Charlotte, NC, we have matching debit cards from the same NC credit union.
Her harrowing tale about the Chungking Mansion (hostel) in Hong Kong reaffirms my choice to always stay at a hotel there. She speaks of unsavoury noises, dirty sheets and shady characters for a little less money than what I paid for my stay at the Wharney Guang.
See also: Hong Kong Mashup Video
The ten-hour flight across the Pacific from Tokyo to Minneapolis is no picnic. Several passengers hack and cough the entire way while toddlers take turns expressing themselves.
I turn to Dinner For Schmucks for reprieve. Wow, is that movie stupid. I thought I'd like the Lonely Planet show about the Mekong Delta, but the host is too animated and the show is clearly edited by someone with raging ADD. I switch it off just as the host addresses the camera while brushing his teeth. Few things are more irritating than listening to someone talk through a foaming mass of toothpaste.
Twenty-five hours after I checked out of my hotel in Hong Kong, my sister picks me up at the Austin airport. In two hours she'll be hosting her weekly pub quiz, Geeks Who Drink. She invites me along and I think, "I've been up this long, why stop now?"
At the quiz, someone asks me if I'm jet lagged. I reply, "If you're asking if I feel fatigued from being unable to sleep for the past 30 hours, then yes. Yes, I am."


After visiting friends and family in Texas and California, and snowboarding in Colorado, Susan Hurley has been in Peru for two months. She is currently debating her options: Seattle, Sweden, or back to Asia. Find out what she decides by visiting her website: O hi, Asia!