Fun at the Toronto Pride Parade:
As I walk towards downtown Toronto for lunch, I see a large woman (?) clad in a red ball gown and a sparkly tiara, speaking animatedly on her cell phone. Simultaneously walking by her is a shirtless man singing at the top of his lungs and dancing wildly while listening to his mp3 player.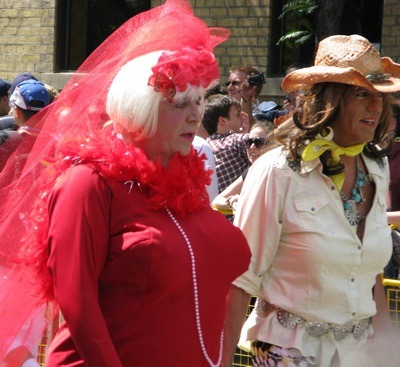 Aahh….Toronto in summer, on the day of the Pride Parade. This is nothing; I'm still five kilometers from the downtown core (and the parade route itself).
This post was originally published in 2011. It has since been updated for accuracy of links and content.


I've always appreciated my hometown of Toronto for being among the most eclectic and multicultural cities in the world. Growing up here, I was pretty much a minority as a Canadian-born Caucasian, and I identified Canadian culture with that of many backgrounds. Perhaps it is part of the reason why traveling full-time has come so easily to me; I'm used to coexisting with so many other ethnicities and cultures. Racism is (or rather, was) not in my vocabulary.
It's in this spirit of openness and acceptance that Toronto has also become a major player in the world gay and lesbian community. In North America, Toronto is among the most progressive for setting policies, including legalizing same-sex marriage (which happened in 2003).
And for over 30 years, Toronto has hosted a Pride Week Festival (one of the world's longest running organized Pride celebrations), attracting almost 1.5 million people. This annual festival culminates in the Pride Parade; a colourful extravaganza of expression and flambuoyance that takes over downtown Toronto.
Here are some impressions of the Toronto Pride Parade on this hot and sunny Sunday afternoon: