While enjoying Sydney, I decided to explore the 10km coastal Manly Scenic Walkway. And no…the walk isn't particularly masculine in nature…Manly is the name of the Sydney suburb where the walk begins.
This article was originally published in 2010 and has since been updated for accuracy of content and links
Manly Scenic Walkway Stats
Length of Walk: 10km
Estimated Duration of Walk: 3.5-4 hours
Actual Duration of Walk: 2.5 hours (no, I didn't run, but I sure did break a sweat with the uncharacteristic humidity)
Lizards Spotted: 18
People Spotted: 8
Runners Spotted: 1 (yes, they're people too, I know)
Aboriginal Carvings Spotted: 6
Failed Attempts at Catching a Bus in the Pouring Rain: 4


Getting to Manly from Sydney
While taking the ferry to Manly from Sydney's main harbour (and passing across the Sydney heads with the open ocean on the other side) we all enjoyed some zero gravity moments and fun waves that soaked anybody standing outside on the first level. 20 minutes later we pulled into laid-back Manly harbour.
(Note: city ferries are in general a wonderful way to see a place for very little money. Buy a pass and ride the ferries all day…in Sydney you can see quite a bit by virtue of their extensive ferry system. And no, it's not always a wet'n'wild roller-coaster adventure.)
From there I was on a mission to find the Manly Scenic Walkway before the rain that was upon the CBD (central business district) followed me out, as I suspected it would.
But rain was far from an immediate concern, as Manly was bathed in sunshine and warm weather.
The Manly Scenic Walkway is very easy to find from the wharf, and is well-marked. Initially you walk through well-established neighbourhoods and gawk at houses that are right on the coast. Sydney has a lot of coast, and as you might suspect, much of it is enjoyed by residential neighbourhoods.
A few kilometers in, the walk enters Sydney Harbour National Park, which is where the fun begins. I took in awesome views of the ocean, rugged cliffs and coastline, golden secluded beaches, quiet picnic spots, and more lizards than I have seen in my entire cumulative time in Australia.
Sydney Harbour National Park makes up at least half of the walk's terrain, and the difficulty would be classed as "medium". Be prepared for lots of rock steps (lots and lots of steps), but nothing that a decent pair of runners and good sense of balance can't get you through.
Speaking of shoes, a 10km walk is not a huge deal (for me). However if you walk about 15km on each of the prior two days, you may want to wear shoes that you didn't buy at a thrift shop two years prior. I need new shoes, if not new feet entirely.
Some other highlights of the walk through Sydney Harbour National Park include well-preserved aboriginal carvings, lush green canopies, and stunning natural viewing platforms.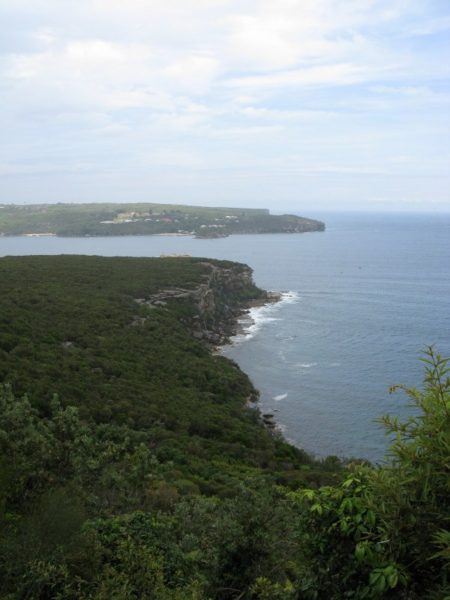 The lowlight of the trip was my learning curve in catching a bus back to the city. By this point it was well and truly raining, and my well-weathered rain jacket was being truly tested, while my pants and feet were soaked.
After finally locating what I figured was the right bus stop, I marveled at the sheer number of routes that were scheduled to pass by. With one eye on the street to see if one of about six different buses that go into the city was enroute, I desperately scanned the schedule boards to see which route would take me to where I needed to go, cross-referencing the destinations with my soggy map to ensure I would be going in the right direction.
All in the pouring rain, of course. My poor paper map ripped out of a guidebook didn't last long.
Minutes later, yay! A bus hurtled around the corner. I smiled widely and stood expectantly at the side of the road, leaving room for the bus to pull off the busy street to pick me up. As the bus careened by me, covering me from head to toe with a wall of water, the bus driver looked at me confusedly and held his arms up as if to say "what do you want?"
I held my arms up in the same fashion in response, as if to say "are you kidding me? I want to catch the bus, you idiot!"
I repeated the same performance with the following three buses over the next 20 minutes.
I'm not sure if it was desperation or education by necessity, but by the time the fourth bus rolled around the corner, I stood in front of it. There was nothing nearby, no shelter to take refuge in, and nobody to ask what I was doing wrong. At this point I would rather have been run over by the bus than watch yet another one plaster me with oily water from the road.
Miracle of all miracles: it stopped! I didn't even care where it went – I got on.
Lucky for me, it was headed in the right direction, and the less-than-impressed bus driver quoted me the fare which I dutifully gave him.
As I watched the bus make stops along the way into the city, I learned one very key lesson about catching a bus in Sydney: you need to hail it for it to stop.
My musty clothes and mildewy shoes will be a testament to this lesson forever more.
Check out my Travel Lifestyle Guides for more ways to earn money remotely, spend it wisely, and balance the two so you can travel as long as you wish, in a financially sustainable way.