Having established ourselves here on the Kona side of Hawaii, we figured it is time to actually show you around!
We are staying at a local hostel, smack dab in the middle of the town of Kailua-Kona. In exchange for work on property improvement projects, we are given a room and a place amongst the staff of the hostel.
(Note: interested in learning how to get free accommodation gigs like this? Check this out: How to Get Free Accommodation Around the World).
This post was originally published in 2008. It has since been updated for accuracy of links and content.


The perks are many: we have unlimited high-speed internet and wireless access, flexible hours, the amenities of the hostel at our fingertips (including free laundry, BBQ, and housekeeping services) and amazing camaraderie and generosity of fellow house-mates.
There are four other staff members, and we share a bathroom and kitchen with them. It can get pretty crowded at times, but it is surprisingly workable so far.
The property is environmentally friendly, as they truly adhere to the principals of reusing and recycling. Guests are strongly encouraged to comply as well, and it is made easy for them to do so.
Our "work" projects to date have been varied. Our recently acquired green thumbs and Hawaii-horticultural knowledge is being put to use with lots of gardening and large-scale landscaping chores on Kelly's part. The property has fruit trees, wildflower patches, ginger seedlings, herb gardens, and Koa trees, all of which need some TLC being provided by Kelly. His handy skills have also been put to use with speaker repairs, plumbing jobs, and carpentry tasks.
I on the other hand, am not so much a handy person, and my skills acquired on the other side of Hawaii were more around milking goats than fostering agriculture. Since there aren't any goats around for me to tend to, my existing creative and administrative skills are being put to use.
I started by painting signs and stencils (as well as doing some small patch work and appliance touch-ups), where I got used to the feel of acrylic paints. Somehow the projects escalated to the point where I found myself painting full-on Hawaiian landscape scenes on large palm tree planters located at the front of the property. I figured I was okay with a paintbrush, but I truly surprised myself with the results. And to be playing with paints a few hours a day in return for a place to stay – what a gig!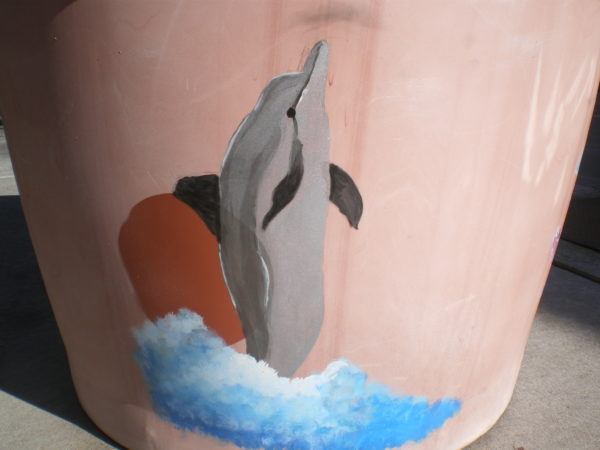 Beyond that, my administrative and business analysis muscles will soon be flexed by helping the manager with some "big picture" projects.
When we're not working (and we don't work much!), we are enjoying the sunny side of Hawaii. We haven't seen a drop of rain yet, which suits our water-logged Hawaiian history just fine. Trips to the beach to go boogie boarding, snorkelling, fishing and spearfishing have been plentiful. We also enjoy the local farmer's market (open 5 days/week), walks in the area (which has about everything we need), and relaxing in some of the many quiet oases on the property.
Between the hammocks, fish pond, artificial black sand beach, rocking chairs, and inside office, we have many places to carve out a niche and settle in with a good book or work on laptops. There is always some gentle reggae playing, which although I wasn't previously a huge fan of reggae, has grown on me quite nicely.
Nora's Note: Many years later, after living on the Caribbean island of Grenada for two years, I most certainly developed a taste for reggae!
Welcome to our Hawaiian paradise!