A day at Kehena beach on the south eastern part of the Big Island of Hawaii isn't much like any day at any beach you could imagine.
This post was originally published in 2007. It has since been updated for accuracy of links and content.
Check out my Travel Lifestyle Guides for more ways to earn money remotely, spend it wisely, and balance the two so you can travel as long as you wish, in a financially sustainable way. 
For starters, beaches have a very different meaning here. The word "beach" usually conjures up images of beautiful hot sand leading down and into the water, sunbathers stretched out on towels, kids making sand castles, boogie boarders playing, and the occasional runner streaking by.
In this part of Hawaii, the word "beach" is a loose term for a piece of land on the water. Sand is an added bonus, not much of which can be found here, and all of it is black. The actual stretches of sand are also tiny and something of an afterthought, as more often than not the coastlines and "beaches" are rocky, littered with large rounded lava rocks being shaped by the pounding surf.
At Kehena beach, the "place to be" for anybody who is somebody on a Sunday afternoon, you get the closest experience to a beach you can.
Upon arriving at Kehena (after hitch hiking of course), I was sorely disappointed to find myself looking over yet another lofty rocky cliff and down to the water. What sort of beach is this, I thought? We're easily 100ft above the water! But after finding the unmarked but well-worn trail, I realized there was more to this place than what initially met my eyes.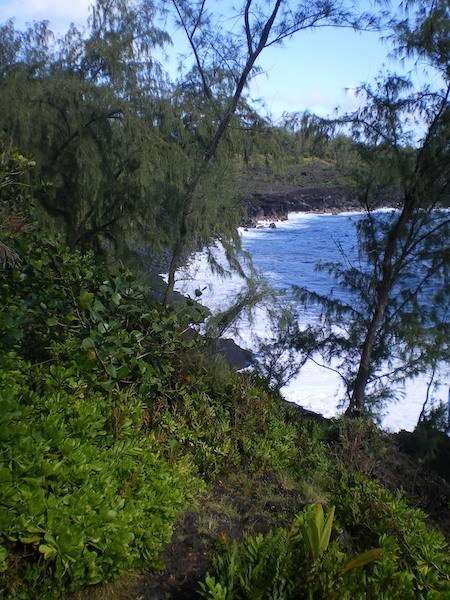 After a treacherous scramble down in flip flops (they let kids and families come here? Really?), I found myself on a 150ft wide stretch of black sand beach, about 100ft deep. And it was abuzz with activity.
There was an open drumming circle pounding out tribal beats and rhythms, as more and more people took up their drums and added to the chorus. A very talented belly dancer was demonstrating her appreciation for the music in the middle of the drumming circle, which kept the beats ever-increasing in tempo.
There were people of all ages and creeds relaxing on the beach, some on towels, some dancing hedonistically in the surf, some eating a picnic lunch, and yet others frolicking in the large and somewhat treacherous waves. Oh yeah – and about half the attendees were naked.
Kehena beach is not only the place to be on a Sunday afternoon, but is also a well-known nude beach. Although nudism is technically illegal in Hawaii, the local authorities have better fish to fry than to arrest naked sunbathers, and the beach is thus peacefully ignored.
But it was when the elderly naked man did cartwheels directly in front of and past me while I sat staring at the waves that I realized I was in a truly different place.
The Puna region and culture is made up of an extraordinary set of eclectic characters. You have hippies young and old, young travelers branching out from under their parent's watchful eye, "snowbirds" of all ages who winter in Hawaii and spend their summers in Alaska, farmers, and a host of other people who don't seem to fit in anywhere else but are accepted and given nothing more than a sidelong glance here.
And in my two short visits to Kehena beach, I have seen many of them out to play.
There is one fellow, a middle-aged muscular black man, who spends the entire day at the beach, totally naked, and practicing some sort of violent yoga/tai-chi in the surf. There are the drumming circle participants and related dancers. There are women who take off their clothes and dance with them as kites in the wind. And yet others who make sand sculptures and bury their friends in the cool black grainy sand. And many, many, MANY people smoking pot.
And as I was observing all this activity with a bemused attitude, my elderly naked friend cart-wheeled into my life. He stopped just off center of my field of view, and all of four feet away from me, decided to do some toe touches. Without trying (in fact quite the opposite), I became intimately familiar with his genitals, dangling and swinging as he launched into some sort of aerobic stretching exercises before cart-wheeling away.
It was at that moment that I realized something very key about living on this part of Hawaii and away from the standard tourist sights: there are things I experience here every day that folks at home could never even imagine (save for my detailed explanations and occasional videos – sorry no video of the naked guy).
The scene at Kehena beach was one of adult children playing. People were uninhibited and joyful, and in many cases a little irresponsible. They were eating and drinking, smoking and dancing, playing and swimming. The only way to describe these grown up children's activities and attitudes is "hedonistic". One part of me sees it as beautiful; in a generally repressed society, people here let loose their inner children to play harmlessly and gleefully. Another part of me wonders what world they are in, and if they exist this way every day.
Maybe I'm just too much of a tight-wad (never thought I was, but in comparison to those I observed at Kehena, I appear to be). Or maybe Puna is just another world, and a day at the beach isn't always what it seems.
Please enjoy this short video, created the day we visited Kehena beach (again sorry – no naked people, so not much of actual beach video) on a beautiful Sunday afternoon.