Going to sleep on the train in Barcelona and waking in Zurich Switzerland was startling. What a contrast, from the sienna landscape of Spain alongside blue Mediterranean waters, to the lush green mountainous panorama of Switzerland along glacier-fed lakes. It's hard to believe one night of sleep can result in such a stark change of scenery – in more ways than one.
See also: The Swiss Life – Random Observations
As with so many stops along the way during the Ultimate Train Challenge, my time in Zurich was altogether too short. But it was still nice to get a chance to stay with friends (and sleep in a bed that's not moving!) for a couple of nights.
This post was originally published in 2011. It has since been updated for accuracy of links and content.


Suburban Zurich: Country in the City
My Zurich digs were located about 15 minutes by the S-Bahn (Zurich's local train) from the central station. Although I expected a suburban neighbourhood, I wasn't prepared for what I found.
"My hands are tied with the baby. Just keep walking on that street and I'll send my daughter to out to come find you," said my friend over the phone when I called to say I was having trouble finding her place from the train station.
I rounded the corner to find her daughter – all of four years old – walking towards me.
Four years old!
This wouldn't happen in any major city in Canada, I'm pretty sure.
But here – 15 minutes from downtown Zurich, I felt no sense of proximity to a major city. The block of houses my friends live in is filled with children who all play together, running from house to house and yard to yard. At mealtime, parents just yell out the widow for their kids to come home, or knock on the neighbour's door to find them.
I had thought these days were long gone. But here in Switzerland it's still a refreshing way of life.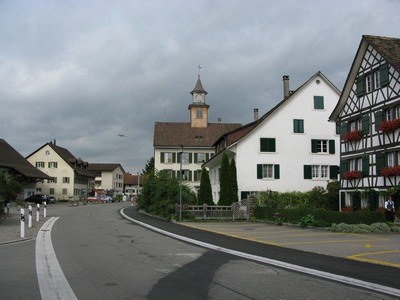 This scene backs on to farmers fields, forests, and looks out towards the mountains in the distance. Beside charming narrow roads with quaint (charming and quaint: such annoyingly cliché yet appropriate words) tudor-style houses are yards with cows and chickens. Literally – next to the sidewalk.
And I'm told that this juxtaposition of rural to suburban life is all over Switzerland.


One Day to Explore
My day of arrival to Zurich was little more than an exercise in finding my new digs, reconnecting with my friend (who I hadn't seen in over 15 years), and getting some work accomplished. Making time for work is part of the time-management balancing act that constantly happens on the road.
So on my sedond – and last – day in Switzerland, I headed into Zurich's centre to explore. I had the great fortune to meet up with another friend (who I met at Mana Retreat last year), who showed me the ropes.
And of course to celebrate my short (and first) time in Switzerland, we had to do some typically Swiss things, like eating Raclette:
…and chocolate!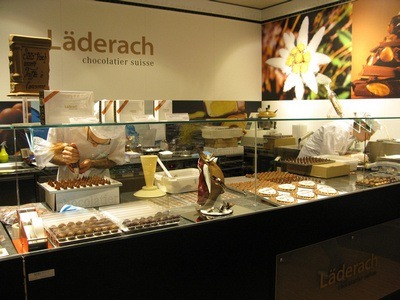 Switzerland or Sweden?
During the Kultur festival in Stockholm last month, I watched a cabaret performance featuring a couple of girls who were playing stereotypical Americans.
"Ooh! We're so excited to be here in Sweden, the capital of Stockholm! You Swiss people are just amazing!"
Although these garish blunders were designed to get a laugh, I'm astonished at the number of people who do confuse Switzerland with Sweden. Look at a map folks! They aren't anywhere near each other, nor are they culturally very similar.
This ires locals too.
My friend (originally from Canada but having lived in Switzerland for almost 20 years) commiserated when I made this observation. She rolled her eyes; "Yeah, I get lines like 'so is everybody blonde in Switzerland?' No guys, that's Sweden. We're Switzerland. You know – cuckoo clocks and chocolate. Get it straight!"
Having now been to both Sweden and Switzerland I know I'll never mix the two up again (if I ever once did). They are each very different, and gloriously unique.
(Oh yeah, and like a million hours by train apart. Just saying.)