They say Tsukiji Fish Market is a must-see destination for anybody visiting Tokyo. And I like fish. So….it was kind of a no-brainer.
This post was originally published in 2017. It has since been updated for accuracy of links and content.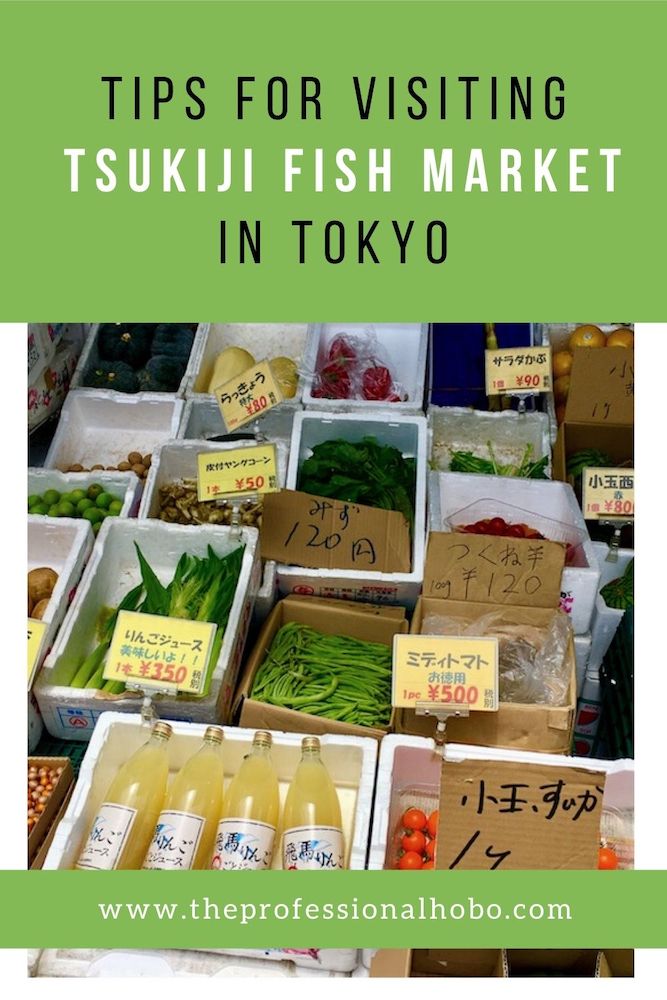 They also say ("they" are full of great advice) that seeing Tsukiji Fish Market is best done in the company of a local, who can give you an inside scoop for the dazzling array of things I guarantee you'll otherwise be totally clueless about. So, when I was contacted by Local Guddy to try out their service, I took them up on their offer to connect me with Kumiko, the "local guddy" for Tokyo. (It looks like Local Guddy was a casualty of the pandemic, as their website doesn't work any more. But there are other similar services, like WithLocals, GetYourGuide, and GlobalGreeter. Check out my article about Best Travel Websites, Best Travel Apps, and awesome budget travel tips for these and other suggestions to connect local guides with travelers).

Tsukiji Fish Market Facts
Tsukiji Fish Market is the largest wholesale fish market in the world, and one of the largest wholesale food markets of any kind. It employs 65,000 people, and does over $6 billion in sales annually.
So, it's a busy place.
There are two distinct parts to Tsukiji Fish Market: the inner and outer market.


Inner Market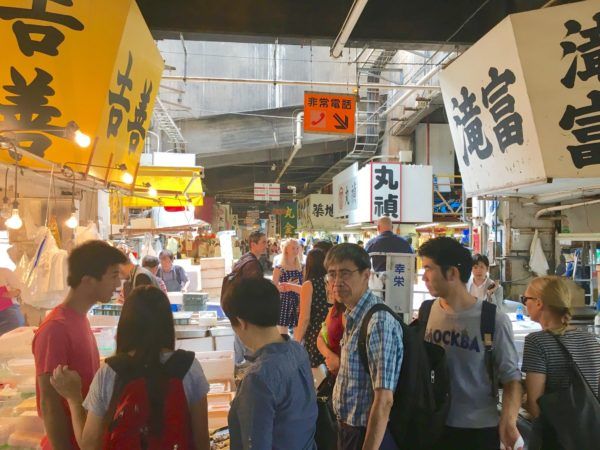 The inner market is the beating heart of Tsukiji Fish Market. It's a licensed wholesale market accommodating about 900 wholesale dealers who operate small stalls.
It's also where the world-renowned tuna auction takes place. Now, if you want to watch the auction (which happens most days of the week), be aware that there is a limited number of spots available in the tourist viewing area. In order to claim your spot you've got to show up early; some people say lining up at 3 or 4am will get you in, while others say you need to line up even earlier.
Me? Not a chance. I like fish; but I like sleep more.
Aside from the auction, the inner market is a hub of activity starting at about 3am. Visitors aren't generally allowed in the inner market before 10am however, given that it is first and foremost a place of business. Indeed, it was a sea of funny little motorized carts buzzing around (which you need to watch out for, by the way; they'll run you down in the name of getting their fish where it needs to go).


Outer Market
Although Kumiko says in the video below that the outer market is for tourists, this isn't strictly true. The outer market of Tsukiji Fish Market is a mix of wholesale and retail shops selling groceries, seafood, kitchen tools, restaurant supplies, and all kinds of packaged foods, which Kumiko assured me are the best deals in the city.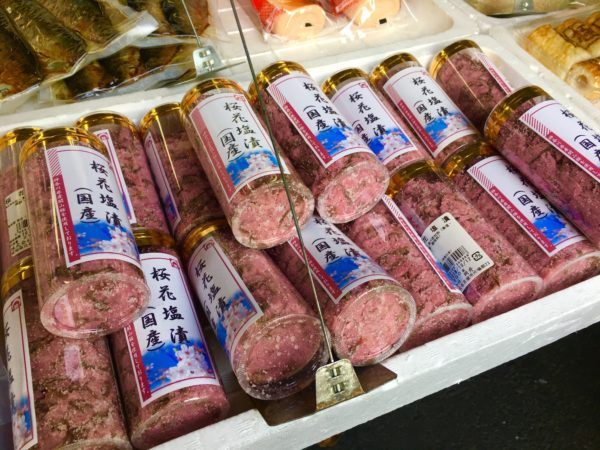 The outer market is also where you get sushi…and lots of it. Lining the narrow lanes are dozens of eateries, some with long lineups of people waiting for hours to get into these establishments, many of which seat no more than 10 people. Although you may feel inclined to join one of these lineups (Japanese people love a good lineup), no matter where you go it's going to be fresh and delicious and priced similarly.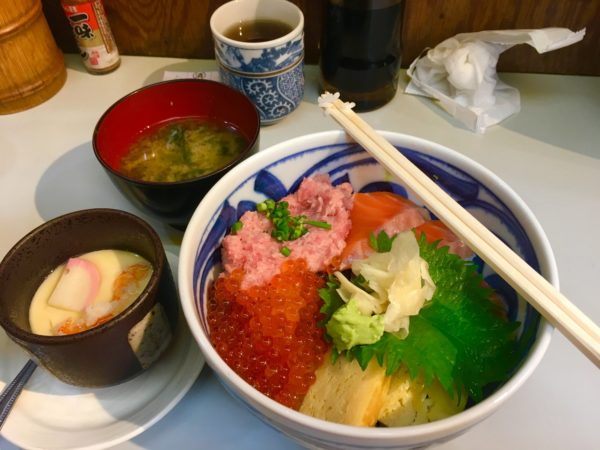 In general, Tsukiji Fish Market is busiest between 5:30 and 8am. I was there at 10:30am and the inner market was quite obviously closing up shop for the day (having been open since 3am). The outer market was still pretty busy, but as time went by, I noticed many places winding down. By early afternoon the Tsukiji Fish Market is definitely towards the end of its day.

Tsukiji Fish Market Adventures Video
Want to get in on the live action? Check out my first-hand experience of Tsukiji Fish Market below:
Can't see the video? Click here to watch it on YouTube.

Tsukiji Fish Market Tours
I adored my tour of the market, and if you want to get the most of the experience, go with somebody who can show you the inner workings you'd never find on your own! Here are some tour suggestions:

Other Japan Adventures and Observations
16 Random Observations about Tokyo, and Survival Tips
Robot Restaurant: The Greatest Show in the History of Entertainment
Check out the Tokyo's Supermarkets and Department Stores