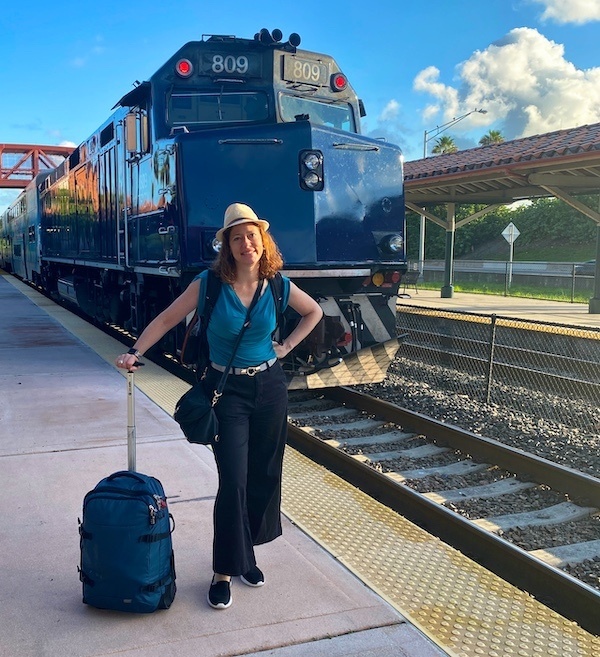 Secrets of SUCCESSFUL STRESS-FREE Long-Term Travel and Lifestyle Design Revealed!
There's nothing worse than hitting the road to travel long-term only to end up troubleshooting something every day. You're supposed to be living the good life, but nothing is going right.


Picture this:
Your credit card has been compromised, but they have no way of alerting you because your home country SIM card has been turned off so you don't pay roaming charges. They tried to send a letter to you but your friend who you appointed to collect your mail is out of town so they never told you an important letter arrived. And the fraud alert email got caught in your spam filter.
So the only way you find out is by having your purchase declined at the counter. Then you pull out your backup credit card only to discover it was cancelled for non-use. And to cap it all off, you don't have enough money in your bank account to pay for it with your debit card, and it also doesn't work in the local ATMs.
This is just one example of a string of unfortunate events that were completely avoidable….but right now, it means you can't eat dinner tonight. Trust me, I know: this happened to me.
Learn from my mistakes.


When I began traveling full-time in 2006, words like "remote work", "digital nomad", and "location independent" weren't invented. People traveled for vacation, not as a lifestyle.
So, I had to figure out everything from scratch, and I eventually did, through trial and error. (Many errors.)
These days, you don't have to figure it all out yourself. Funny thing is, the problem is inverse. Now there's too much information out there. Too much noise, and not enough direct answers to your specific questions.
I'll give you the confidence to hit the road long-term, having arranged everything in the perfect way for you, and I'll save you days weeks months of fruitless research in the process.

Want another disastrously realistic scenario? Here goes:
You've researched your destination ad nauseam but you still get hassled at immigration because you don't have an onward ticket or you said the wrong thing.
You finally get through, but now your debit card won't work at the airport ATM and you have no cash to take a taxi to your accommodation.
You finally arrive at your (overpriced) AirBnB only to discover it's a dump in the wrong neighbourhood.
But there's work to do so you try to convert the bed to a workstation because there's no desk. You get a painful crick in your neck from hunching over your laptop.
Just when you thought things couldn't get worse, you get dengue fever and end up in the hospital, then spend months trying to process your travel insurance claim.
Eventually it comes time to file your taxes and you've been keeping records wrong all along.
All of the above has happened to me, and countless travelers before (and after) me. And it is all completely avoidable.
I can show you how.
After as little as ONE SINGLE personal consulting session with me, you will have a solid plan of action to make your long-term travel dreams come true.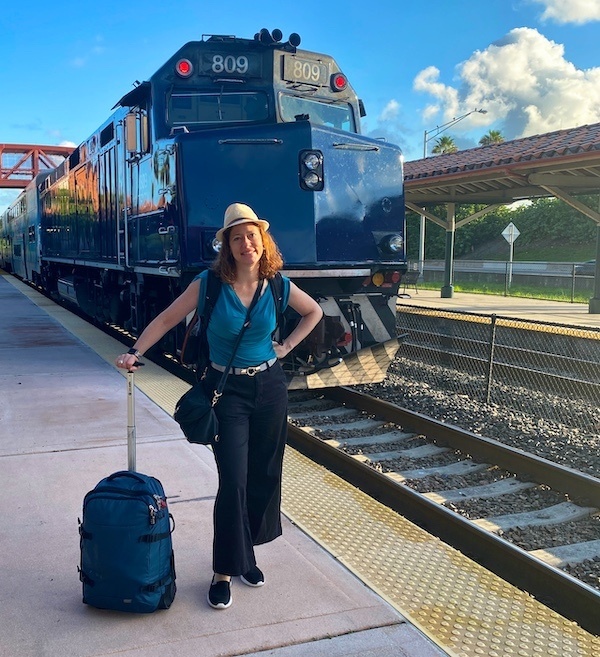 I'm Nora Dunn, aka The Professional Hobo.
I'm a former Certified Financial Planner turned full-time traveler and digital nomad since 2006. I traveled full-time for 12 years, and now I have a home base from which I travel short and long-term, several times a year.
I'm considered a pioneer in the location independent and lifestyle travel industry and as such I've been featured in the New York Times, Forbes, Business Insider, Conde Nast Traveler, Lonely Planet, MSN, and even Oprah.
It's time to pay it all forward.
Now that remote work is the norm for millions of people, I'm here to help those who want to take their gigs on the road do it right – right from the start. And it starts months before you step on that airplane/van/bus/train/taxi/tuk-tuk.
For years I've parlayed my financial expertise and travel experience to teach people how to travel full-time / long-term in a financially sustainable way. But it's the tip of the iceberg, and with 800+ articles on my website alone, I don't envy you in trying to figure out what you need to know.
Learn more about what I've done (and where) here.
What's In It For You
Based on feedback from existing clients, here's an example of what you can gain from a consultation with me:
BEFORE YOU TRAVEL
You'll know everything you need to know, especially the things you didn't realize you didn't know!
Less time spent sorting out logistics and setting things up for your extended absence
The time you save on extensive research will help you start traveling sooner, or earning more money to travel with, or watching Ted Lasso (whatever floats your boat)
Peace of mind that you've got all your bases covered
You'll feel heard, hopeful, excited, and positive about your upcoming travels
Validation for your plans, and tweaks where needed
Confidence that you don't have any blind spots
ONCE YOU'RE ON THE ROAD
More time enjoying your travel lifestyle
Totally confident in your customized plan; nothing can trip you up!
You'll travel stress-free and safely even in "dodgy" places
Nothing surprises you because you've set realistic expectations
Better work-life balance and productivity
You'll hit your stride faster, since you're aware of the nuances of the travel lifestyle
"I recently had a consultation with Nora, and it was everything I needed and more. After discussing my skill set, Nora quickly had ideas and a network of people that would be beneficial for me to learn from so that I could firmly understand what I will be offering to others. We discussed finances, banking and payment structures, income tax necessities, currencies, preferred accounts, business registration and more. We delved into accommodation, rent, relationships and what I want my life to look like.
This could make one feel very vulnerable and intimidated. Not with Nora. She is very easy to talk to, and you quickly see how human, fun, compassionate and non-judgmental she is. Nora looks at the whole picture of your life to help set you up for success. She walks you through the 'how to' part.
What I also appreciated is that Nora has over a decade of global life experience on the road; she is a great resource to help you reconsider your perspective and your options, opening you up to things you had not thought of before.
After our meeting was over, Nora quickly sent a recap of our conversation. She broke down each category of our discussion complete with links to resources, suggestions and ideas; this is infinitely helpful, as we are in a world where seeking out information is overwhelming when you are still creating your road map. The recap has been helpful to keep me on track and I know I will be referring to it often.
I walked away from this consultation feeling heard, hopeful, excited and positive and I can guarantee that you will too. If you are contemplating a life less ordinary, a meeting with Nora should be at the top of your list. "
– M. Rodway., Toronto, Virtual Producer
"We discussed everything from technology and housing to safety and volunteering. I learned hacks and resources that would have cost me time and money trying to figure out myself. She even took notes during the session and sent me a summary (which I so appreciate as I hate taking notes). This is well worth the money! Without a question – do it!"

– Kaity R., New Jersey, Psychotherapist
The First Step is FREE.
I won't take your money until I am absolutely sure I can help you. That's why I always start off with a free 15-minute consultation.
This is a chance for us to get to know one another. I'll answer all your questions, and if I can give you everything you need to know in 15 minutes, all the better! (I have a virtual tip jar you can throw a few bucks in if you like, no obligation).
If your situation warrants a full consultation, it will cost $149 USD. The basic consultation package includes a 60-minute video call plus a full written report covering everything we discuss as well as additional resources and information.
Unlimited follow-up sessions can be booked at a deep discount.
"Nora is extremely knowledgeable and was able not only to put my fears and anxieties at rest, but give me practical applications to move forward in my new digital nomad lifestyle. She listened to my questions and concerns, tackling each issue head-on with practical advice that I was able to apply immediately.

I hired Nora to help me with phone data, service providers, hotspots and all telecom related issues and questions. I also asked her about security and she taught me about backing up my computer data, as well as ways to keep my wallet, passport and credit cards safe. She taught me about bank accounts with free foreign ATM withdrawals. Nora also supplied useful information about mail forwarding services, healthcare, ways to schedule while on the road, forming community and connections and even tax breaks.

While there was plenty of time to cover my most pertinent questions, the time flew and I could have talked to Nora for hours! She's just so freaking wise and compassionate! It was like getting advice from an old friend.

Nora also went above and beyond, providing me with a document that included everything we talked about and more! I've hired several consultants to help me with my transition to full time travel and Nora, by far, has been the most helpful. Her heart is in the right place, she truly cares. But beyond that, she's one of the most experienced and well-informed digital nomads/travelers that I've ever met.

Nora also imbued me with the confidence I needed to move forward; jumping into the deep end without fears of drowning. Thank you Nora, for all your amazing work!!"

– Kimberly Anne, California, Wellness Creative
"I have been interested in a nomadic lifestyle for some time now but wasn't sure how to make it work. I booked my free 15-minute consultation with Nora to get her take on the plan I was formulating.
I was impressed with the information she shared and immediately booked a follow-up appointment to discuss things in more detail. Nora took notes and asked for clarification during our consultation and when we met again via video-chat for the next appointment, she had taken it all and streamlined it for me with suggestions and recommendations. The time on our video calls just flew by. She answered all my questions and provided me with a written report on the same day. I will book with her again to discuss next steps along the way."
– Nancy D.,Whitby, Planning Early Retirement
This is a Limited Time Offer.
I won't be offering personal consultations for very long. I just don't have the time.
So this is a unique and temporary opportunity for you to have me all to yourself!
See, at the moment I'm offering these services so I can find the common threads. The sorts of questions I'm asked time and time again. I will then be designing group programs and self-study courses for people to eliminate the learning curve and self-design their new lifestyles.
And those programs will cost as much – if not more – than what I'm charging for a fully individual one-on-one consultation.
This is an opportunity like none other….and it's not going to last.
Here are just a few ways I have provided personal individualized help to clients already:
How to arrange and manage your finances, file taxes, do banking abroad, and minimize currency conversion charges and banking fees (for the record I am a former Certified Financial Planner)
How to back everything up and keep your identity – and stuff – secure
Finding the best kind of travel insurance / health insurance without overpaying
Avoiding travel fatigue: how to set a travel pace and style that is also conducive to working remotely
Online (and on the ground) tools and tips for productivity
How to find apartments to rent by the month that cost less than any AirBnB you can find
The best ways to get free accommodation that are complementary with remote work (and pitfalls to watch out for)
Finding and creating community abroad to avoid loneliness and have a more rewarding immersive experience
Using frequent flyer miles to fly in business class for less than the cost of economy tickets
How to stay safe and use street sense
You are not alone! Change your life and live out your dreams. It is possible!
I Will Help You:
Create a personal step-by-step plan to get you from where you are right now to the lifestyle you want to have.
Gather the courage to make the leap into the unknown. (It's not so scary when you have knowledge; knowledge is power! And it helps to know somebody who has done it – as I have).
You'll get direct and personalized support for your journey to becoming a long-term traveler with a remote career.
Make sure you're not being irresponsible financially or otherwise; on the contrary, this could be an opportunity to turn your life around in ways you never even anticipated! But if you're off-track I'll also be honest and let you know.
I'm there for you when none of your friends or family understand what you're trying to do, and in some cases might be actively trying to prevent you from realizing your life's ambitions and dreams.
I'll help you identify the challenges you don't even know you're in for along the inevitable learning curve, so that when they come up you'll breeze through the hurtles as if they don't exist.
I can introduce you to a wealth of experts who can help you in terms of advanced international tax planning, the business of being a virtual assistant, finding remote jobs, joining online communities to support and help you along the way, and much more.