It's easy to get in over your head with debt, especially when you're young. And a pile of debt will limit your life choices.
But it's not impossible to change your life even if hope feels remote. Thilini Wijesinhe lived in Sri Lanka and accumulated $25,000 USD in debt (which is a huge amount of debt in Sri Lanka). Still, she managed to turn her life around, emigrate to Australia, and develop a prosperous career. This gave her even more choice from a lifestyle design perspective, and so her next big move was to become a digital nomad.
I asked Thilini to tell her story of being in debt to digital nomad life in this article. Enjoy!
– Article below by Thilini Wijesinhe
Getting Into and Out of Debt
My twenties in Sri Lanka was a roller coaster ride, especially after the death of my father who was the only immediate family member I had. I was 22 at the time, employed in a junior finance role and pursuing my education. Subsequently over the next seven years, I made some poor decisions in my personal life and finances, which led to a great deal of stress and debt.
I used credit cards and loans, some for necessary purposes but there were many lousy financial decisions. Although I replaced some of the high-interest debt with low-interest loans, I still acquired more debt.
Sometime in the year 2013, I had around USD 25,000 in debt considering all the money I owed to multiple sources. Such an amount may not have been as significant in a different country, but this was well above my annual income as a financial professional at the time.
I moved to Sydney in 2013 as I had secured a Permanent Residency visa in Australia. Ahead of moving, I used proceeds from my car-sale and the gratuity payment from my job to pay off almost half of my debt.
Once I got a job as a Senior Analyst (Investment Analytics) in Sydney in late 2013, I had the benefit of geographic arbitrage, as I was earning in a stronger currency. I settled another portion of the debt around six to seven months later but maintained a low-cost loan for longer.
I was determined to not obtain any unnecessary debt in my new life and be more financially savvy. I learned to live with flatmates to save money in a high-rental market, although I was used to living alone before. Furthermore, I developed the discipline to use my new credit cards efficiently without accumulating interest, while maximizing reward points. Travel was something I saved for and splurged on however, in addition to a few personal goods.
Preparing for a Digital Nomad Life
In 2018, I met my partner Hugo, who was living in Texas at the time. He liked the idea of moving to Australia, and this was what we were planning to do.
Just before I turned 35 however, I increasingly had the desire to travel more and have a flexible schedule. I realised that over 13 years had passed since I was first employed, and I was still at a nine-to-five job. I was making a comfortable six-figure annual income (in AUD) and did not have unnecessary debt, except for a car loan balance which I was able to comfortably pay off. I was travelling frequently enough and enjoying life. But I was struggling with anxiety for no reason. I am not sure if some of the stress of my youth was catching up.
See also: Lifestyle Inflation: Why Earning More Sucks (the Life Outta You)
Over the years, I met people who had taken gap years or left their jobs to become digital nomads. They inspired me and I realised that such a lifestyle was possible. I spoke to Hugo about taking a break from our busy lives instead of waiting for retirement and he was quite excited to join in the adventure.
We analysed our financial situation and planned for a late March 2019 departure date, about seven months away. I also obtained tax advice from an accountant and learned how to determine my tax residency going forward, along with the differences in rules for tax residents vs. non-tax residents.
See also: Filing Taxes as a Digital Nomad: Everything You Need to Know
I sold everything I could, from my car to some furniture and household items. I gave stuff to friends, donated items to charities, and shipped some things to Sri Lanka. My flatmate advertised in advance for another person to take on my portion of the lease, so I did not lose my rental deposit. I spoke to my bank and informed them about my departure, future transfers, and potential withdrawals from and card usage in different countries. I had two credit cards and I cancelled one of them after my departure.
See also: Travel Money Guide: How to Arrange Your Finances for Travel
We wanted to have a base in a low-cost location to really slow down and immerse into the place and make short trips from there. We decided to manage our finances in a manner where we could go up to two years without an income.
Temporary Residency in Mexico
We chose Mexico as a base, as they had a temporary residency visa option that suited me, and Hugo was born in Mexico (hence a citizen) although he had not lived there since childhood.
I was able to enter Mexico for six months at a time. However, I decided to apply for a temporary residency as I would then be eligible to open a bank account, purchase a car, potentially obtain permits for work, etc. I qualified to apply under the category of "economic solvency", which is based on funds in possession and/ or income. The Mexican consulate in Canberra advised me how much money I needed as evidence, which fluctuates from time to time. It was a two-step process; the first at the Mexican Consulate in Canberra and the next after I arrived in Mexico.
We first moved to Riviera Nayarit on the Pacific coast, for six months. We visited parts of Latin America and explored within Mexico from this base. There were several areas without convenient public transport, so we purchased a small car for about USD 6,000. The car saved us money on vehicle rentals, and gave us more flexibility for local trips. At the end of the six months, two of our neighbours stored our car and some items until we returned from our next trip to Europe and Sri Lanka. Upon returning, we moved (via a road trip) to the Yucatan peninsula.



Full-Time Travel vs. Vacation Travel
Our travels were different to the trips I did before when I lived in Sydney. I did not have to return to a day job and was not counting the remaining vacation days. I felt light and free. We also engaged in volunteer projects in Mexico and had some wonderful experiences with local communities. I also continued my Spanish language study which I had commenced in Sydney.
We booked flights, buses and trains on low-cost days and off-peak times. We were flexible, unlike in my former life where I mostly booked expensive flights around weekends to maximize my vacation days. However, we used mid-range hotels and home stays for accommodation when travelling but avoided peak seasons. We rented a car twice during our travels, but we researched in advance and received considerable discounts. We did not splurge on expensive restaurants as they were not a requirement for us.
See also: 46 Hidden Travel Costs You Can Avoid to Save Money
We opened a savings account with a favourable interest rate in Mexico. For fund transfers, we use an online platform with competitive rates. We also watch the Mexican peso and do our best to make inward transfers when the peso is lower. Our current cost of living in Yucatan is around USD 1,500 a month, except when we travel and therefore spend more.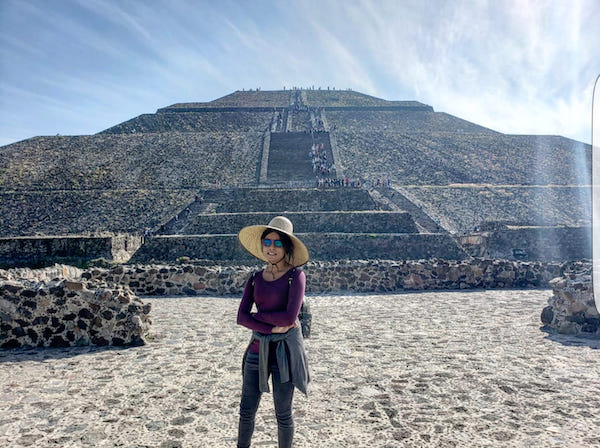 Post Covid-19: Digital Nomad and Tax Residency
In early 2020, we visited Cuba and Belize, and were exploring the Yucatan peninsula when the pandemic happened. I renewed my temporary residency as it seemed that we were going to be in Mexico for a while. It was time to consider our next steps in terms of generating income.
I signed up on freelancing platforms with the intention of engaging in writing and other work I would find interesting. Subsequently, I received a message from a potential client asking me if I could assist with some tasks including writing, which I did. This experience showed me what was possible.
Unfortunately, the pandemic triggered my anxiety over the next few months, and I had a rough time, from which I recovered thankfully. Our relationship had evolved to a steady stage by this time and we were extremely comfortable with each other. Hugo really supported me through this period of anxiety, and we decided to explore options to continue to work remotely while also travelling.
Later in 2020, I obtained the tax residency in Mexico as I already had temporary residency. I also applied for the required immigration permit to work in Mexico. As I did not have a job offer, I had to submit my tax registration along with an explanation of the activities I was planning to carry out. Many told me that this was not required for digital nomads, as most digital nomads based in Mexico work online and continue their tax affairs in their home countries. It seems a grey area to me. I felt it was the best thing to do, even if it was not strictly required. I also qualified for a tax category with significant exemptions, so I consulted an accountant to help with the process.
We have not decided how long we want to stay in Mexico, but for now we are happy to be based here.
I love to write, so I started a blog called Momentsing, I'm pursuing freelance writing opportunities, and I am also considering a couple of other entrepreneurial ideas. My days now begin earlier than they used to in Sydney or even a few months ago in Mexico. I developed a morning routine including some exercise and meditation, and I attend to most of my writing in the morning. In the afternoons, I engage on the marketing side of things and other tasks, as well as learning new skills that I need. Now that the pandemic restrictions are easing, we make short trips locally every now and then, within safety guidelines.
I feel far more fulfilled and content now than ever before. I appreciate the freedom and flexibility of our lifestyle. While I cannot predict the future, right now I am where I want to be in life.